Wednesday, June 1, 2016
---
TASTE OF OMAHA
What: Food from local restaurants, live music, culinary demonstrations, dance and children's entertainment
When: 11 a.m. to 11 p.m. Friday and Saturday, 11 a.m. to 8 p.m. Sunday
Where: Heartland of America Park and Lewis & Clark Landing in Omaha. On Saturday, festival expands to River's Edge Park in Council Bluffs
Admission: Free; food and beverage tickets are eight for $5
Info: tasteofomaha.info and 402-356-8003
Parking: Lots of free parking available on the Iowa side, near Harrah's Casino, off Interstate 80 Exit 0. Ride Ollie the Trolley from River's Edge Park to Lewis & Clark Landing from 1 to 11 p.m. on Saturday.
Chefs Clayton Chapman of The Grey Plume and Joel Mahr of Lot 2 will face off in the first annual "Battle for the Toque." BRENDAN SULLIVAN/THE WORLD-HERALD
Live chef battle added to the menu
This year's Taste of Omaha is taking a cue from The Food Network and pitting two chefs head-to-head live on stage, letting the audience be the judge when it comes to who is best.
Chefs Clayton Chapman of The Grey Plume and Joel Mahr of Lot 2 will face off in the first "Battle for the Toque," one of a handful of new, live events that will be part of the city's 19th annual Taste of Omaha, which takes place this weekend.
"We have these notable chefs in the city, and we are excited to bring them to the festival," said organizer Mike Mancuso. "We're going to have some fun with the audience, and it should be fun for people to watch."
Activities will run on the Omaha riverfront all weekend and on the Iowa riverfront Saturday.
The culinary stage at the festival will also include demonstrations from the student chefs on the Metropolitan Community College Culinary Arts competition team. They will create four courses: appetizer, salad, main dish and dessert.
During the weekend, the stage will also feature a talk from Patricia "Big Mama" Barron of Big Mama's Kitchen and Big Mama's Sandwich Shop; demonstrations from the J. Skinner Baking Company and Pancrepes; an ice carving demonstration; and grilling tips from Stoysich House of Sausage.
Mancuso said one of the festival's main goals is to expose Omahans to new flavors and styles of cuisine. He said that this year, Taste of Omaha features more diverse styles of food, including more Indian and Asian stands. The festival will also feature a number of food trucks, including Gyro Shack, Scotty's Go-Go Grill, Maria Bonita, Peanut Butter Johnny's, Sweet Lime Thai and others. The festival also has beer and wine from around the world.
Last year was the first year the festival expanded across the Missouri River, and Mancuso said the organizers learned some lessons, mainly that festival goers wanted to traverse the Bob Kerrey Bridge and have some activities on the Iowa side of the river once they got there. This year, there will be activities in Iowa on Saturday only instead of all weekend, including live music, demonstrations and helicopter rides.
Special events aside, Mancuso said food remains the star of the festival.
"We want to really help people try and taste as many menus as they can," he said, "and get them exposed to what is happening."
Taste of Omaha takes place Friday through Sunday in Omaha's riverfront parks and the Tom Hanafan River's Edge Park in Council Bluffs. All the weekend's stage shows are free.
–Sarah Baker Hansen
---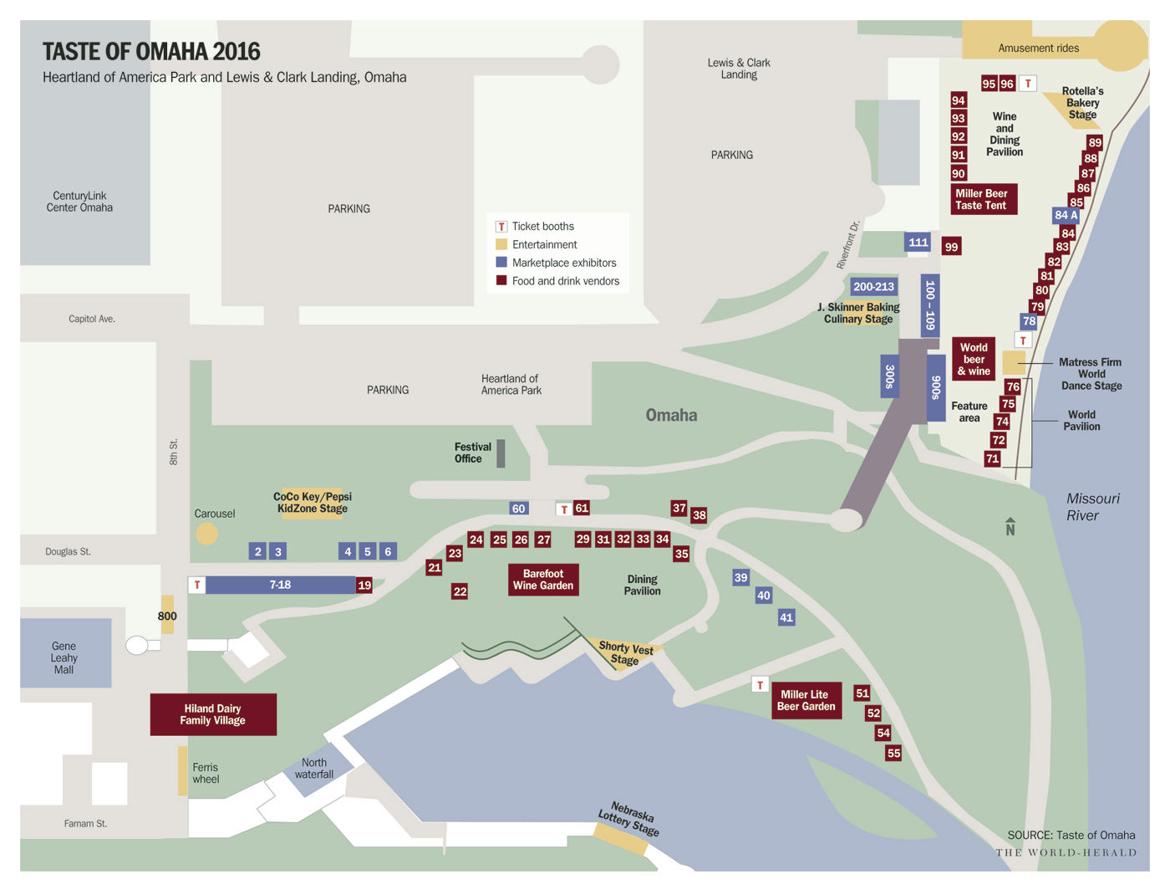 Click here or on the map for a closer view.
Food and drink vendors
4 Hiland Dairy: Malt cups, pints of milk, lemonade and sweet tea
16 Popperista Gourmet Popcorn: Gourmet popcorn in a variety of flavors: cheese, caramel, Snickers, Oreo, coffee toffee, strawberry cheesecake
17 Serendipity Chocolate & Bakery: Shaved ice, chocolate-covered strawberries, fudge, chocolate-covered bananas
19 Nothing Bundt Cakes: Bundtinis
21 Halal Meats & Kabobs: Lamb or chicken wrap, veggie roll, falafel sandwich, gyros, samosas, baklava, mango lassi
22 McAlister's Deli: Club sandwich, chicken salad sandwich, veggie club, Caesar wrap with chicken, garden salad, deli turkey, chocolate chip cookies
23 Peanut Butter Johnny's: Gourmet peanut butter sandwiches, peanut red curry chicken satay, house-made chips, Cloud 9s
24 Brewburgers: Alligator, fried pickles, inside-out slider, cheesy Sacramento slider
25 La Fogata Taqueria: Tacos, quesadillas, nachos, horchata
26 Crystal Jade: Egg roll, crab rangoon, edamame, sesame chicken, sweet and sour chicken, general's chicken, peanut butter chicken, Asian tea
27 Boyd and Charlie's: Pork burnt ends, St. Louis rib, pork sandwich, brisket sandwich, beans, coleslaw, corn pie
29 Katie's Greek: Beef-lamb gyro, chicken breast pita, calamari, pitas with dip
31 Cascio's Steak House: Meatballs, toasted raviolis, mostaccioli and meatballs, mostaccioli and sausage, meatball sandwich, Italian sausage and peppers sandwich, spumoni, cotton candy
32 Pla Too Thai Cuisine: Pad Thai, spring roll, summer roll, red beef curry and rice, crispy chicken and rice, fried banana
33 Erick's Enchiladas: Beef, chicken, pork, cheese and bean enchiladas
34 Maharaja Indian Cuisine: Samosa, tandoori chicken, chicken tikka masala, aloo gobi, rice, gulab jamun, butter naan
35 Tammy's Roasted Sweet Corn: Roasted sweet corn
37 GQ Southern Cuisine: Rib or catfish basket, Philly steak or pulled pork basket, hot dog basket, wings, fried pickles, peach cobbler pie
38 Valentino's: Hamburger, cheese, pepperoni, special pizza
51 Sweet Lime Thai Food Express: Chicken pad Thai, egg rolls, chicken fried rice, Thai chicken wings
52 Catfish Corner: Banana pudding, catfish nuggets
54 W.C. Frank: Sausage, hot dogs, cabana coffee, smoothies, 14 kinds of crepes
55 Uncle Earnie's Barbecue: Featherbones, pig on a stick, beef or pork BBQ sandwich, sloppy joes
62 Pepsi: Pepsi, Diet
71 Maria Bonita Mexican Cuisine: Tacos, tortas, burritos, enchiladas, cactus salad, guacamole with chips, churros
72 Scotty's Go-Go Grill: Aebelskiver, sweet onion slider, bacon dog, lobster roll, Parmesan french fries, poutine
74 Taj Kabob and Curry: Thai curry chicken, Thai tea
75 Formosa Zen Asian Cuisine: Japanese-style cold edamame, Taiwanese-style curry chicken, Pocky Japanese sticks
76 Gyro Shack Food Truck: Gyros, chicken pita, grilled cheese pita, waffle fries, baklava, falafel
79 Hog Wild Pit Bar-B-Q: BBQ beef, pork
80 La Casa Pizzaria: Pizza, meatball sandwich, toasted ravioli
81 El Alamo: Tacos, tamales, burritos, enchiladas, nachos, taco salad, chili Colorado, chili verde
82 Jones Bros. Cupcakes: Mini cupcake, croissant doughnut, chili-cheese waffle fries
83 Big Mama's Kitchen & Catering: Chicken and waffles, chicken wings, fried okra, homemade ice cream, greens, cornbread
84 Chicago Dawg House: Chicago-style dawg, Southside chili dawg, Sheffield Avenue chili cheese dawg, Sandberg Italian beef, Milwaukee Polish sausage
85 Ro Ro's Concessions: Funnel cake, fresh lemonade, strawberry smoothie
86 Taste of Asia Restaurant: Egg rolls, pad Thai, house wings
87 Curri Fine Indian Cuisine: Chicken tikka masala, samosa, mixed vegetable korma, tandoori chicken, chana masala
88 Prairie Fire Pizza: Wood-fired pizza, cheese, single-topping meat and veggie lovers pizza
89 Boxer Barbeque: Pulled pork slider, pork shanks, barbecue nachos, monster turkey legs
90 Piccolo's: Meatball sandwich, chicken planks, chicken Parmesan, mostaccioli, root beer floats, Italian shaved ice
91 Le Voltaire: Chicken spinach mushroom crepe, strawberry banana chocolate crepe, corn dog, funnel cake, fries, lemon beignet with chocolate
92 Lithuanian Bakery & Delicatessen: Original Napoleon torte, chocolate and raspberry torte, Napoleon crumbcakes
93 Granite City Food & Brewery: Barbecue pulled pork nachos, spinach and artichoke dip, toffee and almond chocolate chip cookie, beer tastings
94 Kebobs, Gyros & Brats: Gyro, gyro sandwich, fries, rose lemonade
95 Thai Esarn Cuisine: Vegetable spring rolls, vegetable balls, chicken satay, pad Thai with chicken, crab rangoon
96 Guaca Maya: Tamales, tacos, enchiladas, guacamole and chips, nachos, churros, taco salad
99 Frozen 4 U: Liquid nitrogen-infused ice cream in vanilla, chocolate, strawberry; chocolate, strawberry or caramel toppings
108 Jim's Concessions: Hawaiian shaved ice, kettle korn, caramel corn, cinnamon roasted almonds
944 Nectar of the Vine: Wine frappes

BEVERAGE AREAS
Barefoot Wine Garden: Barefoot wines
World Pavilion Beer and Wine: Beer — Boulevard Tropical Pale, Dos Equis Lager, Twisted Tea, Angry Orchard, Mike's Hard Lemonade, Lucky Bucket Belly Flop, Empyrean Super Nova, Coors Light, Miller Lite, Leinenkugel's Shandy, Blue Moon, Founders All Day IPA, Sam Adams Summer, Brickway Pilsner, Henry's Hard Orange, Not Your Fathers Root Beer; wine — Carnivor cabernet, Starborough sau blanc, Dark Horse red blend, Apothic white, Mia Dolcea pink moscato, William Hill chardonnay, La Marca prosecco
Miller Lite Beer Garden: Miller Lite, Coors Light, Coors Banquet, Leinenkugel's Summer Shandy, Blue Moon, Angry Orchard, Founders All Day IPA
Marketplace
2 Happy D Klown
3 Quickdraw Caricatures
6 Javy's Originals
7 All Nu 2 U
10 Omniworks Marketing
12 Colorado Passport Agency
13-14 Atahualpa
40 Mayan Art
41 Spice Exchange
102 Aqua Soles
104 Gripstic
208 Cutco Cutlery
213 MCA International
300 Blue Ribbon Caricatures
305, 307 Expressions Leather
313 Nebraska Methodist College
314-315 Quichua Crafts
353 Omaha Culinary Tours/Chefs-2-U
354 A Crafty Place
355 Engraved by Minchalas
360 Stout Spice Company
362 Scentsy/Velata-Davis
363 The Wandering Minstrel
372 Scott's Pico — Banana Orange
373 Great Lakes Sugar Bear Company
379 First Africa Exim
380 Leashes by Liz
381 Chili Dawg's Foods of Fire
382 The Lighted Wick
383 Inspired Jewel Snap Jewelry
392 All Signs
900 Henna Body Art
902-903 G E Sunglasses
905 Pioneer Outdoors Bear
906 Rosemary's Creations
907 Crescent Collectibles
909-910 Native Southwest
911 Pampered Chef
912 Omaha Smart Card
920 Accessories Plus
922-923 Pain Free Pillows
924 Sarah Luo Air Brush Tattoos
930-931 Native Spirit
941 Koelzer Bee Farm
942 Paparazzi Accessories
943 Powerband US
945 Earth Illusions
946 Volcanic Peppers
983 The Shire of Mystical Oils
984 Grams Italian Charms & Gifts
998 Healthmate International
999 Fabulous Frenchie's
Participating sponsors
4 Iowa Pavilion Hiland Dairy
5 Absolute Security
8 American Exteriors
9 Omaha World-Herald
15 Rebath 5 Day Kitchens of the Heartland
18 Cricket Wireless
39 Summerwinds Resorts Services
60, 84a Nebraska Lottery
78 Mattress Firm
100-101 Bath Planet
103 Leaf Filter
105 Weathermax Windows
111 Cox Communications
207 Bing Beverage Company
210 Thrasher Inc.
800 Chevy, "The Driving Experience"
---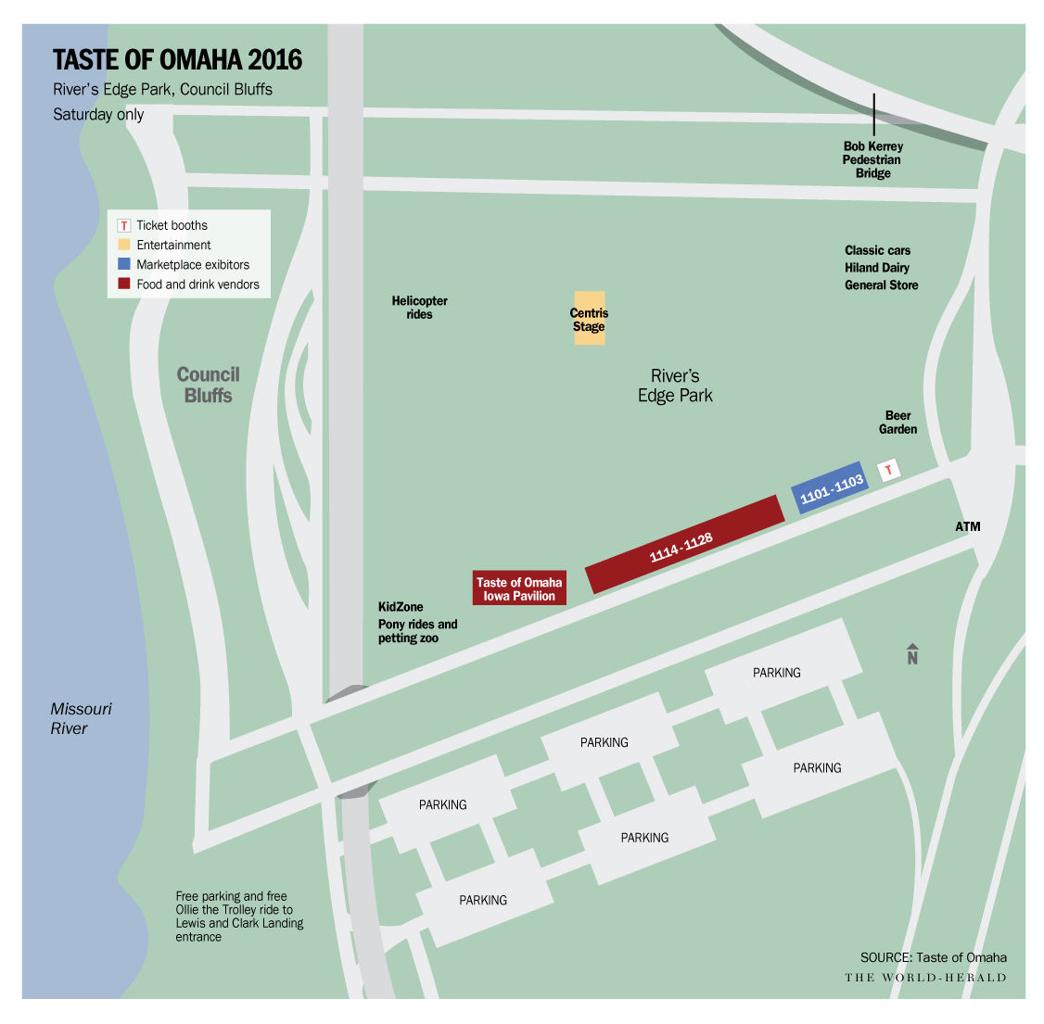 Click here or on the map for a closer view.
Council Bluffs
FOOD AND DRINK
1114 Glory Days Sports Bar & Restaurant: Greek gyros
1116 Hog Stop BBQ: Smoked sausage balls, smoked chicken legs, spare ribs, jambalaya, smoked mac and cheese, corn bread muffins
1118 Jo Jo's Gelato: Panini sandwich, gelato, Italian ice
1122 Wayne's Mobile Kitchen: Crispy chicken sandwich, grilled chicken sandwich, pineapple bratwurst sausage, baby back ribs, smoked pulled pork sliders, baked beans, frozen slushie
1124 Mosaic Pickle Food Truck and Catering: Puffy Greek steak taco with feta cheese, pizza quesadilla, Philly steak quesadilla, chicken fajita taco
1126 Old-Fashioned Root Beer
1128 Thomas Concessions: Funnel cakes, turkey legs, lemonade

BEVERAGE AREAS
Iowa Pavilion: Miller Lite, Coors Light, Coors Banquet, Leinenkugel's Summer Shandy, Blue Moon, Angry Orchard, Founders All Day IPA
MARKETPLACE
1102 XS Energy
1103 Butique
Kidzone: Allen's Pony Rides
Kidzone: Funtastic Faces Facepainting

SPONSORS
Hiland Dairy
Loessfest
1101 New Baths R Us
---
Chicago Dawg House will be serving Chicago-style dawg, chili cheese dawg, Italian beef, Polish sausage and more. KENT SIEVERS/THE WORLD-HERALD
Cooking
Tips, demonstrations and the chance to taste food from some of Omaha's best chefs on the J. Skinner Baking Culinary Arts Stage.

FRIDAY
6:30 p.m.: "Omaha Restaurants: What's Hot." Panel discussion with Mike'l Severe of The Bottom Line, Nick Bartholomew of Market House and Over Easy, Mo Tajvar of Omaha Prime and Greg Cutchall of Omaha Jams and Cutchall Management.
8 p.m.: "Battle for the Toque." Hosted by Mike'l Severe of The Bottom Line. See two of Omaha's best chefs battle to be crowned the champion of this inaugural battle at the Taste of Omaha. It's your chance to taste and be the judge.

SATURDAY
2 p.m.: Pastry Chef Dorothy Thompson of Upstream Bakery presents a J. Skinner Baking product made into a unique dessert. Your chance to taste.
3:30 p.m.: Chef Bob Haney will be demonstrating how to make pancrepe waffles, a new twist on an old favorite.
5 p.m.: "Home Mixology Made Easy," presented by Jill Cockson of Atomic Hummingbird, a craft bartender.
6 p.m.: "Big Mama's Made From Scratch Biscuits." Quick and simple tips for tasty biscuits from Patricia "Big Mama" Barron of Big Mama's Kitchen & Catering and Big Mama's Sandwich Shop.
7 p.m.: "New Grilling Tips" presented by Ken Stoysich of Stoysich House of Sausage. Great grilling tips and fun with your chance to taste.

SUNDAY
1 p.m.: Ice carving demonstration presented by Muzzy Ice.
2:30 p.m.: Fresh salsa and guacamole, presented by Chef Miriam Lopez of Maria Bonita Mexican Cuisine and Catering. Fresh ingredients combine in these tasty recipes you can make yourself. Homemade chips are also on the menu for you to try.
---
Music to feast your ears on
Dozens of artists are playing four stages this weekend at Taste of Omaha. These are the four we're most excited to see:

Josh Dorr
9 p.m. Friday, Nebraska Lottery Harbor
Rolling Stone thinks you should get to know this guy. Listed on the music mag's profile of country up-and-comers, Dorr is a Wyoming boy who took up football and then songwriting. Now he's releasing hit songs such as the brand new country-rocker "Rocket."

The Trammps
6:30 p.m. and 9:30 p.m. Friday, Rotella's Bakery River Stage
Is there a song that captures the disco era better than "Disco Inferno"? Probably not. The Trammps, who will give you two chances to see them Friday, have that as well as "Hold Back the Night" and a disco version of The Isley Brothers' "Shout."

Otis Day & The Knights
9 p.m. Saturday, Nebraska Lottery Harbor
Created to appear in "Animal House," Otis Day & The Knights is now a real band known for its versions of "Shout" and "Shama Lama Ding Dong." Calling itself "the No. 1 party band in America," the band is led by DeWayne Jessie, the actor who portrayed Otis Day in the film.

Los 5
6:30 p.m. Saturday, Rotella's Bakery River Stage
Hailing from L.A., this boy band has appeared on the "Today" show, and fans love the pop-rock in songs such as "Hoodie," "Mañana" and "Poquito Mas."

–Kevin Coffey
Spectators enjoy Dowds Irish Dance Academy performing at Taste of Omaha in 2015. The dancers return for performances at this year's event.
Stage schedule
FRIDAY
COCO KEY/PEPSI KIDZONE STAGE
5 p.m.: Poppin Penelope & the Balloon Brigade, balloon animal art and comedy
6 p.m.: Wildlife Encounters featuring exotic animals
7 p.m.: Poppin Penelope

MATTRESS FIRM WORLD DANCE STAGE
6:30 p.m.: Azteca Meso dance and drumming
7:30 p.m.: Fire spinning
8:30 p.m.: Los Copetones dance
9:30 p.m.: Fire spinning

NEBRASKA LOTTERY HARBOR
5:30 p.m.: The Confidentials, rhythm and blues
9 p.m.: Josh Dorr, country

ROTELLA'S BAKERY RIVER STAGE
5:30 p.m.: Voodoo Vinyl, BluesEd band
6:30 p.m.: The Trammps, disco
7:30 p.m.: On the Fritz, party band
9:30 p.m.: The Trammps

SHORTY VEST ANCHOR STAGE
11 a.m.: Rhythm Collective, reggae, calypso and island party music
2 p.m.: Chris Saub, acoustic and folk
7 p.m.: MoSynth, party cover band

SATURDAY
CENTRIS STAGE (River's Edge Park)
Noon: Mariachi Patria Juvenil, mariachi
2 p.m.: The Prairie Gators, Cajun
4 p.m.: Bobby Z and Polka Joy, polka
6 p.m.: Dicey Riley, Celtic
8:30 p.m.: Eliminator KC, ZZ Top tribute band

COCO KEY/PEPSI KIDZONE STAGE
1 p.m.: Nebraska Native Raptors presenting hawks, owls and falcons by Denise Lewis, Fontenelle Forest Raptor Recovery
2 p.m.: Musical Kids, high-energy entertainment and performance
3 p.m.: Nebraska Native Raptors
4 p.m.: Poppin Penelope
5 p.m.: Amazing Lindy, magic, illusions, card tricks and comedy
6 p.m.: Wildlife Encounters
7 p.m.: Amazing Lindy

MATTRESS FIRM WORLD DANCE STAGE
1:30 p.m.: Los Copetones dance
2:30 p.m.: Omaha Street Percussion
3:30 p.m.: Azteca Meso dance and drumming
4:30 p.m.: Omaha Street Percussion
6:30 p.m.: Bellajhara belly dance
7:30 p.m.: Fire spinning
8:30 p.m.: Bellajhara
9:30 p.m.: Fire spinning

NEBRASKA LOTTERY HARBOR
1 p.m.: Front Ro, rhythm and blues
5 p.m.: Velvet Crush, party cover band
9 p.m.: Otis Day & the Nights, classic rock

ROTELLA'S BAKERY RIVER STAGE
11 a.m.: Front & Center, BluesEd band
Noon: Us & Them, BluesEd Band
2 p.m.: Showstoppers dance
3 p.m.: Blue House with the Rent to Own Horns, rhythm and blues
5:30 p.m.: Showstoppers dance
6:30 p.m.: Los 5, pop music
7:30 p.m.: The Grease Band, '50s and '60s rock classics
9:30 p.m.: Los 5

SHORTY VEST ANCHOR STAGE
11 a.m.: BluesAgent, classic rock and variety
3 p.m.: Omaha Rock Company, classic rock
7 p.m.: High Heel, rock and classic rock

SUNDAY
COCO KEY/PEPSI KIDZONE STAGE
1 p.m.: Happy D Klown, magic and puppets
2 p.m.: Anthony's Ballistic Balloons
3 p.m.: Wildlife Encounters
4 p.m.: Happy D Klown

MATTRESS FIRM WORLD DANCE STAGE
1 p.m.: Rhythms of Greece, from All Holy Spirit Greek Orthodox Church
2 p.m.: Dowds Irish dance
3 p.m.: Rhythms of Greece
3:30 p.m.: Scandinavian folk dancers
4 p.m.: Dowds Irish dance

NEBRASKA LOTTERY HARBOR
1 p.m.: Daybreak, classic rock
5 p.m.: Hott 2 Trott, classic rock

ROTELLA'S BAKERY RIVER STAGE
Noon: Clockstoppers, classic rock
2 p.m.: Jimmy Weber, acoustic country
4 p.m.: The Brits, classic rock
6 p.m.: Pink Kadillac, classic favorites

SHORTY VEST ANCHOR STAGE
11 a.m.: Kim Eames, acoustic and folk
3 p.m.: Soldiers of Soul, soul, jazz and pop