Sunday, October 23, 2016
---
IOWA CITY — The Goodwill thrift stores in this Iowa college town look no different from those down the road in Omaha.
The same modern storefronts featuring that familiar, g-shaped smiley face logo. The same shelves and racks stocked with assorted bargain-priced, donated goods. In fact, both Goodwill Omaha and Iowa City-based Goodwill Industries of the Heartland boast 17 stores in their regions and post similar annual sales.
But look deeper into the finances of the organizations behind those stores and the picture could hardly differ more.
Goodwill Omaha CEO Frank McGree enjoys a corporate-style pay package exceeding $400,000 annually, including $100,000 performance bonuses and a country club membership. The Iowa City CEO's annual pay is more typical of what's seen in the nonprofit world and less than half of McGree's.
On top of his salary, McGree in 2014 collected a $519,000 cash retention bonus as part of his retirement package. In Iowa City, the CEO is part of the same 401(k)-type retirement plan as rank-and-file workers.
Goodwill Omaha's payroll last year included 14 executives and managers whose pay topped $100,000. In Iowa City, only one employee besides the CEO is paid in six figures.
Six-figure salaries
Goodwill employees with taxable pay of $100,000 or more. Blue: Omaha; Light orange: Iowa City; Dark orange: Kansas City, Mo.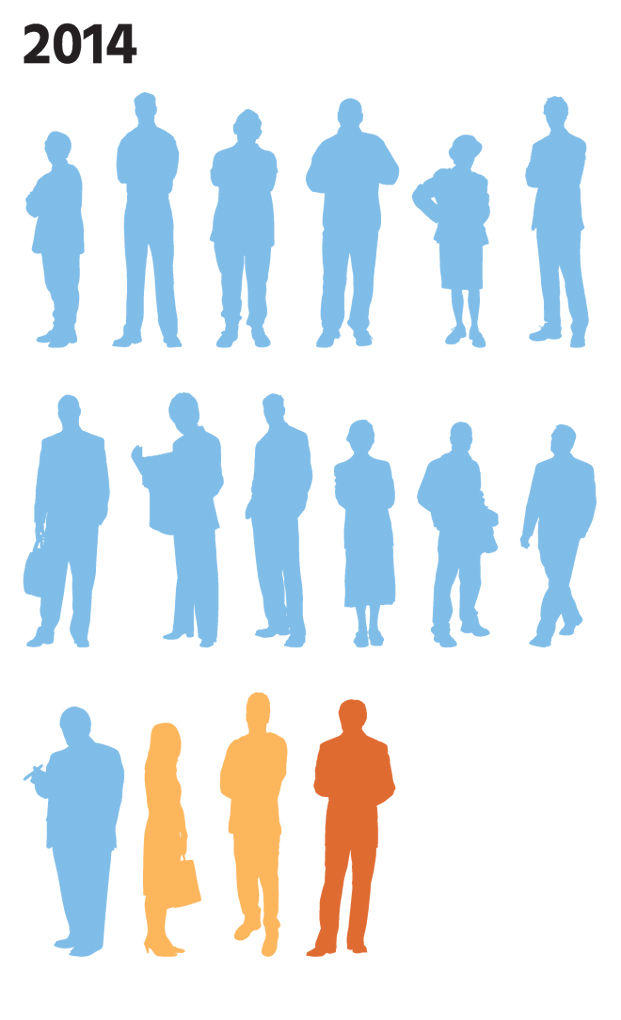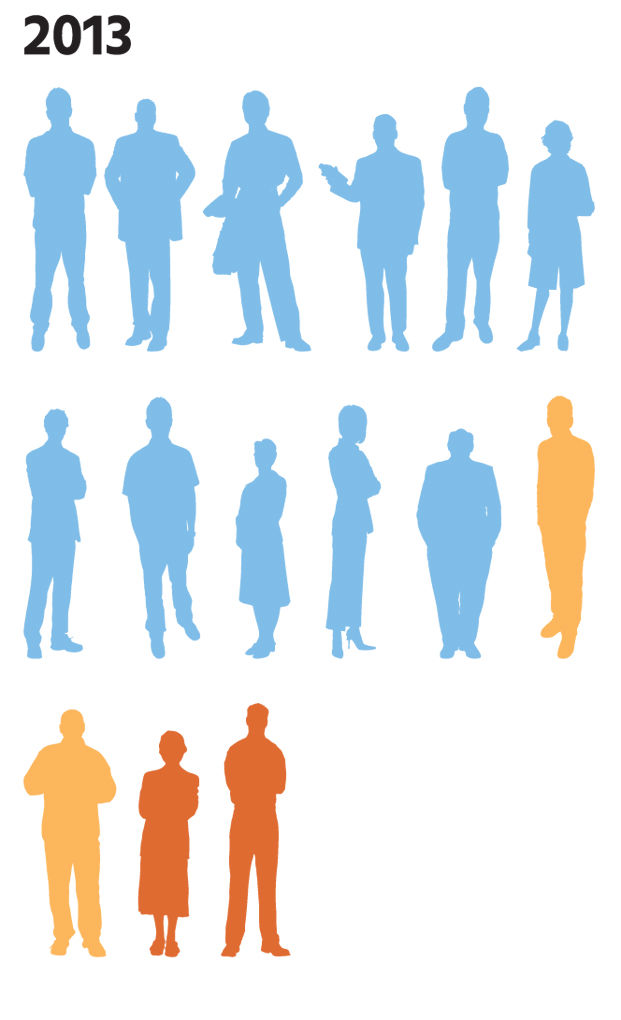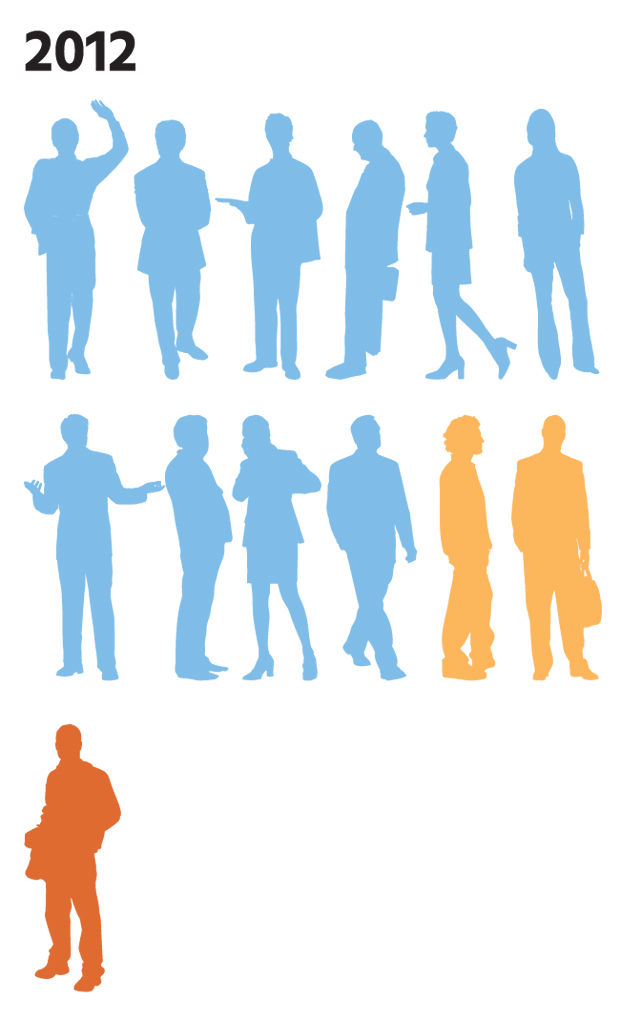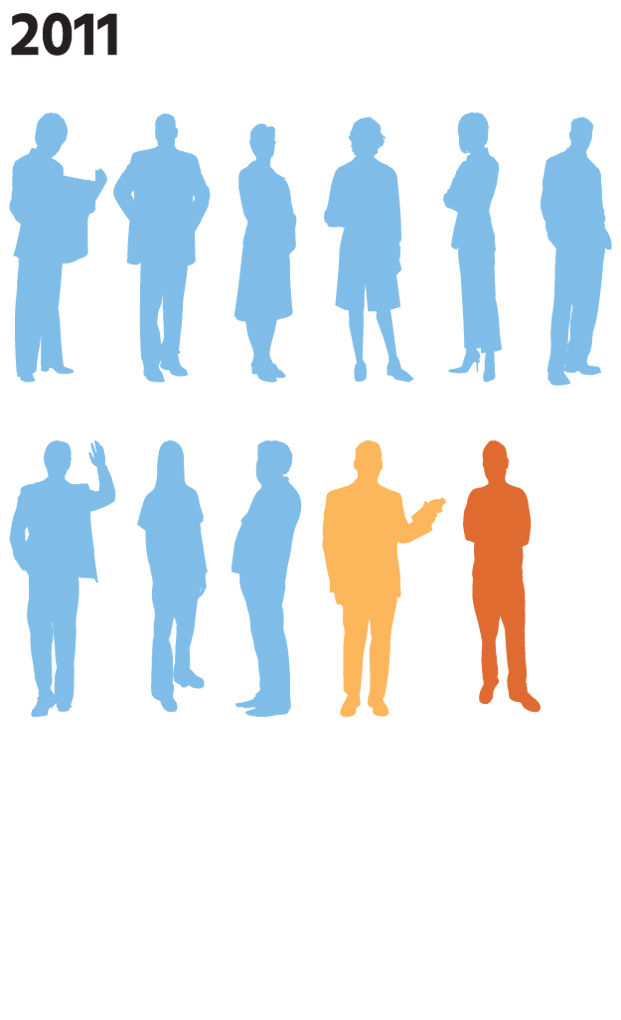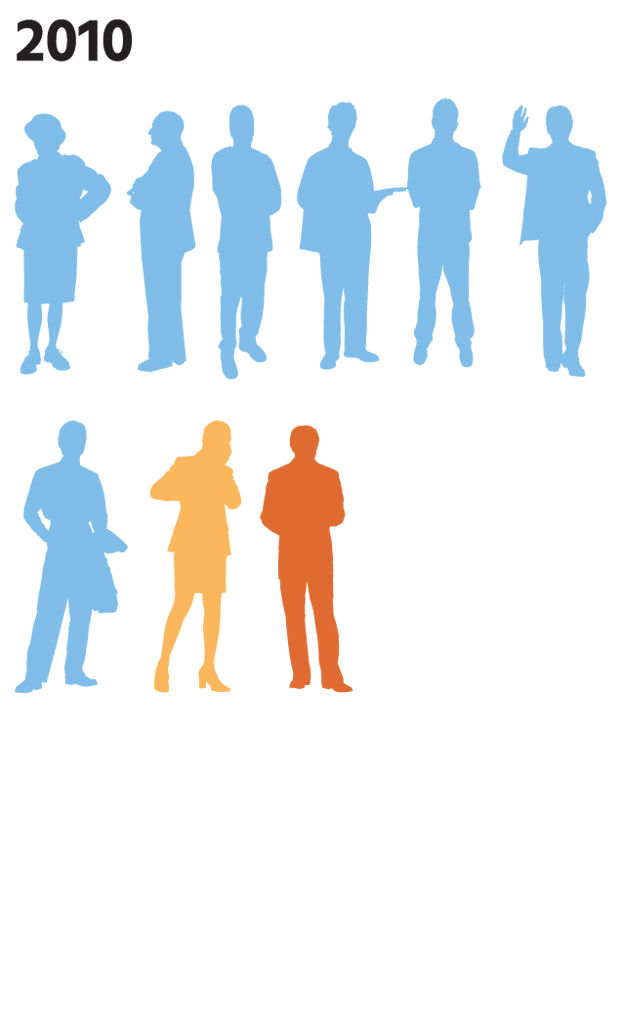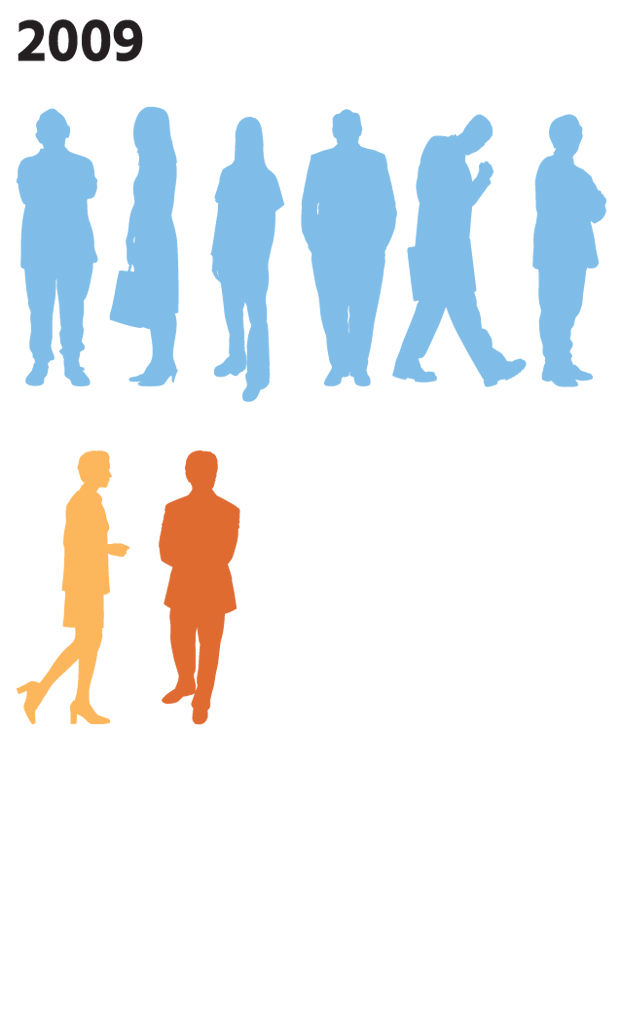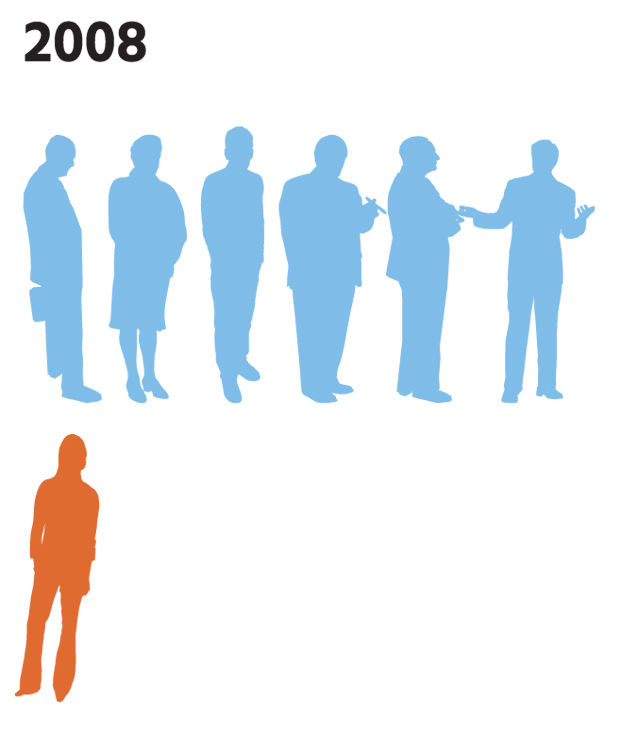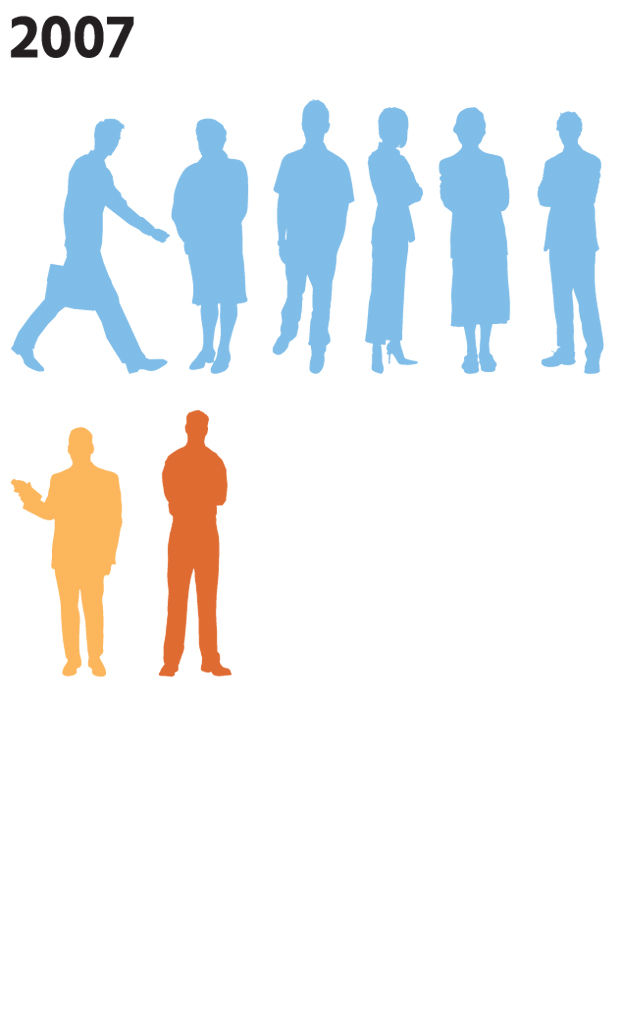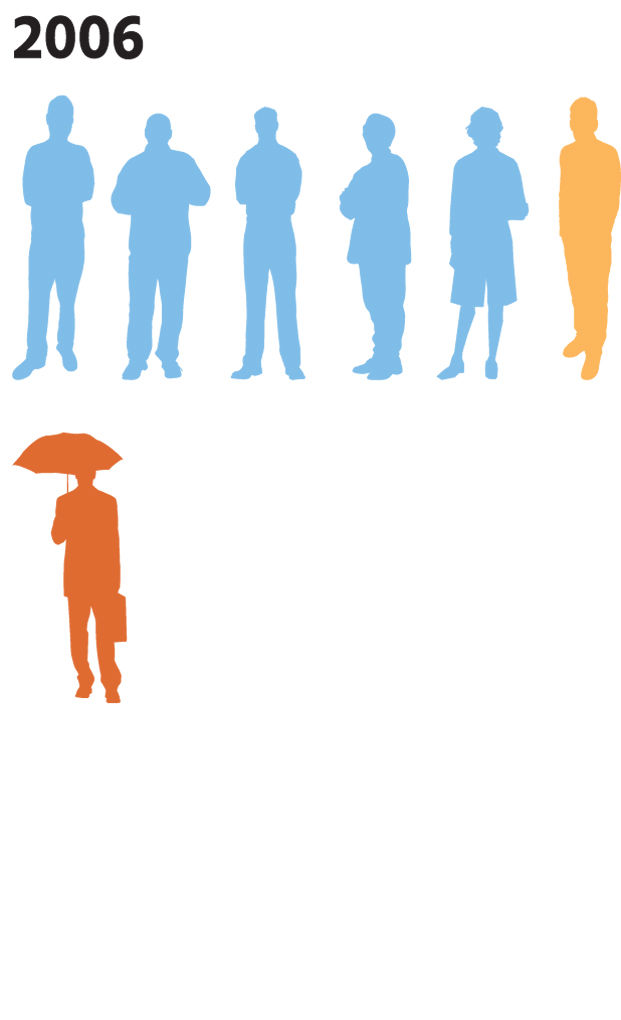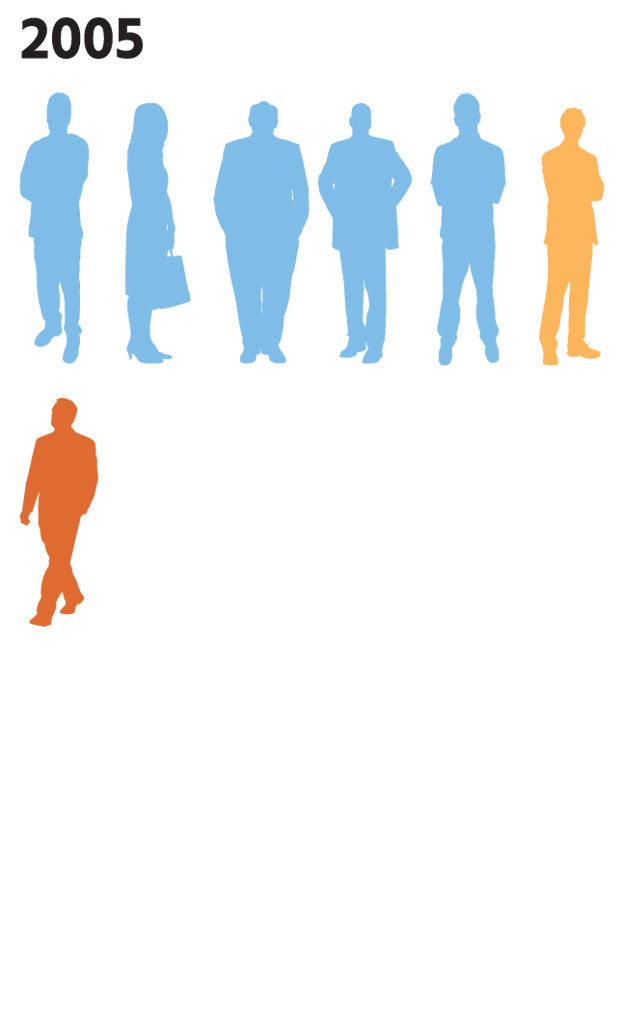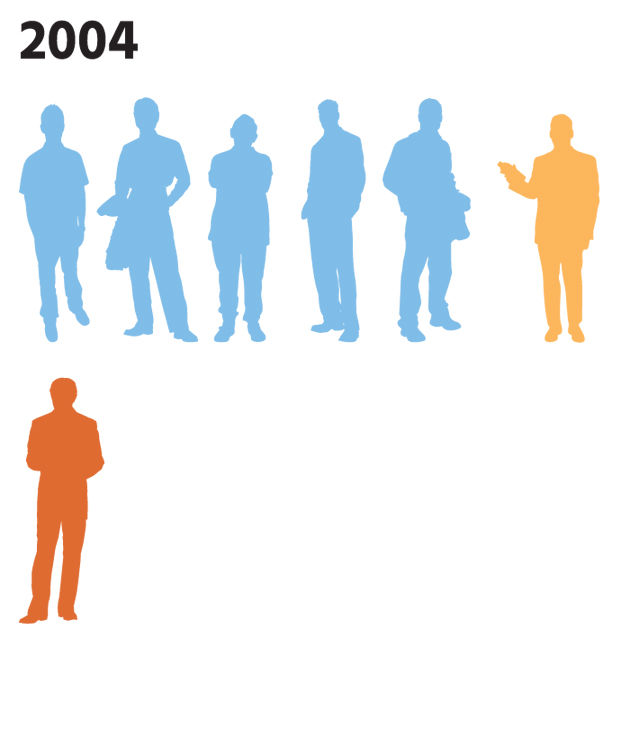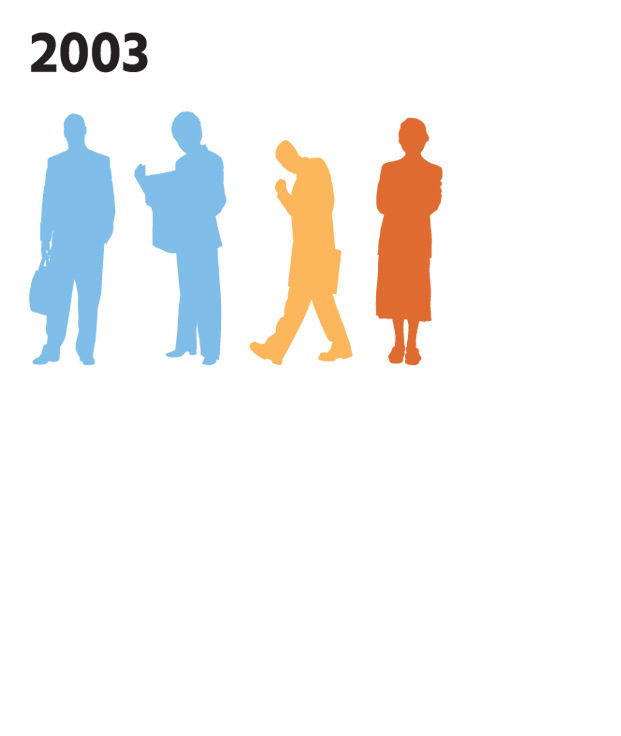 Data taken from the latest IRS Form 990s filed online with Urban Institute's National Center for Charitable Statistics. Most are from 2014.
And the real kicker: The Iowa City Goodwill affiliate last year put $2.3 million of its thrift store profits into supplementing the job training and assistance programs that are at the core of its mission. That's more than four times the figure for Goodwill Omaha.
These stark contrasts between two Goodwill affiliates on opposite sides of the Missouri River provide strong evidence that the outsized executive compensation at the Omaha-based nonprofit undermines its mission of serving disabled adults and others facing barriers to employment.

A World-Herald analysis of IRS tax filings found Goodwill Omaha spends a higher percentage of its budget on CEO compensation than almost any large Goodwill affiliate in the country.
The same analysis also found that no other Goodwill of its size has more employees paid in six figures than Goodwill Omaha. And that's despite the fact that Goodwill affiliates nationally tend to pay their executives significantly more than most other social service nonprofits.
It's more difficult to compare Goodwills nationally on how well they put the profits from their thrift stores to work on their mission — the jobs programs that are the basis for the public charities' tax-exempt status. In federal tax disclosure filings, Goodwill affiliates across the country vary significantly in how they account for their spending on such programs.
But to examine that question, The World-Herald dug deeper into the finances of three similarly sized Goodwills in our region: Goodwill Omaha, which operates in eastern Nebraska and western Iowa; Iowa City's Goodwill Industries of the Heartland, which operates across southeastern Iowa and into Illinois; and Goodwill of Western Missouri and Eastern Kansas, based in Kansas City.
The examination revealed that the Omaha charity and its leaders take a very different approach from their regional counterparts when it comes to how they spend their money and serve the public.
The three organizations are of comparable size, each with annual retail sales between $20 million and $23 million and like numbers of stores. Kansas City's overall budget is somewhat smaller than the other two, largely because it has fewer training programs funded by grants and government contracts.
Annual retail sales at regional Goodwills
Though Goodwill Omaha has paid its executives far more, it has like numbers of stores as the Goodwills based in Iowa City and Kansas City and a similar growth trend for retail sales.
| Year | Iowa City | Kansas City | Omaha |
| --- | --- | --- | --- |
| 2003 | $8.9 | $6.4 | $6.2* |
| 2004 | 9.9 | 8.2 | 7.3* |
| 2005 | 11.0 | 9.6 | 8.7 |
| 2006 | 10.7 | 10.5 | 9.8 |
| 2007 | 11.5 | 9.9 | 11.1 |
| 2008 | 14.6 | 13.2 | 11.8 |
| 2009 | 15.5 | 13.1 | 12.2 |
| 2010 | 16.5 | 12.0 | 13.5 |
| 2011 | 18.4 | 15.5 | 15.5 |
| 2012 | 21.7 | 18.9 | 18.2 |
| 2013 | 21.2 | 20.4 | 19.4 |
| 2014 | 21.2 | 21.1 | 19.9 |
| 2015 | 22.9 | 20.2 | 20.4 |
Annual retail sales (in millions)
* Figure includes small amount of other revenue
Source: Latest IRS disclosure forms (2014 for most) accessed on-line at National Center for Charitable Statistics.
But what stands out most is how differently the volunteer boards for the three organizations have chosen to pay their executives.
Omaha Goodwill in 2015 paid 30-year CEO McGree total compensation of $417,977. That was actually down notably from the $467,665 he was paid in 2013 and the $933,444 he received in 2014 — a figure significantly boosted by the half-million-dollar retention bonus he received that year.
His base pay in each year was roughly $250,000, but it was enhanced considerably in those years by annual performance bonuses averaging just under $100,000 and payments into a deferred retirement account that averaged $62,000 a year. He also gets a paid membership at Shadow Ridge Country Club, and the charity pays for his wife to travel with him to two Goodwill events annually.
Goodwill officials declined to be interviewed for this story. In a statement, they said they use independent professional resources and salary surveys, including data from Goodwill International, "to ensure competitive compensation to retain high performing employees, including the CEO." Past disclosure statements from Goodwill suggest the agency has also used survey data for national nonprofits and national for-profit businesses.

Not only is McGree's total pay among the highest for Goodwill CEOs nationally, it's easily more than double that of his counterparts in Iowa City and Kansas City.
In Kansas City, the board uses comparisons to other like-sized Goodwills in the region to set the salary of CEO Stefany Williams. Last year, she received total compensation of just over $201,000.
Her 2015 pay reflected a big raise from the $134,000 she was paid the previous year, largely due to a $50,000 bonus she received for wiping out a $2 million deficit she inherited when hired in 2013.
"I felt our board had been burned a number of times by paying for future performance," Williams said of her bonus. "What I asked of them is if we deliver on our promises, I would be considered for bonuses that would be outside the norm."
Williams receives no retirement compensation at all, an issue she said will be addressed by the organization's board now that the charity has returned to stronger financial footing. The board is also looking at other compensation issues, aware her pay is low compared with other social service organizations in the area.
Williams also recognizes her pay is far below many CEOs "in the (Goodwill) movement," but added, "I can pay my bills."
Patricia Airy, who has been the chief executive in Iowa City since 2012 and part of the organization's leadership team for 27 years, received 2015 base pay of $159,000. Her package included no performance bonuses. Contributions on her behalf into her agency's regular 403(b) retirement plan — the nonprofit world's version of a 401(k) — and other parts of the charity's benefits package brought her 2015 pay to $192,275.
CEO compensation at regional Goodwills
The CEO pay disparity between Goodwill Omaha and the like-sized Goodwill affiliates based in Iowa City and Kansas City has widened over time, particularly in 2014 when a $519,000 retention bonus spiked the Omaha executive's pay.
| Year | Iowa City | Kansas City | Omaha |
| --- | --- | --- | --- |
| 2003 | $117,219 | $94,889 | $202,618 |
| 2004 | 122,676 | 118,308 | 249,065 |
| 2005 | 131,188 | 113,716 | 252,359 |
| 2006 | 137,914 | 114,208 | 264,514 |
| 2007 | 169,451 | 129,044 | 275,300 |
| 2008 | 93,400 | 122,293 | 330,042 |
| 2009 | 155,800 | 137,441 | 343,550 |
| 2010 | 167,893 | 140,945 | 317,647 |
| 2011 | 176,418 | 169,133 | 364,461 |
| 2012 | 177,366 | 228,515 | 437,348 |
| 2013 | 173,576 | 195,306 | 467,665 |
| 2014 | 191,352 | 134,143 | 933,444 |
| 2015 | 192,275 | 201,303 | 417,977 |
Source: Latest IRS disclosure forms (2014 for most) accessed on-line at National Center for Charitable Statistics.
Airy said her organization's board uses market surveys of like-sized nonprofits in the area and evaluates her annual performance to set her pay.
"I think Goodwill is a complex organization," Airy said. "It is important that Goodwill hires a CEO with a good understanding of business."
The big pay differential between Omaha and the other two Goodwills continues on down the executive chain.
In Iowa City, the longtime chief financial officer represents the only other employee whose pay exceeds $100,000, with total compensation of about $136,000.
In Kansas City, no employee besides CEO Williams receives six-figure pay. The other seven members of her leadership team are all paid salaries of about $92,000. Williams said they are undercompensated, particularly compared with the for-profit world, but "they have come here for the mission."
In Omaha, 13 other executives and managers last year joined McGree in making six figures. They included an executive vice president with total compensation of $237,000, a chief operating officer at almost $228,000, a chief financial officer paid $186,000, a vice president of contracts paid over $172,000, a human resources vice president making nearly $133,000, vice presidents of retail operations and of development each paid just under $130,000, and a vice president of training paid over $120,000.
What is Omaha buying with all that executive compensation? It's hard to argue the charity is getting better performance.
The retail sales growth trend for Goodwill Omaha since 2003 is virtually identical to the other two regional affiliates, and both Iowa City and Omaha have grown their overall organizational budgets at similar rates. The Iowa Goodwill appears to turn a somewhat higher rate of profit.
And significantly, Goodwill Omaha is putting less store proceeds into programs that are assisting the needy — the bottom line for a charity that advertises how donating to and shopping at its thrift stores will benefit people facing barriers to employment.