Saturday, December 17, 2016
---
ILLUSTRATION BY MATT HANEY/THE WORLD-HERALD

SHARE YOUR MEMORIES

With the 2016 season nearly complete, we're asking World-Herald readers to share their memories of the lasting impact Sam Foltz had on those who followed his life from the sidelines, the seats at Memorial Stadium, their living rooms and afar.

Click here to read what those impacted by Sam's life want to share about the loss — and to share your own.
GRAND ISLAND, Neb. — At night, she shoved aside the mail on her dining-room table and set up her little assembly line.

Her favorite black pen and pink highlighter.

Her notebook of record and stack of thank you cards.

Her stamps and return-address labels, surprisingly handy gifts.

Jill Foltz went to work, opening another 3-by-4 card and scribbling a message inside.

"Your kindness is helping to heal our broken hearts."

For the past five months, Gerald and Jill have seemingly been everywhere, their grief on public display. It never felt quite natural, but when someone wants to honor your son, how do you say no? So they hit the road, every weekend.

There they were on the big screen at Nebraska's season opener, presenting a scholarship award. There they were on a Big Ten Network special. There they were on the sideline at Ohio State receiving handshakes from ESPN's Kirk Herbstreit. There they were at midfield for the Big Ten championship game coin toss.

But some things the public didn't see, such as Jill shuffling through her mail at night, hunting for letter-writers and gift-givers who didn't leave addresses. She stalked strangers on Facebook. She called somebody who might know somebody.

"I think I can work for the FBI," she said. "You can hide, but sooner or later …"

Friends said she didn't need to do this. Strangers weren't expecting a response. At least let us help you, they said. No, Jill insisted. She wanted to do it herself. It was therapy.
"We're always thinking about him — every practice, every game. That's kind of our legacy this year, playing for Sam. Just a guy I've always been around my whole life. Just a guy who worked hard and just a great leader. He led by example. He was one of my good friends and we're obviously going to miss him. I think about him quite often."

— Quarterback Ryker Fyfe
Her initial plan was to write 10 thank-yous per day. On Sundays, she knocked out 50 or 100, often with an NFL game on the TV. She liked to calculate what percentage she had left. Am I one-quarter of the way done? Halfway?

Eventually, her favorite pen gave out. Eventually, she went back to the funeral home for another grocery bag of blank cards. She filled 81 notebook pages with a ledger of gifts, cards and letters. About 1,000 people total.

When she finished one, she signed it with her son's motto: Dream Big, Work Hard, Stay Humble. She slipped the card into an envelope with the address sticker and stamp. She grabbed her pink highlighter and crossed off the name in her notebook. She opened the front door — the same place the police officer met her that Sunday morning in July — and carried her stack to the curb.

She opened the mailbox and saw more waiting for her.
Jill Foltz goes through a plastic bin full of letters she and her husband, Gerald, received after Sam's death. RYAN SODERLIN/THE WORLD-HERALD
RYAN SODERLIN/THE WORLD-HERALD

Support for the Huskers is strong in Sam Foltz's hometown of Greeley.
* * *
Up the road in Spalding, Jill's hometown, there's an old-fashioned hairdryer with a metal base. The salon owner offers a distraction for kids waiting on their moms: magnetic alphabet letters.

Last week, for the fifth time, Regina Molczyk was cleaning up and saw "SAM FOLTZ RIP" in colorful plastic letters.

"It just keeps happening," she said. "It's really something the way they perpetuate his memory."

Jill, 57, couldn't begin to take inventory of every tribute to her son, big and small, lasting and fleeting. But back in her spare bedroom in Grand Island, she's doing the best she can.

There's a framed picture from Wisconsin kicker Rafael Gaglianone, Foltz's buddy, after his first field goal of the season. There's a photo from a Norfolk mother, whose cancer-fighting son is pictured in front of Sam's tribute outside Memorial Stadium.

The treasure trove, though, is two plastic tubs stuffed with envelopes.

They come from almost every state. They come from Omaha and Lincoln, Callaway and Morse Bluff.

They come written in sloppy print and perfect cursive. They come typed on fancy letterhead. They tell stories the Foltzes didn't know.

Such as this one, from a woman in Michigan who returned a football autographed by Sam and his teammates on Fan Day:

The players were sitting under a tent awning at a table shaped in a 'U.' We ... turned the corner and there he was. The wind was blowing and he was pushing his long hair back away from his face. My daughter and I looked at each other and whispered, He looks like Thor! So that is what he became to us. Every time we saw him on the field, that's what we called him. We miss our Thor.
Here's a letter from the Minnesota kicker. And one from a high school classmate. Here's one from a North Carolina 15-year-old who learned from Sam at a kicking camp. And one from a cornerback on Tom Osborne's 1973 team.

Young boys and old women. Every bigwig in Nebraska. The tubs include most of it, but not all. Mike Riley handed Jill a manila envelope full of cards from coaches around the country.
Strangers sent checks for $25 and $50 and $150, all destined for Sam's scholarship fund. Booster clubs sent wads of cash — they passed a hat at a meeting. Jill received so much that she stopped at the bank every morning so she didn't have to deposit a big amount at once.

Here's one from a Grand Island priest:

Years ago a mother told me that her little girl was late getting home from school and she asked her why. ... The little one said that her friend Susie had broken her doll. Her mom said, Did you help her fix it? No, the little girl said, we couldn't fix it so I just sat on the curb with her and cried.


Today I am sitting on the curb with you and crying. Grand Island is sitting on the curb with you and crying. Nebraska is sitting on the curb with you and crying...
Here's one from a woman who lost her son, one of many letter writers who ripped off their own scabs to help treat the Foltzes' wound. The week of the funeral, Jill received a call from a woman who endured this nightmare 20 years ago. Jill remembers seeing the caller ID: "Goodland, Kansas." She knew right away.

"Brook's mom."

Here's one from the father of a different Husker quarterback, Johnny Stanton. It's three pages long, penned in perfect handwriting and tells of Johnny visiting friends one last time before transferring from NU:

… At a moment like this, I am reluctant to say that he was going through a tough time, but his life had taken a turn he neither expected nor wanted and it weighed heavily on his shoulders.


At some point during the visit Sam grabbed a couple of baseball gloves and a ball and invited Johnny outside to play catch. I don't know what was said while they were out there, or if they just tossed the ball back and forth in a calming, peaceful reprise of childhood. Whatever the reason, that time with Sam meant a great deal to Johnny and resonated deeply within him, to the extent that I don't believe he will ever forget it.
Jill takes stock of her spare bedroom — and Sam's room downstairs — and doesn't know what to do with it all. She can't build a Mausoleum to her son when she has three other children. What she'd like to do is catalogue the letters, sort them alphabetically so she can find specific ones.
"The main thing we took from him was: Just work hard. He never missed a workout, he was always here early, he always tried to outwork everybody. Running drills. He might come out there and do DB drills with us. Sam was just that kind of person. He wanted to get better. What I took from him was: Just keep working hard. Anybody can have their opinion of you, but if you work as hard as anybody else on the field, you (can) show that you have more heart than anybody. Tell the ones you're close with that you love them every day. Because you never know."

— Cornerback Chris Jones
One thing she knows for sure: She won't throw any away. And everybody will get a reply.

"You know, I shed a lot of tears, but it does a mother's heart good to know that their child is loved so," she said.

"We didn't even know. We really had no clue who Sam was or how special he was. How many lives he touched. There's a part of me that feels kinda sad about that. But I also realize that that's just our humanness. We take things for granted. In a sense, I think it served Sam because that helped to keep his feet on the ground.

"If we would've really known how wonderful he was — or whatever word you want to use — I don't think he would've been as humble as he was. That's what made Sam special. I don't think he knew he was special."
In letters, Foltz family finds solace
The Foltz family has received over 1,000 letters, cards and gifts. Below is a sample of the correspondence delivered to the family.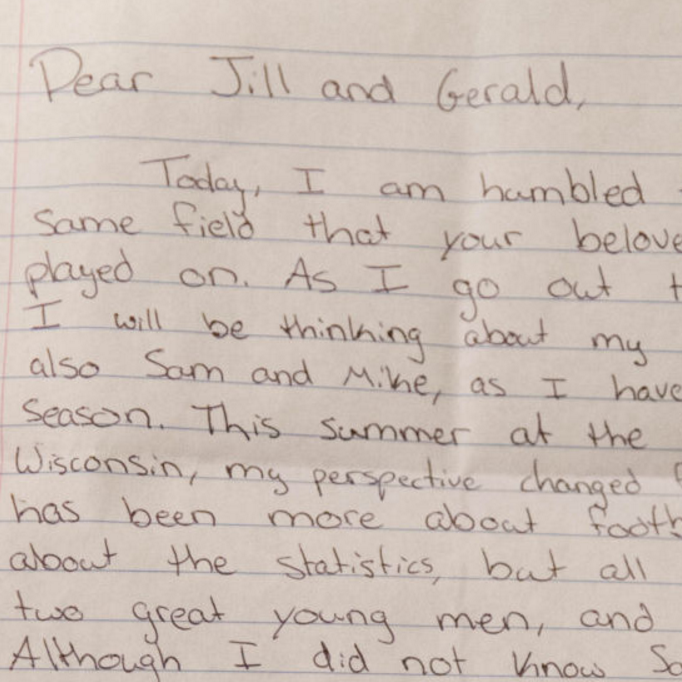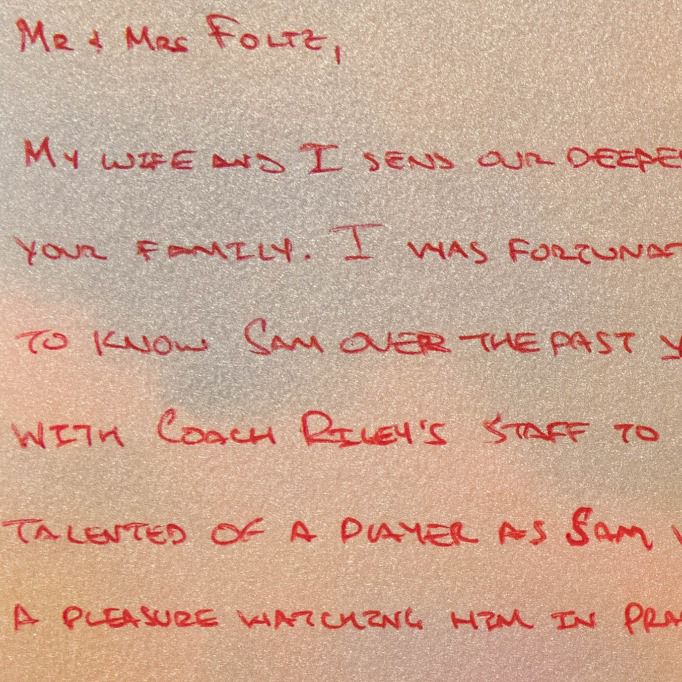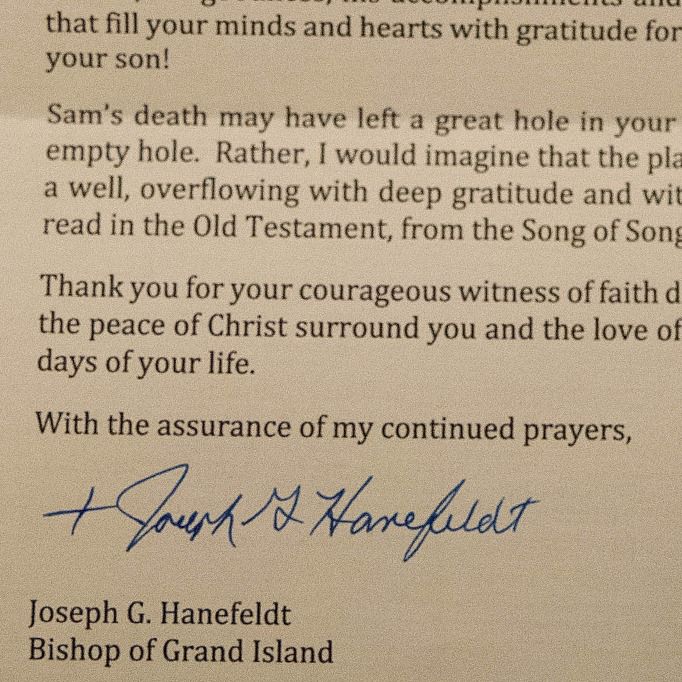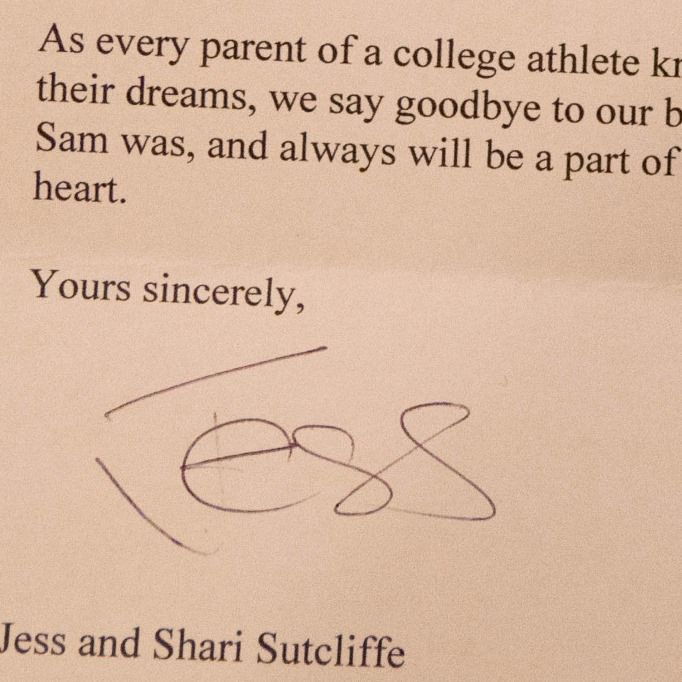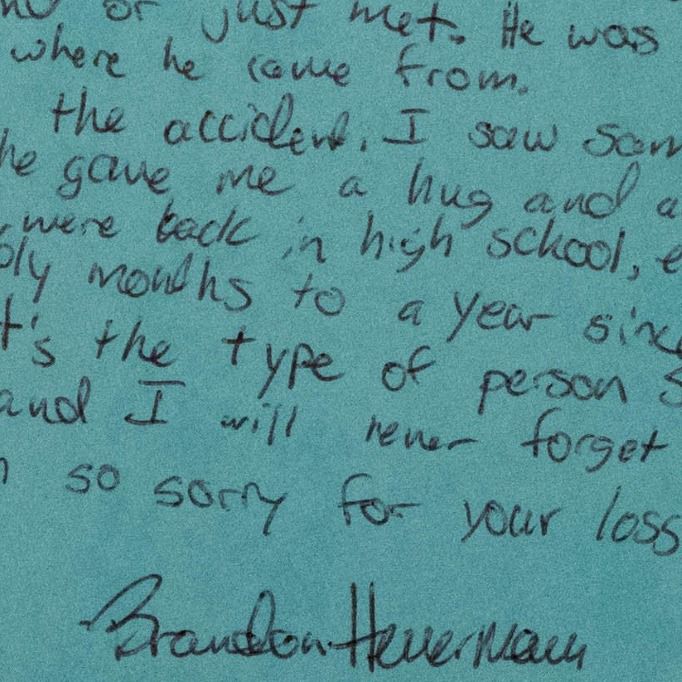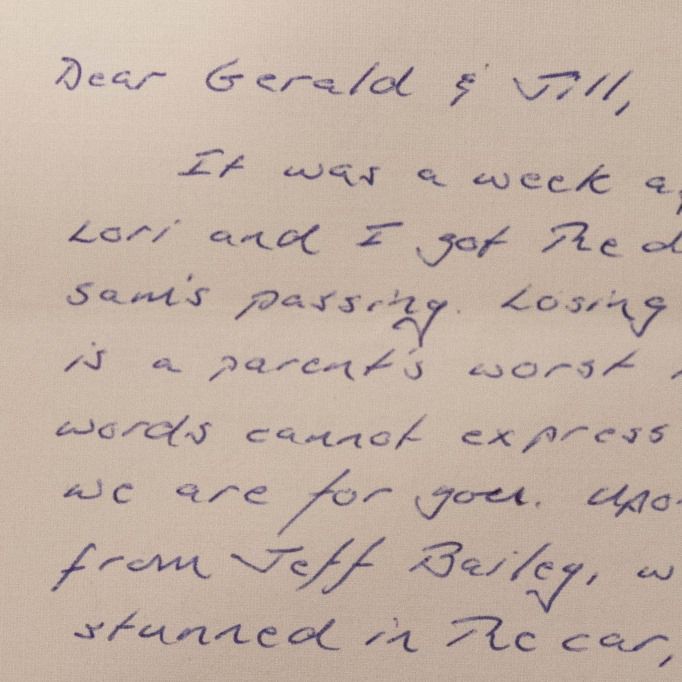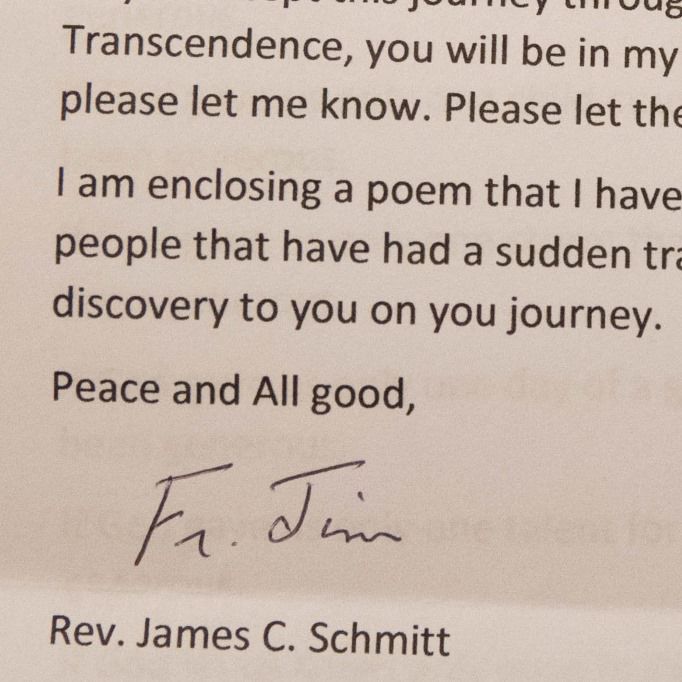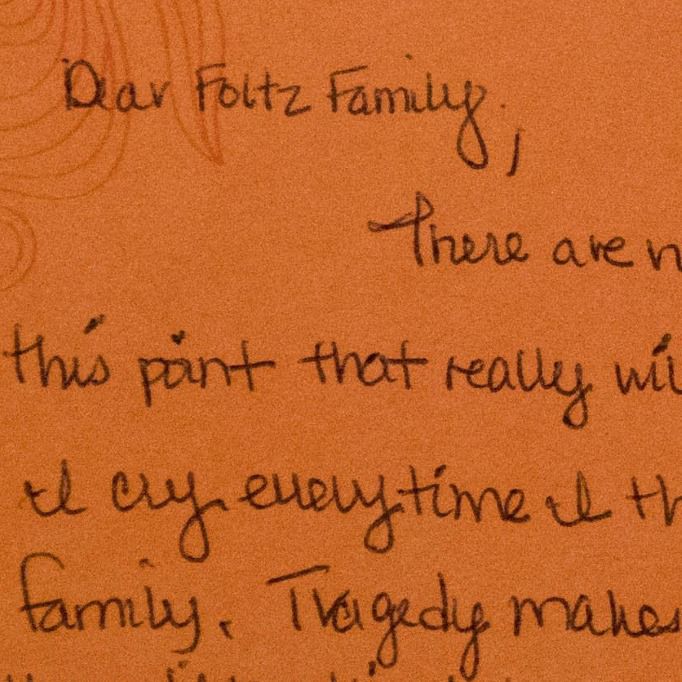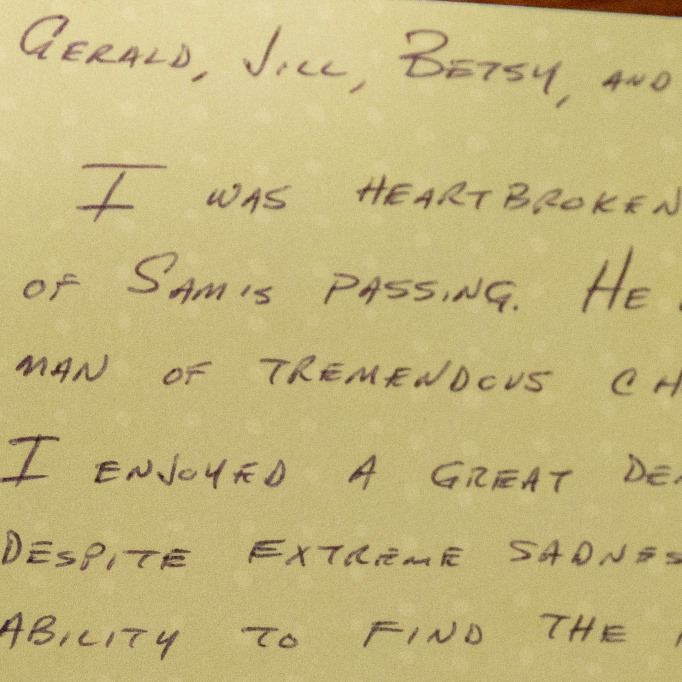 COURTESY PHOTO

In this photograph Sam Foltz holds his niece, Preslee Perry, who is just a couple days old. She was born in July of 2016. Sam died on July 23.
* * *
Thirty years ago, she worked as an intensive care nurse at a Grand Island hospital. She saw people die.

For decades, she's been part of a prayer group with women who've lost loved ones. For three years, she helped a friend with grief counseling.

Jill knew the terrain. But some moments knocked the wind out of her.

Like the afternoon of the visitation at Blessed Sacrament Catholic Church, when she stood for six hours at the end of a line that snaked around the sanctuary and out the doors. An old nursing colleague appeared. Years earlier, the woman had lost her son.

"Oh my God," Jill said, "you know what this is like."

"I do."

But something about their experiences didn't match up. Still hasn't. How many times has Jill heard about a death in the community and mourned with those people for a day, a week, maybe a month, then moved on. You have to. You can't feel every loss deeply. You wouldn't function otherwise.

Sam's death was different. The public embrace hasn't let up. Sometimes Jill wishes it would. It's not easy for a mother to put her grief on display every Saturday — to comfort people who came to comfort her — but the alternative is grieving alone. Think how much harder that would be.

She lost a son entering the prime of his life. A football team lost a magnetic leader. A fan base lost its Thor. But she thinks something was gained, too.
"As painful as it is for me to say, as much as I would want him back in a second, I do believe that Sam touched more lives in death than he ever could have in life. … I had a friend write to me to say he woke up a nation to humility, to hard work, common people making it big."
"The reason we wanted to pay tribute to him so much this year is because of his impact. He was a special person. You won't hear a single person in that locker room say he wasn't special, and that's not fake. I remember talking to all the seniors — before Sam passed this summer — that it was a very definite possibility that he was going to be a captain as a punter. He had that much respect from guys. Everything we wanted to do this year — we wanted to fight and accomplish for him. We hit a rough patch that was unfortunate, but I think we have an opportunity to make a statement in the bowl game against an SEC opponent. We're going out and playing for Sam one last time, and it's pretty fun, because he and I, we're two country boys, and we talked about Nashville being a fun trip for us. It's another little surreal thing, that this is the bowl trip we're going to. He was a country music guy. We would have had some fun. We'll still have some fun. It'll be a good trip."

— Offensive guard Sam Hahn
When her mind wanders to the years she lost with Sam, she scolds herself. Don't go there.

"He is in heaven. Nothing on Earth could entice Sam back. If I spend my time thinking, 'Oh my God, next year Gerald and I could've been sitting at NFL games,' that's all about me. That's self-centeredness. … If I have faith, I have to believe that we're all to live for the greater goodness of God. Sam did, and that's where he's at now."

Outside her house on Michigan Avenue, the days are getting shorter and colder. Winter ushers in a new season of reflection. For the first time, she'll have Saturdays at home — she looks forward to that. For the first time, she won't have the Huskers to chase — she'll miss that.

She wonders about "that deep, dark grief that people talk about," which she hasn't experienced. It helps to stay busy. The morning after Sam's funeral, she and Gerald attended Mass and a visitation for a friend who lost her mother. Staying home only makes sorrow worse, she says.

So she's out of bed before dawn. She's at school by 7 a.m. She needs to be a nurse for 2,400 high school students. She needs to parent her three children and spoil her three grandchildren.

Is she a quarter of the way? Halfway? No. But she remembers a message from a friend in her prayer group, a woman who lost her husband. Grief is like fire, she said. If you try to skirt it, it catches you.

"You have to walk right through it."
RYAN SODERLIN/THE WORLD-HERALD

Jill Foltz and her husband, Gerald, play with their granddaughter Preslee Perry, 6 months, at their home in Grand Island.
On Sunday morning, July 24, Gerald woke up and saw a missed call on his phone.

Drew Brown.

Gerald called the Husker kicker and learned that Sam had been in a car accident near the Wisconsin camp he'd been working. Police officers told Drew that Sam had a concussion. Jill grabbed her computer and started Googling hospitals in the area.

Sam was supposed to fly home that night and if he had a concussion, Jill and Gerald would probably have to go get him. Jill made a few more calls. Then she walked by the front door and saw a police car pull up.

She knew the cop because he used to work at the high school. She took care of his kids when they were sick.

"I bet you have information for me," she said. He responded with a question.

"Can you sit down?"
"Everyone's memory of him isn't any specific punt that he had or stat that he had — it's the person that he was. He made others feel good. It says a lot about his character. I think that's the lasting memory he's left — the kind of person he was. And I see a difference in the team this year. There are probably some guys who were close to Sam, and then when they saw what people thought of Sam, it kind of made them think, 'Well, I wonder what people think of me.' I think it's changed a lot of people. It's hit people. It's made people think about the kind of impression they're leaving. It'll always be around here. It'll be interesting to see, when new kids come in here who didn't personally know him, what they think of him and what they might have learned just by hearing about Sam."

— Holder Zack Darlington
That's when she knew. She turned to her husband on the couch and said, "Ger, Sam didn't make it."

Four-and-a-half months later, she stands in her kitchen and finishes the story.

"I didn't fall to the ground. I didn't start screaming bloody murder. I remember just thinking, 'Sam is in heaven now, and this is your life.' "

She starts crying.

"And you have to live it."

Her notebook of 1,000 names sits on the dining-room table. A week ago, only two hadn't been marked by the pink highlighter. This couple, Jill said, sent a bench full of flowers to the funeral. It must have cost $500. She can't let that go without a response.

She was ready to go hunting for addresses — the floral shop might have the clue, she thought. Then Tuesday afternoon, she opened her mail in the kitchen and there was another one. A Christmas card from a Kearney couple she'd never met:

Mr. and Mrs. Foltz,


We can't stop thinking about your family as Christmas draws near. It has to be so difficult with the football season finished to now have the first Christmas without Sam. Please know that many people like us are thinking of you, praying for you, even shedding tears for you. You raised this wonderful son who will now live on in your hearts and memories. He will live on in our hearts, too.
Contact the writer:
402-649-1461, dirk.chatelain@owh.com, twitter.com/dirkchatelain
Related stories