Saturday, May 28, 2016
---
The news broke on Twitter, of course.
The fourth-hour bell at Papillion-La Vista South had just rung. Western civilizations class was about to start in classroom F04. A girl in the second row was checking her phone when she started freaking out.
Oh, my gosh! Oh, my gosh! Look at this!
Now, let's be honest. It doesn't take the fall of Rome to stir a teenager into a social-media frenzy. Every hour of every school day, the most amazing thing ever jumps from cellphone to cellphone, transmitted silently, consumed loudly. But the next words out of her mouth revealed this was no ordinary video clip.
Adam Dejka is talking!
Suddenly the honors class surrounded her cellphone like ants on a Cheeto. The teacher, Mr. Cooley, demanded a stop to the shenanigans, not so he could start his lecture, but rather so he could project the video on the whiteboard.
Shhhhh! Everyone listen! Here it comes!
Adam Dejka's achievements read like the résumé of The Perfect Senior. National Merit finalist with an ACT score of 35. All-state soccer midfielder who broke most school records and made opponents look like their cleats were stuck in mud. Standout musician who nailed his clarinet solo at the winter concert.
And yet ... 99 percent of students, teachers and administrators at Papillion-La Vista South had not heard his voice. Ever.
He was the kid who walked out of classes and wandered the halls; the kid who refused to participate in discussion or group work; the kid who wouldn't get off the school bus to order fast food because he wouldn't talk to the clerk; the kid who doesn't go out on weekends, preferring the comforts of his driveway.
"He said hi to me once in the hallway," his principal said.
"He's never said a word to me," his coach said.
"One time," said a soccer teammate, "he told me the answer to a problem in math class."
Now, after all these years, the man of mystery — Adam Dejka — was blowing up their phones, all because his sister recorded him walking into their house with a brown paper bag and a smile, preparing to announce Easter supper.
What. Would. He. Say?
* * *
Hold that thought. Let's jump to another video clip, another voice, this from a place Adam Dejka's peers are more familiar seeing him.
The soccer stadium. Senior Night. Four minutes left in overtime against Omaha Burke.
No. 17 in white receives the pass 25 yards from the goal. Like a point guard with the ball on a string, Dejka crosses over one defender — right foot, left foot — and sees an opportunity to shoot. No, he keeps going.
Another Burke defender meets him. He crosses over again, right foot, left foot. Uh-oh, here's another defender. He's double-teamed, running out of space. He cuts left to the edge of the goal box, dodging a slide tackle, and just before the ball crosses the end line, he fires it back into the box past five Burke Bulldogs. Adam's teammate, who defenders lost track of, buries it into the net.
Dejka in action
Papio South 3, Burke 2. Game over.
"Adam's a difference-maker," said Paul Harvey, a former Creighton assistant who coached Dejka for four years at the Nebraska Football Club. "I think he's the best senior in the state of Nebraska."
He's certainly in the discussion, which is almost unthinkable, coaches say, considering he doesn't speak. How does a player who covers the whole field thrive without telling teammates when and where he wants the ball?
Dejka wastes no time with confusion. His attacks are ruthless. The first time he practiced with his state-championship club team, he plowed through a 6-foot-4 center back.
"He's so strong on the ball," goalkeeper Cullen Fisch said. "The way he got the guy off balance, it ended up knocking him over. It was awesome."
To Papillion-La Vista South's head coach, it's mystifying.
"How can he be so charismatic on the field and so scared to death to talk to anyone off the field?" Dave Lawrence said. "It's like an oxymoron."
One afternoon in mid-March, two weeks before the Easter supper video, Lawrence walked onto the practice field as his players were stretching. One stood up with a sly smile and waved him over.
"Coach, have you ever had the dream?"
"What dream?"
"The one where Adam talks to you."
"Oh, my God, yes," Lawrence said, "I've had that dream, I've had that dream. I'm talking to Adam and he's talking back to me."
Adam sat there, listening and smiling, as he usually does when teammates joke about him. Over the next two months — in ways friends never dreamed — his shell would start to crack.
* * *
Back up 12 years. This part isn't on video.
Joe and Paula Dejka had two older kids in school. They knew the parent-teacher conferences routine. Nothing to worry about. Especially with a kindergartner who'd taught himself to read at age 3 with Pokemon cards.
Sure, Adam was an anxious little guy. A new person would walk into the room and he'd freeze like a deer in headlights. But shyness sheds like baby teeth, right? So they thought.
Then the Dejkas showed up for their spring conference and saw teachers ... principals ... counselors ... eight of them, waiting at their table. Was this an ambush?
They discovered that Adam's teacher had put him in the slowest learning group. The school was recommending he go into special education.
"Wait a minute!" Paula said. "He's reading third-grade chapter books."
He doesn't know his numbers and letters, they said.
So Joe got an idea. That night, he grabbed his video camera. At bedtime, he told Adam they were going to do something different. You're going to read to me. Adam navigated his Pokemon book with perfection. The voice. The inflection. He was so into it, his eyebrows were bouncing.
Joe took the video to the principal: "Look at this." The response: "Well, we don't see that here."
Over the next year, the Dejkas tried to solve the puzzle. They watched their son speak freely at home but lock up in public. They combed through research. One day, Paula stumbled on a website for selective mutism. She perked up.
A childhood anxiety disorder characterized by inability to speak or communicate effectively in certain social settings.
"Oh, my gosh, this is Adam."
The official diagnosis came at the end of first grade. Adam's case was severe. Paula had read that kids with selective mutism feel like they're on stage in front of a full auditorium. In second grade, Adam described it for his mom: It's like the words get stuck in my throat, he said.
ANXIETY CAN BE PARALYZING IN SOCIAL SETTINGS



Adam Dejka is one kid at home and a completely different kid in public.

He suffers from selective mutism, a childhood disorder characterized by an inability to speak in certain settings. The problem is anxiety; the manifestation is speech.

Children with selective mutism feel as if they are constantly on stage. The disorder can render a child fearful of nonverbal expression, too, which is why Adam rarely answers emails or text messages.

Studies have found that selective mutism affects about one in 150 children. Many kids are undiagnosed; often adults confuse symptoms for extreme shyness. Other times the disorder is misdiagnosed as autism or oppositional-defiant disorder.

The notion that people will outgrow selective mutism on their own is a myth. However, treatment, often involving therapy, has led to successful outcomes by adulthood.

— Dirk Chatelain


"They won't come out."
So while his classmates were going to sleepovers, birthday parties and summer camps, Adam cultivated other interests. Things that didn't ask questions, point fingers or judge.
He devoured Harry Potter books — his reading teacher told him they were too advanced for a second-grader. He devoted hundreds of hours to the clarinet. He mastered the Pokemon video game.
His favorite outlet was a ball.
* * *
Thud ... thud ... boom.
Thud ... thud ... smack.
Robyn Stephen lives on South Grandview Avenue, right across the street from the Dejkas. She hears those sounds late at night — 10 p.m., midnight, 2 a.m. She's been hearing them for years.
Adam's first year of soccer, he mostly observed. His parents didn't know the game. His brother and sister didn't play. But his second year, he scored five goals in the first game.
He understood the game's geometry. The creases. The angles. How pressure exerted in one place created weakness in another. Other kids waited for a teammate's word or a coach's order. Adam saw three moves ahead.
School wasn't so predictable. In sixth grade, the teacher wanted him to participate in a group math assignment. He did it on his own. They took away his recess.


DOUBLE HONOR FOR EXCELLENCE

More than a year ago, The World-Herald sports staff reached out to Adam Dejka's father, Joe, with the idea of publishing a story on his son after word began to spread outside the Omaha soccer community about his son's prowess on the pitch — and the fact that Adam didn't talk.

Reaching Joe was not hard. He is an education reporter for The World-Herald. The Dejka (pronounced DAY-ka) family agreed, and World-Herald reporter Dirk Chatelain began working on the story this spring during the high school soccer season. During that time, Adam was among nine high school seniors named to the newspaper's All State Academic Team, which The World-Herald started in 1994. Today, Adam is named to the newspaper's All-Nebraska first team in soccer. The honor likely makes him the only person ever to be named by The World-Herald as first team All-Nebraska in a team sport and to the All State Academic Team. A computer search turned up no other person named to both prestigious lists.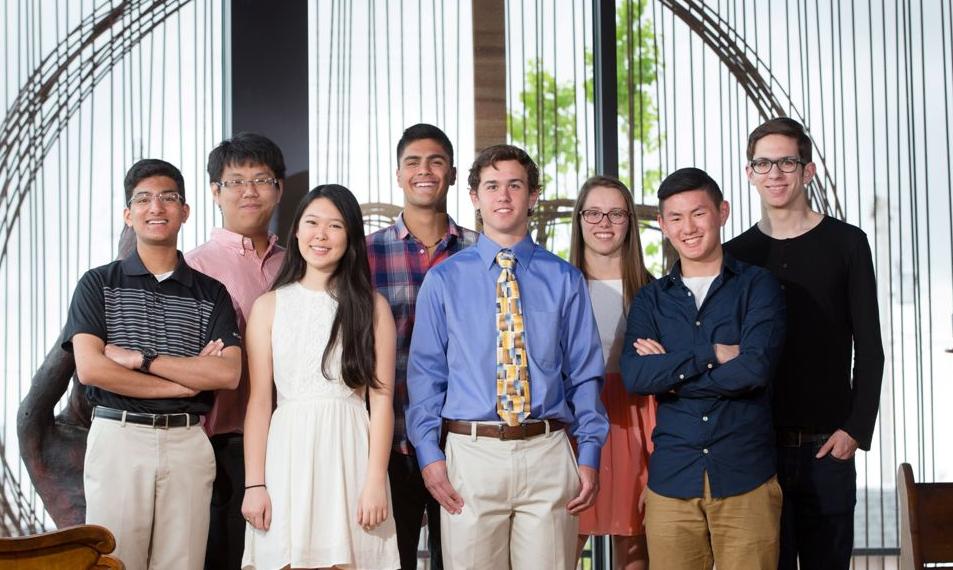 The 2016 All-State academic team featured Adam Dejka, center, and seven other students.


Mom and dad tried to work with the teachers. Tried to convince them he wasn't being aloof or defiant. "Selective" mutism is a misnomer, they said. He didn't have control. The words just won't come out.
Usually, teachers and administrators listened. They crafted alternative ways to learn, careful to nourish his imagination. When classmates discussed classic novels or current issues, he sat silent. When classmates delivered speeches or conducted science labs, he left the room and received his own assignment.
Routine was his security blanket. He carried the same lunch every day: turkey, strawberries, granola bar and chocolate milk. He spent three, four, five hours a night at the dining room table, studying to avoid surprises. When he finished, he grabbed his ball and started kicking.
"Off the sofa," Joe said.
"Off the lamp, replace the bulb, through the legs of the dining room chair ...," Paula said.
"Over to the computer chair," Joe said.
One night, his sister counted how many times he kicked the ball without letting it hit the ground. She stopped at 1,000.
Come spring, mom and dad could finally kick him outside. They bought him a regulation-size goal for the front yard. Adam spiced things up.
Off the basketball hoop ... off the garage ... off the massive oak tree.
Robyn Stephen looked out the window and smiled. He was getting better.


IN HIS OWN WORDS

Via email, Adam Dejka answered four questions about living with selective mutism.

The misperception of his condition:
"I think the name gives the impression that it is voluntary, but I have no control over when and how it affects me. It also keeps me from acting many times, not just from speaking."

The toughest part of daily life:
"It's hard for me to do anything in class, so I always have more work to do at home. Socially, it is much more difficult to find friends because people will often not interact with me after their first attempt when I didn't respond to them."

What he wishes people knew about him:
"I wish people could hear my jokes. When I'm comfortable, I always try to make people laugh. At school I like to hang out with people who have witty humor, but I'm never able to join in."

What it's like playing soccer like he does:
"On the field I have to clap and point to communicate, which isn't as easily recognized as talking, even if my teammates know I'll be doing it. My style of play is reflective of the selective mutism and solitude. I think my dribbling ability really sets me apart from other players. When you're alone with a soccer ball, you dribble. There's not much else to do, whereas other people would be more likely to pass and shoot with each other."


* * *
The first time he showed up at Dave Lawrence's soccer camp, Adam Dejka was a chubby third-grader. His mom handed coach a note.
"He's not gonna talk to you, just tell him what to do and he'll listen."
So Lawrence knew what was coming when Adam walked into his seventh-grade social studies class.
"I'm your prototypical middle school teacher that kinda makes kids feel at ease and goofy. I can reach kids that other teachers can't reach. I thought, 'OK, he'll talk.' Had him in class the entire year and never said a word to me. Just amazed me."
Correction: One time the class was playing a "Jeopardy"-like game — team versus team — and students had five seconds to answer. Lawrence got an idea. He shut off the lights.
"If I wasn't looking at him, he would say the answer. That's the only time I've heard his voice. Otherwise, I couldn't tell you what his voice sounded like, even today."
Lawrence has taught students with autism. He's taught students who were brilliant. But he's never had one harder to label or harder to predict. He's never had one who amazed him or flummoxed him like Adam.
How does a seventh-grader who rarely speaks write essays with the structure and vocabulary of a college kid? One night at SumTur Amphitheater, Adam was sitting on the grass with his sister — talking, smiling, laughing.
Lawrence snuck up on him. "And as soon as I got close, he stiffened up and put his head down," Lawrence said. "I'm to the point now where I can joke with him. I was, like, 'Darn it, I thought I was gonna get you.' "
Coach knows it's not always funny when someone looks at Adam or asks him a question. He turns or backs away.
"His whole face closes," Lawrence said. "His eyebrows furrow. His lips get tight and his head drops. He shrinks into himself."
Not funny when Adam won't answer his home phone. Not funny when he's running late to practice and skips altogether because he doesn't want to walk in by himself. Not funny when he walks out of classes unannounced and wanders the halls, or has to make up an entire class in the summer because a teacher pushed him to participate in discussion.
In three years of varsity soccer, he came to one team dinner, sophomore year, accompanied by his dad. Picture a big table in the living room with 20 teenagers — eating, talking, laughing.
Picture Adam standing in the foyer for 45 minutes, looking at the wall, too paralyzed to move.
Left: Adam Dejka sits apart from his teammates at halftime against Westside. Top right: Dejka celebrates a goal during the Titans' district final against Grand Island. Bottom right: Dejka gets in some senior-year studying earlier this month at Papillion-La Vista South High School. He will be heading to the University of New Mexico. PHOTOS BY THE WORLD-HERALD
So why don't people just give up? Why do his classmates keep talking to him, even though he doesn't respond? Why do teachers and coaches keep making compromises for him, even though he won't make eye contact?
Is it purely admiration for his talent? No, there are plenty of teenage geniuses banished to social solitude. Papillion-La Vista South is full of kids who cheer for Adam Dejka. The reason is hard to put into words.
It starts with Adam's awareness and perceptiveness. Flickers of personality. The way he smiles when somebody references an inside joke. The way he grimaces at something gross. The way he turns up the intensity after coach yells at the team. The way he listens.
What if the words really were stuck in his throat? What if he really was just trying to reach out?
Dejka pretends to line up to take a snap from a squirrel statue. "I wish people could hear my jokes," writes Dejka, adding that he tries to make people laugh when he can.
For Elias Lozada, the "whoa" moment came during Adam's junior year. They were clarinetists in the marching band, walking out to the practice field. Lozada, a freshman, had never heard Adam say more than a word or two when he asked him a question.
Are you lonely?
"He said there's a difference between being alone and being lonely," Lozada said. "You can be with a group of people and feel lonely, but sometimes you can be alone and feel like you're on top of the world."
For Jared Ott, the "whoa" moment came last summer at soccer camp. Ott was trying to defend Adam's best Maradona move. As he bolted past Ott, Adam whispered in his ear, "Schooled you."
"I was, like, 'Did I just hear that, or did I make it up?' " Ott said. " 'I'm pretty sure he just talked to me. Oh, my gosh, Adam Dejka just said something to me!' "
Ott had known Adam since eighth-grade geometry, back when Adam's silence was the subject of middle-school fairy tales. Stuff like this: "I heard that sometimes, really really late at night, he'll talk ..."
After the soccer camp, Ott, one of Papio South's brightest (and silliest) kids, made a senior-year commitment. He was going to befriend Adam Dejka. The process began with a steady stream of humor.
"Sometimes you talk and he just stares at you like you're a fool," Ott said. "Then sometimes he laughs. The laughs are definitely worth him staring at you like a fool."
At most, Ott gets two or three words. After homecoming last fall, he joked with Adam about becoming prom king. You interested? Adam nodded.
A campaign was born.
* * *
They tell each other everything.
Molly hears her brother singing in his bedroom. She grumbles when he uses a word she doesn't understand — "Adam, I don't even know what that means." She laughs when Adam texts her a quote from their favorite YouTube video.
That's the video that inspired their Easter night reproduction. It was actually Adam's idea. He walks into the house with a grin and cites the Dejka household's inside joke.
"We're having enchiladas, baby. Enchiladas."
That's it. Five silly words. Six quick seconds. When Molly posted it on Vine, kids at school were dumbfounded. Was it photoshopped? They watched it over and over. The next night, the leading man doubled down on his Internet fame with his own tweet:
"ADAM DEJKA KNOWS HOW TO TALK?!?!?!?!?!"
His confidence was building. The surprises kept coming.
Two days later, April 1, his mom accompanied Adam on a mission he had been putting off for weeks. They drove to Dana Lane, where he parked a safe distance from the house and started walking. Paula was sitting with a book for 15 minutes when Adam came back.
"Did you do it?" she asked.
"No."
He worked up the courage and tried again. Fifteen minutes later, he returned. Nope. He tried a third time, stopping short of the door again.
It's almost 10 p.m., Paula said. Just go!
Ten more minutes passed, and here comes Adam with a smile on his face.
"That was so scary!"
"Did you ask her?"
"Yeah."
"Did she say yes?"
"Yeah."
"Then what happened?"
"I didn't have anything else to say, so I turned around and ran."
Mom floated the whole way home — until she realized it was April Fools' Day and Adam's prom date might have thought it was a hoax.
The next week he took his driver's test and — two weeks shy of his 18th birthday — got his license. By then, the focus at school had shifted to prom court. His buddy Elias had created a fake Twitter persona, "Fake Adam Dejka."
The account's first tweet?

If I win Prom King, I will give a speech. #AdamDejkaForPromKing

— Fake Adam Dejka (@AdamFAKEa) April 2, 2016
Adam was indeed one of eight boys nominated. That was the good news. "He was pretty flattered, I could tell," Lozada said. "Almost excited."
The bad news? By tradition, he'd be randomly paired with a nominee for queen and they'd have to lip-sync at the prom pep rally.
Jazsmin Cryer, his partner, knew Adam from band. She suggested an alternative. I'll sing. You play clarinet. He nodded.
She texted him a few song ideas. No response.
How 'bout Beyoncé's "Crazy in Love"? He agreed.
On April 6, in Papillion-La Vista South's main gym, in front of the entire junior and senior classes, Adam stood on the baseline and waited for his cue.
Jazsmin walked out to midcourt trailed by three backup dancers. The music started and she imitated Beyoncé. Then came the moment the crowd was waiting for.
Papio South's mystery man walked out, clarinet in hand. He stopped at the microphone stand and, with his head down, waited for the chorus.
Dejka's pep rally performance
Watch as Adam Dejka performs at the Papillion-La Vista South homecoming pep rally in April. His skit with Jazsmin Cryer begins just before the 2-minute mark:
"Got me looking so crazy right now, your love's got me looking so crazy right now ..."
Adam bobbed his head, shook his shoulders and blew air through a skinny black horn. The solo lasted 20 seconds, but the cheers met him halfway through. When he finished, Jazsmin's arm rested on his shoulder. They walked off together, the girl smiling, Adam twirling his clarinet in frustration.
He squeaked the last note.
* * *
Adam Dejka did not become 2016 prom king — he finished second. But the Monday after the dance, his soccer teammates made him a crown and — much to their surprise — he wore it for the start of practice.
At the start of the season, Coach Lawrence sent Adam an email seeking input on lineups and formations. He wanted to know if his best player was capable of being a captain. His teammates were going to pick him, for sure.
Adam had never responded to coach's emails or texts, but this time he did, withholding his opinion on strategy but saying yes to captain. The last line, he did make one request: "I'd appreciate it if I never came off the field."
"I just laughed," Lawrence said. "I can't believe he had the balls to write it."
On the field, he started clapping when he was open. Against Bellevue East, he scored from 46 yards out — one of his four goals on the day — and bowed to the fans. After another goal, he did his version of a mummy walk. And then the kicker: Lawrence caught him talking to a referee.
"I'm, like, dude, I've known you for eight years and you've never said a word to me, and now you're talking to referees because you're getting hacked on the field? It kills me."
The school record for career points was 55. Adam shattered it with 74.
In the district final, the Titans trailed Omaha Westside 2-0 late in the second half when Adam kick-started a rally. Soon it was 2-2 and his dad was reaching for his video camera.
"This is usually when Adam scores," Joe said.
Not this time. Westside scored in overtime. Time ran out. Adam pulled off his captain armband, led his team across the field to acknowledge the fans, then returned to the sideline and stuffed his cleats in his bag. As teammates mourned the season's final game, Adam didn't say a word. He hustled to the parking lot — he was late for honors night.
Jared Ott, left, and Matt Parker, right, corral Dejka for a photo at their graduation.
The last month of senior year felt like one long day. Prom and birthday. Finals and graduation. Amid all the hubbub, he chose a college. The University of New Mexico.
He'll receive a full ride academically, of course, and major in biochemistry. But the reason he's headed 900 miles from home is soccer.
New Mexico, unlike most Division I schools, is giving him a chance to walk on. It isn't much. In six years, an assistant coach told Adam, no player has successfully tried out.
"My answer," Adam's dad said: "It may be a one-in-a-million chance, but he's a one-in-a-million kid. So I'd say the odds are even."
Truth is, the adults around Adam are terrified about next year. How will he order food? How will he make friends?
He thrived in Papillion partly because of a strong, familiar support system. What happens when he leaves and starts over, lonely and alone?
Adam's friends have more confidence in his survival skills. At first glance, Jared Ott said, you wonder how he'll get by. "You get to know him and gain a perspective. You realize that you can do a lot with just your actions."
"I have no doubt in my mind," Elias Lozada said. "Well, I do, but if there's anyone like me, even someone better than me, someone who does not judge, someone who's willing to open their heart and be able to express a level of friendship that Adam can react to, someone who doesn't treat him different, then he'll do just fine."
* * *
At 10:44 p.m., the front door opens, the driveway lights up and an 18-year-old in a blue T-shirt and white shorts walks to his soccer goal.
He pulls the ball out with his foot and immediately starts moving full speed. Right foot, left foot, right foot, left foot.
See the way he handles it. A regular player will tap a ball, step, tap, step, tap. Adam goes tap, tap, tap, tap — it barely leaves his foot.
He once told his sister that he had eight goals in life. If he ever finds himself doing something unrelated to those goals, he stops and refocuses.
"He hasn't told me what the goals are," Molly said, "but he knows."
It's a warm, windy night and a full moon rises. Adam can't see it behind the trees. He keeps moving.
He flips the ball from his back foot over his head. He dribbles it around the big oak. He kicks it up into the basketball hoop.
He fires it off the two-car garage and drills it into the net. Sometimes he misses and sprints into the neighbor's yard in pursuit. Sometimes he smacks the Buick in the street — not the best place to park! The other night, he broke a garage window.
Right foot, left foot, tap, tap, tap ...
Spinning in silence. Speaking while no one's watching.
More stories you might like