No athlete in the Nebraska 100 discovered his primary sport later in life as Tomasevicz goes from NU football walk-on to bobsled gold to teacher.
By Dirk Chatelain // World-Herald staff writer
Sohrab Asgarpoor tried to talk him out of it. Tried to talk some sense to him.
In 2004, one of his prized graduate students had come to Asgarpoor's Nebraska Hall office and dropped a bombshell. Rather than pursue a Ph.D. in electrical engineering, he wanted to explore — are you ready for this? — bobsledding.
THE ASSOCIATED PRESS
Curt Tomasevicz celebrates with teammates after the U.S. won the four-man bobsled gold medal at the 2010 Winter Olympics.
Now, there's no record on the subject, but it's safe to say that Curt Tomasevicz's wish was a first among engineering students at the University of Nebraska-Lincoln.
Asgarpoor, a Nebraska professor since 1989, believed that Tomasevicz had the intellect, character and work ethic to be a standout in engineering. Asgarpoor tried to speak his language. He brought up Tomasevicz's master's thesis on the risks and benefits applied to maintenance optimization.
Well, the probability of success in bobsledding is very low. And considering the benefits, the total outcome is high risk compared to working the next three or four years and getting a Ph.D.
Tomasevicz had never actually seen a real bobsled. Nor had he traveled 90 mph down an icy track with no seatbelts, no airbags, no padding. But he had already made up his mind. He was gone.
Quick facts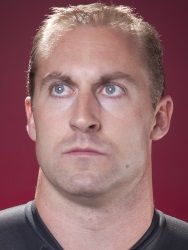 Curt Tomasevicz
Sport: Bobsled
Hometown: Shelby
Born: 1980
Played for: U.S. Olympic Team
Best athlete from Nebraska played with or against: Eric Crouch, whose raw speed and smooth demeanor left an impression on Tomasevicz. "He was always pretty gifted athletically and then wouldn't take the out-of-bounds option very often. He was gonna be physical, too."
Best moment as an athlete: The easy answer is winning the gold medal in four-man bobsled in 2010. But Tomasevicz actually remembers the moment just before the final run at the Olympics. The other teams had all left the warm-up area. It was just him and three teammates. "We didn't want to talk about it; we just kinda looked at each other and smiled," he said. "I think that moment was kinda the calm before the storm. It was a pretty cool unspoken bonding time."
Early sign of greatness: He could dunk a women's basketball in seventh grade. "I think that's kinda when I knew I could jump a little bit."
Nebraska 100 profile: Curt Tomasevicz
Nebraska 100
In an historic series, The World-Herald selected Nebraska's Top 100 athletes. The Top 100, selected in 2005, came from a pool of more than 450 names from the ranks of high school, college, amateur and professional sports from the past 130 years. Assistance came from a panel of veteran sports observers from across the state, with the newspaper's sports staff determining the final rankings.
» View the full Nebraska 100 project
Related links
»
Former Husker Tomasevicz eyes Olympic gold
»
Nebraska 100
What happened over the next 10 years still feels like a winter fairy tale. Tomasevicz became the best push athlete in America. He made three Olympics. He won a gold medal in 2010. A bronze four years later.
Asgarpoor followed him from UNL, posting bobsled pictures outside of his office. He couldn't get over the fact that a kid from Shelby, Nebraska, had climbed to the top of the world.
"Nothing is impossible!" Asgarpoor said.
That includes returning home and picking up right where you left off. This past spring, the best bobsledder in Nebraska history taught an engineering class at Nebraska Hall.
He wrote the curriculum for "Intro to Engineering Through Athletics," applying the lessons to sports.
He assigned projects in which students sought improvements for the Paralympics — one group invented a starting device for backstroke swimmers with one arm. They discussed how the Seahawks' football stadium design maximized crowd noise.
For a lesson on mass and momentum, Tomasevicz contacted the Husker baseball office and collected bats of various size and weight. His students analyzed the most important factors in making a ball fly — pitch speed and swing speed, they found, are more important than bat mass.
Elise Wordekemper, a freshman engineering major, told her friends that her teacher was an Olympic gold medalist.
"They'd be like, 'What? That's so cool.' I told them they should've taken it. It definitely beat the other classes."
Tomasevicz, who's 15 hours into his Ph.D. work, is on track to be a professor, just as he was in 2004 when he walked into Asgarpoor's office. The whole thing feels so comfortable — and a little strange. As if Tomasevicz, who turns 35 in September, woke up one morning and the world had moved forward 10 years.
"I'm trying to figure out what I want to do when I grow up."
No athlete in the Nebraska 100 discovered his primary sport later in life. No athlete in the Nebraska 100 took a more unlikely path to greatness. What if Amanda Morely, a former NU hammer thrower, hadn't suggested bobsled when he completed his career as a walk-on Husker linebacker? What if Tomasevicz had stayed in Lincoln?
"I thought my sport was football and it was kinda over and done."
He made Frank Solich's team after a walk-on tryout in the winter of 2000. Six of 119 athletes at Cook Pavilion made the cut; Tomasevicz and one other lasted until senior year.
Bobsled training was far more intense than football. It required speed, strength and — perhaps most important — extraordinary dedication, even when the Olympic dream was three years away. Tomasevicz set the standard for the U.S. bobsled program, pushing his body to the limit, every dang day.
"I don't know if I have any athletic genes — my parents didn't really do sports — so I always think I'm an athlete because of the way I trained," Tomasevicz said.
Said training partner Jimmy Moody in 2014: "Just by being around him, you wanted to be better. It would just go without saying. You were like, 'I wanna be like Curt.' "
At his peak, Tomasevicz squatted 584 pounds. He power-cleaned 388. He could run 30 meters (with a one-step rock-in) in 3.6 seconds. He could jump on a box 5 feet tall.
He was fortunate, Tomasevicz said, not only to make three Olympics but to stay healthy. Of course, his definition of healthy is different than most.
He separated his collarbone and sternum in a bobsled crash in Germany. He fought chronic soreness in his knees, back and elbows. He suffered half a dozen concussions.
"The whole thing is just so violent. Your brain just rattles two, three times a day every day for five, six months a year," he said. "That takes a toll."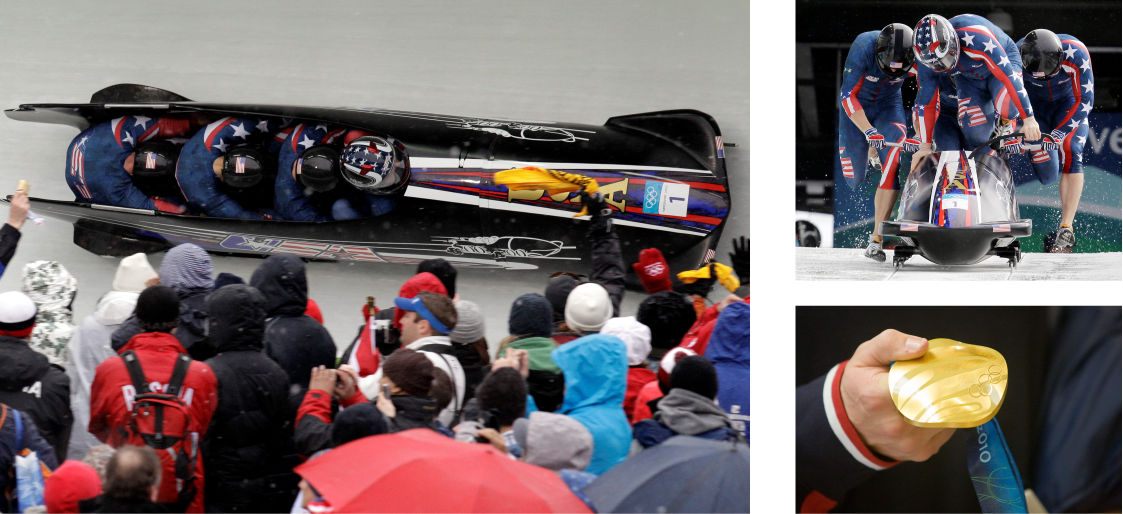 PHOTOS BY THE ASSOCIATED PRESS AND THE WORLD-HERALD
Left and top right: Tomasevicz competes in the 2010 Olympics four-man bobsled with teammates Steven Holcomb, Justin Olsen and Steve Mesler. Bottom right: The gold medal that Tomasevicz won in 2010.
Ask coach John Harbaugh of the Baltimore Ravens. He rode down the track with Tomasevicz's team. So did Lester Holt of "The Today Show." The funniest was Stephen Colbert, whose passenger ride happened in Lake Placid, New York, as frightening as any track in the world.
Through the first three curves, Colbert was trying to keep his head up and crack jokes.
"By curve four, he wasn't acting anymore," Tomasevicz said. "He had his head down and he was quiet."
Those daily adrenaline rushes are irreplaceable, Tomasevicz said.
It's not just the thrill of going down the hill; it's competing against the world's best, knowing that one-tenth of a second can make all the difference. It's having USA on your back.
"If that doesn't motivate you, check your heart rate."
How does an athlete leave all that? How does he adjust to a normal life? What is a normal life? Tomasevicz still asks himself those questions.
"You're so focused on Feb. 23 and 24, 2014. Everything you do is leading up to that. And all of a sudden, it's over. Then you kinda wander around like, 'What do I do?' It's this lost feeling sometimes."
He still looks like he could play linebacker at Nebraska, but he hasn't touched a weight since Feb. 21, 2014. He was burned out. He runs maybe once a week. Drops to the floor for push-ups and sit-ups. That's it.
"My body feels pretty good for the first time in a long time."
Eventually, he'll find something competitive. Pilates. Yoga. Distance running. Co-ed softball. Something.
Tomasevicz has always occupied two worlds.
Back in college, he looked around his classroom and realized he outweighed his engineering peers by 80 pounds. Then he walked over to Memorial Stadium, where he was the smallest linebacker by 15 pounds. He speaks the language of "The Big Bang Theory" — and "Any Given Sunday."
"I like being the meathead jock some days, but also the geek engineer."
These days, he's walking the same sidewalks from Nebraska Hall to Memorial Stadium, where he works in the Nebraska Athletic Performance Lab. He administers performance testing and analyzes data. He's interested in sports science.
Husker players and coaches have no idea that he was honored at the White House — three times. That he played guitar with Pearl Jam. That he threw a ceremonial first pitch at Wrigley Field. That he appeared on "The Late Show with David Letterman." That he sat behind Stephen Colbert in a 452-pound sled moving at 90 mph.
They don't know that he still totes two Olympic medals to speaking engagements and fundraisers, often storing them in his duffel bag or car trunk.
"I probably don't take as good of care of them as I should."
What's the right balance between the past and the future? Between reflecting on a fairy tale and charting a new adventure? Tomasevicz is still figuring that out.
In August, he starts another semester at UNL. He'll teach two engineering classes in Nebraska Hall. He'll keep chasing his Ph.D., just as Sohrab Asgarpoor wanted, hoping that students listen closely enough to notice the lesson that isn't written in the curriculum.
Nothing is impossible.
Contact the writer:
402-649-1461, dirk.chatelain@owh.com, twitter.com/dirkchatelain
More Nebraska 100 coverage