With talent born of farm life and strength sustained by small-town values, Dodge native Joe Stecher became a household name with a suffocating signature move.
By Dirk Chatelain // World-Herald staff writer
He pulled the Goliath up from the floor, coiled those educated legs around his hips, forced his forehead deep into the canvas, and then slipped those pillars of steel up, inch by inch till they circled his chest like bands of brass. Cutler made a courageous and herculean battle to break this boa constrictor-like coil that was crushing in his ribs and forcing out his very life. But all his mighty endeavors were futile. Joe had him in that deadly scissors, from which no opponent has yet escaped, and coupled with a half-nelson, he bore him down, down, down, until prone upon the flat of his back, and then Referee Smith slapped the youth on the shoulder as a token that the deed was done.
Independence Day 1915 fell on a Sunday — the Sabbath — so Omahans delayed their celebrations until Monday. On July 5, they played tennis and baseball, attended parades and car races and, of course, blasted fireworks. The biggest event of the weekend happened at 9:30 p.m. at Rourke Park.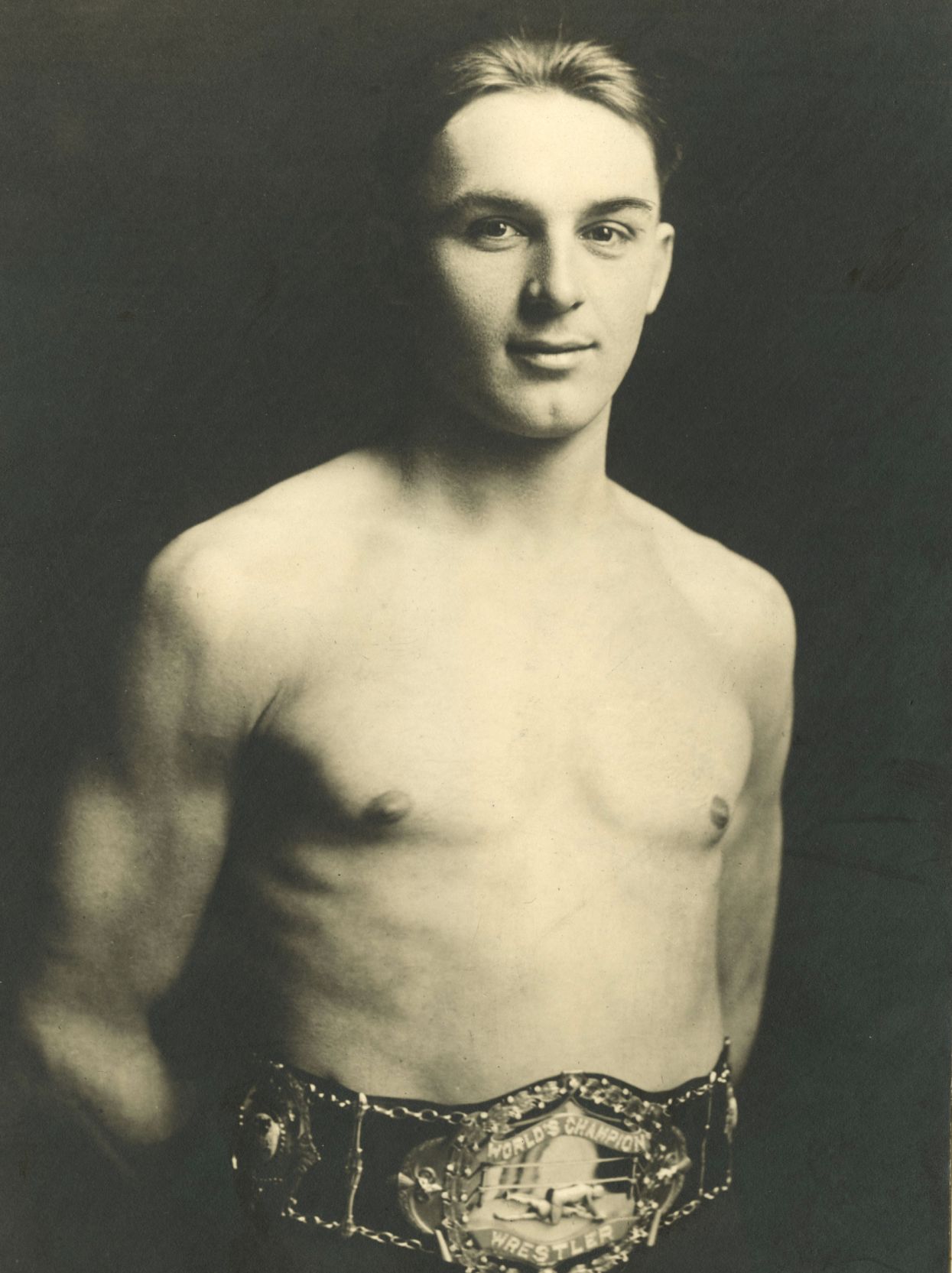 THE WORLD-HERALD
Wrestler Joe Stecher, a Dodge, Nebraska, native, who won his first world title in 1915 at the age of 22. During an era in which the public questioned the legitimacy of wrestling, Stecher was respected as much as anyone in the sport.
People had been talking about the world championship match for weeks. The crowds came via steam train and automobile, from the dirt roads of rural Nebraska and the asphalt streets of Chicago. They put on their tailored three-piece suits and white top hats and flooded Vinton Street. Good seats were $5, an average daily wage.
Long before the sun had dropped below the umber of the July horizon the classic old park was a thrilling and animated spectacle, every seat filled in the grandstand and boxes, on the bleachers and along the mezzanines, erected at the eleventh hour along the north field beyond the canvassed arena in the middle of the diamond, and the countless chairs and benches in front of the grandstand. In fact, the throng became so dense that to escape asphyxiation thousands of joyous people squirted out upon Pa's succulent green lawns, until the park became a veritable beehive of human beans (sic).
This was the golden age of professional wrestling, and Omaha was a wrestling town. In 1913, folks began hearing about a quiet Bohemian farm boy from Dodge, Nebraska. Joe Stecher wasn't the biggest wrestler — 6 feet tall, a shade over 200 pounds. But he was a technical wizard with a suffocating signature move.
In 2 1/2 years before the world championship match, Stecher wrestled 67 times, from the Dodge Opera House to Madison Square Garden in New York. He never lost.
Quick facts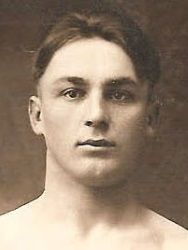 Joe Stecher
Sport: Wrestling
Hometown: Dodge
1896 - 1974
Best athlete from Nebraska played with or against: Ravenna's John Pesek was one year younger than Stecher. Pesek, nicknamed "Tiger Man," was known for his brute strength and acrobatics — he was a circus performer growing up. In San Francisco, Pesek famously laid down in the street as a car passed over his stomach. He showed no harm. He and Stecher battled many times. Pesek became world champion in 1937.
Best moment as an athlete: Stecher won the world championship three times, but it's hard to beat the first, in Omaha on July 5, 1915, before his adoring fans. Stecher twice beat world champion Charlie Cutler using his signature scissors hold.
Early sign of greatness: Stecher and his older brother worked for a farmer near Atlantic, Iowa, when he dueled the top local wrestler and future world champion, Earl Caddock. Stecher, barely 19, won the match in a barn, earning $3.80.
Nebraska 100 profile: Joe Stecher
Nebraska 100
In an historic series, The World-Herald selected Nebraska's Top 100 athletes. The Top 100, selected in 2005, came from a pool of more than 450 names from the ranks of high school, college, amateur and professional sports from the past 130 years. Assistance came from a panel of veteran sports observers from across the state, with the newspaper's sports staff determining the final rankings.
Chicago's toughest man, champion Charlie Cutler, wasn't impressed. Cutler boarded a train on June 30, 1915. And when he arrived at Omaha's Hotel Castle, he predicted an easy victory. His Chicago supporters, sensing a gambling opportunity, drove out to Stecher's hometown and bet every rube they could find.
They didn't realize that over the next 15 years, Americans would mention Joe Stecher in the same breath with Babe Ruth and Jack Dempsey. A century later, wrestling historians still consider him one of the all-time greats.
The springboard was July 5, 1915. The match was best-of-three falls. Stecher won the first in 18 minutes, wrapping his legs around Cutler and squeezing the bigger man into submission. After recovering his breath, Cutler walked over to the 22-year-old and said: "Joe, you're a champion, if there ever was one." In the second fall, Stecher scissored him again, this time in 10 minutes.
The next morning, readers of The World-Herald woke up to read about Russia's demise on the Eastern Front and J.P. Morgan's attempted murder. On the sports page, they saw Sandy Griswold's dispatch from Rourke Park:
"Joe Stecker (sic) is a Hercules, an Ajax, and an Atlas, all bound up in one — an athlete without an equal or a peer, and the unquestioned champion wrestler of the world, we have done our duty. And more than that, Joe Stecker (sic) today is the biggest sporting card in the world, a man whose name is to go thundering down through the corridors of time, a man whose very name is soon to be a household word."
* * *
He was the champion of the world for much of the 1910s and '20s. He was not the best livestock owner.
Back in Cuming County, a few miles north of Dodge, young Joe Stecher built up his leg strength by squeezing grain sacks. When those burst, he moved on to pigs. When they squealed too much, he corralled an unlucky mule.
Stecher's father had emigrated from the Czech Republic in 1877. Joe was born 16 years later, one of 10 children. His older brother went on to be the commanding officer on the U.S.S. Melville in 1941.
Joe preferred land dominance. One night he and brother Anton attended a professional wrestling match at the Fremont YMCA. They spent the next day imitating what they'd seen.
Joe was a natural with long arms and thick legs. Though he shined in multiple sports at Fremont High — baseball scouts considered him an excellent prospect — he focused on wrestling.
In April 1912, Joe and Tony were living in rural Iowa when local farmers arranged a match in a barn. In front of 38 people, Joe beat Earl Caddock, two out of three falls. He won $3.80.
The next three years, Joe traveled all over Nebraska, his reputation and bank account growing with each submission. After squeezing Charlie Cutler in Omaha, Stecher was the heir apparent to retired wrestling legend Frank Gotch.
"Stecher is the wrestling problem of the world," Gotch said following the Cutler match. "An incomparable performer and can beat anyone in the world — but me."
Had Stecher gotten his shot at Gotch, who died in 1917, his celebrity may have grown even more. But Stecher was still the biggest name in the sport — and the pride of Nebraska.
He believed in small-town discipline, attributing his physical prowess to work in the fields.
"Stecher is the wrestling problem of the world. An incomparable performer and can beat anyone in the world — but me."
— Wrestling legend Frank Gotch
"When one of my wrestling matches is over I want to know when the first train leaves for Dodge," Stecher said. "There is both pleasure and profit in farming and I would advise all boys born and reared on farms to remain there. The farm is the place to gain and retain good health."
He made rules for himself: No liquor or tobacco. No tea or coffee. Eight hours sleep. And plenty of sunshine.
In October 1915, more than 5,000 people were in Dodge for Joe Stecher Day. The governor presented Joe with a championship belt studded with 308 diamonds — a gift from the people of Dodge. Stecher beat another foe that night, then danced at the Grand Ball.
That winter at Madison Square Garden, he beat Mort Henderson twice in 15 minutes. New Yorkers bought Joe Stecher cigars. Joe Stecher soft drinks. They sang "Our Champion Joe." The Strangler was coming to take it away.
* * *
Professional wrestling in the early 1900s was dramatically different from today's version, primarily because the public still believed results were unstaged and legitimate — more on that later. But there was another big difference: the length of matches.
On Oct. 20, 1915, two weeks after "Joe Stecher Day" in Dodge, he traveled to Evansville, Indiana, and tangled with a man who would become his chief rival, Ed Lewis.
The match lasted two hours and three minutes. According to historian Steve Yohe, Lewis refused to lock up. The match ended when Lewis fell out of the ring and hit his head on a chair. Fans were so angry that the Evansville mayor jumped into the ring and vowed to donate the receipts to charity.
Lewis did not have Stecher's skill, but he made up for it with imposing size (he was 260 pounds to Stecher's 215) and an even bigger personality. He charmed the press. He marketed himself. He went by the name "Strangler."
Stecher and Lewis met again, in Omaha on July 4, 1916, one year after Stecher's championship victory. It was a debacle. The match, which began at 4 p.m., was the longest in wrestling history: four hours, 51 minutes, 33 seconds.
Lewis didn't engage, even when Stecher intentionally gave him an opening. As darkness fell, a few of the 18,000 fans pointed their car headlights at the ring at the old Douglas County Fairgrounds, now Benson High School. More threw seat cushions into the ring, heckling Stecher and Lewis. Nothing worked. The referee stopped the match.
That night, according to Yohe, nearly killed pro wrestling in Omaha. The purse of $5,022 was held up for two days.
What's the explanation for four-hour matches? Gamblers. They didn't bet just winners and losers; they wagered on the length of matches. By holding off Stecher, Lewis' supporters won big. Stecher's bettors lost thousands.
Matches like that one sparked questions about the sport's legitimacy. If wrestlers were more worried about gamblers than winning matches, then why watch? Even worse, many questioned if the biggest stars were merely actors, stirring storylines to increase profits.
Stecher wasn't immune to controversy. In 1925, a newspaper quoted him suggesting that he fixed matches. He was forced to appear before the New York Athletic Commission, where he denied any involvement.
In the '30s, pro wrestling suffered from scandals and slipped into the "dark ages," said Yohe, who lives in California, where he writes pro wrestling books. The public didn't believe it anymore. But Yohe believes the biggest matches, even in the '10s and '20s, were "worked."
"Pro wrestling is about making money," Yohe said. "They work everything. The pros always knew who was gonna win. It was just better that way."
If the elite wrestlers didn't collaborate, the action was boring and fans wouldn't come. Typically, managers and promoters determined who won a match. If a wrestler could make more money losing, he lost. Sound murky?
"Sports was murky," Yohe said. "You read the history of baseball in that time period. Famous Hall of Famers were throwing games."
But the skillful wrestlers never let the audience know, Yohe said. It wasn't gimmicky or goofy like today. The top wrestlers wanted a serious sport. And they always wanted the champion to be a man they could respect.
They respected no one more than Stecher.
* * *
In April 1917, Stecher lost his title in Omaha to old friend Earl Caddock, the man he beat in an Iowa barn five years earlier. The defeat came amid rumors that Stecher was struggling with mental illness.
In March 1919 in Chicago, Stecher suffered his first defeat to Lewis. The Strangler executed his signature headlock after two hours and 12 minutes. Stecher made $4,000. Lewis made $10,000.
That year was the high point of their rivalry. On July 4 in Omaha, Stecher dominated Lewis, winning in two falls (both with the scissors). Four months later, Stecher beat the Strangler in Madison Square Garden.
Stecher returned to the Garden in January 1920 for a rematch with Earl Caddock. It is the oldest match you'll find on video — check YouTube. For two hours and five minutes, Stecher and Caddock engaged in a thrilling match, ending in another Stecher scissors hold. He made $25,000, the equivalent of $350,000 today. He won back the championship belt.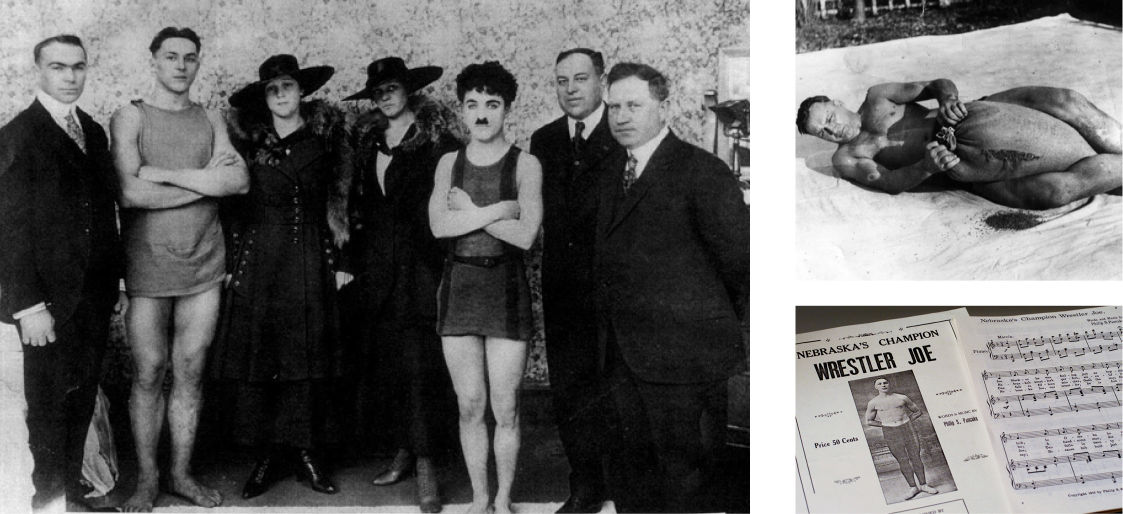 PHOTOS BY THE WORLD-HERALD
Left: Joe Stecher, second from the left, met Charlie Chaplin with his family. Top right: Stecher practices his signature scissors move by squeezing a bag of grain. He would clasp the bag between his legs until it burst, then he would practice on pigs until they squealed. Bottom right: This is a copy of the song "Nebraska's Champion Wrestler Joe," written by Philip S. Pancake in 1916.
Over the next decade, Stecher experienced moments of triumph and defeat. He lost his title to Lewis in 1920, then grabbed it for a third time in 1925. In the meantime, he trained with Jack Dempsey. He built up his Dodge baseball team, paying big bucks for mercenaries who came in and faced other teams across Nebraska.
Reports in January 1924 claimed Stecher had signed with the Philadelphia Athletics baseball club and would go to spring training.
Stecher remained a big name in wrestling. In February 1926, 500 fans watched him work out at Red Ball Gym in St. Louis; another 1,500 were turned away. Three days later, Stecher beat Jim Londos before 12,000 fans.
In '28, Stecher lost his title for the final time, to his biggest rival, Ed Lewis. The three falls lasted almost four hours.
The rivals went separate ways. Lewis' brand blossomed, partly because of new rivalries, partly because of his gregarious personality.
"The name Strangler just stuck with the public," Yohe said. He stayed in the wrestling business for another three decades, working promotions and management.
In 1934, Stecher retired and disappeared from the limelight. The man who once preached the virtue of the farm — "There is nothing, after all, like fresh air, sunshine and good food to foster perfect health" — spent the last 30-plus years of his life indoors. Mental illness confined him to Veteran's Hospital in St. Cloud, Minnesota, until his death in 1974.
The sport had moved on without him, following the lead of showmen like Strangler, performers who understood the more they bragged, the more the public paid attention.
Stecher was first and foremost a technician. In the mid-1930s, his brother, Tony, was training and managing wrestlers in Minnesota. One day, Tony ushered to the hospital a pack of young prospects, including a kid named Lou Thesz, who went on to hold the NWA championship for 10 years.
Joe Stecher was about 45, but not too old for a workout.
One by one, Stecher challenged the young wrestlers. And one by one, he beat them, taking them to the mat, wrapping his legs around their chests and squeezing their lungs, almost like they were pigs back on the farm in Nebraska.
Contact the writer:
402-649-1461, dirk.chatelain@owh.com, twitter.com/dirkchatelain
More Nebraska
100

coverage