By World-Herald staff / Updated April 23, 2019
N
ebraska has a fruitful NFL draft history that dates back to the beginning: 1936, when Bernie Scherer was selected 13th overall by the Green Bay Packers.
Since that first pick, another 356 Husker players have been selected in the NFL draft, including two with the No. 1 pick — Sam Francis in 1937 and Irving Fryar in 1984.
The World-Herald went behind Nebraska's draft numbers to track the trends from 1 to 357.
The full list, which averages out to 4.3 Huskers selected each year, features some statistical oddities and interesting stories, too.
<! -- Start list here -->
Draft picks by coach
Starting in 1967, the first of the common era when the NFL and AFL held a joint draft, there have been 285 Huskers selected. Here's how those picks break down by the coach each player started his Husker career under.

Bob Devaney
60 selections
1967-72

Tom Osborne
169 selections
1973-97

Frank Solich
22 selections
1998-2003

Bill Callahan
17 selections
2004-07

Bo Pelini
16 selections
2008-14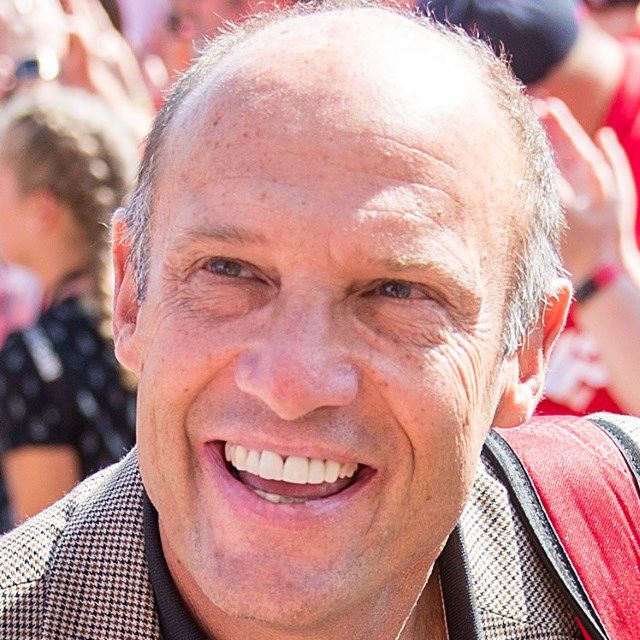 Mike Riley
1 selection
2015-17
Total Husker draft picks by NFL franchise
Packers: 23
Rams 23
Redskins: 20
Saints: 17
Lions: 17
Bears: 16
Browns: 16
Cardinals: 15
Giants: 14
Raiders: 14
Steelers: 14
Jets: 13
Colts: 12
Eagles: 12
Bills: 11
Patriots: 11
Buccaneers: 10
Cowboys: 10
49ers: 9
Broncos: 9
Chargers: 9
Falcons: 8
Bengals: 8
Chiefs: 8
Titans: 7
Vikings: 6
Dolphins: 6
Seahawks: 4
Brooklyn Dodgers: 3
Panthers: 3
Ravens: 2
Texans: 2
Jaguars: 2
Boston Yanks: 1
Last time drafted by position
QB
2018: Tanner Lee, 203, Jacksonville
WR
2015: Kenny Bell, 162, Tampa Bay
LB
2015: Randy Gregory, 60, Dallas
RB
2015: Ameer Abdullah, 54, Detroit
FB
2016: Andy Janovich, 176, Denver
OG
2014: Spencer Long, 78, Washington
CB
2014: Stanley Jean-Baptiste, 58, New Orleans
S
2017: Nate Gerry, 184, Philadelphia
OT
2016: Alex Lewis, 130, Baltimore
DT
2016: Vincent Valentine, 96, New England
K
2011: Alex Henery, 120, Philadelphia
DE
2007: Jay Moore, 104, San Francisco
P
2006: Sam Koch, 203, Baltimore
C
2004: Josh Sewell, 190, Denver
TE
2002: Tracey Wistrom, 250, Tampa Bay
Back-to-back picks
1984
Irving Fryar, 1
Dean Steinkuhler, 2
1988
Hendley Hawkins, 300
Steve Forch, 301
1990
Ken Clark, 206
Gerry Gdowski, 207
1991
Bruce Pickens, 3
Mike Croel, 4
1991
Kenny Walker, 200
Pat Tyrance, 201
AFL selections
Twenty Huskers were selected by an AFL and NFL team. These four went only in the AFL draft:
1960
Carroll Zaruba, HB, Dallas Texas
1961
Don Olson, HB, Denver
Archie Cobb, T, Denver
1963
Willis Crenshaw, FB, Buffalo
Native Huskers
Husker players from Nebraska who were taken in the NFL draft: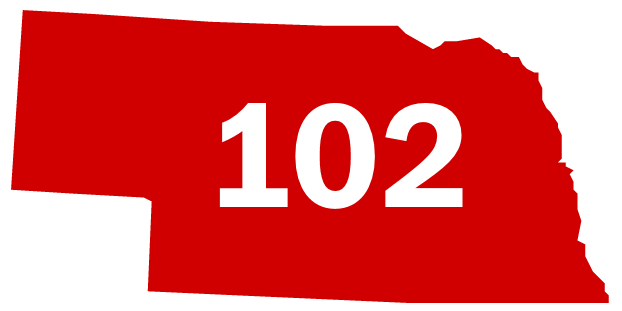 The first was back Lloyd Cardwell of Seward, a 1937 pick. The most recent was 2016 draftee Andy Janovich of Gretna.
* * *
1936: It's fitting that Bernie Scherer, the first Nebraska player taken in the first NFL draft, was selected by Green Bay — no other NFL team has drafted more Huskers. The Packers are tied with the Rams with 23 Huskers selected.
1937: Sam Francis is one of two Huskers to go No. 1 overall. Nebraska has had three first round picks in the same year two times — 1937 and 1972.
1938: Fifth-round pick Fred Shirey initially passed on an NFL career to teach at Beatrice High School. He did play 12 games for the Cleveland Rams and Green Bay Packers during the 1940 and 1941 seasons.
1940: 21 Huskers were selected in the 1940s, the highest total in the pre-Common Draft era.
1941: Herman Rohrig was the first Husker defensive player selected.
1948: Tom Novak's selection in the 32nd round is the latest, by round, of any Husker.
1950: Only two Huskers have been drafted twice — Charley Toogood and Tom Novak. Novak made a big jump from the 32nd round in 1948 to 4th in 1950. Toogood jumped from the 26th round in 1950 to round 3 in 1951.
1955: There have been 24 sets of Huskers drafted by the same team in the same draft, Ron Clark and Charles Bryant were the first.
1958-1960: No Nebraska players were selected for three straight seasons, the only multi-year stretch in school history.
1961: There were 1,159 picks between the final Husker selected in 1957 and Ron McDole's selection with the 50th pick of this year.
1964: Bob Brown ends NU's streak of drafts without a first-round pick at 27.
1966: Walt Barnes is the first Husker to be selected in the second round.
1967: Nebraska is one of five schools to have a player taken every year in the common draft era. The others are Florida, Michigan, Michigan State and USC, per ESPN. And NU was the only school to have two or more players taken each year of that time frame until the 2017 draft. The AFL and NFL held a joint draft starting in 1967.
1970: The Huskers had more players, 80, selected in the 1970s than any other decade.
1971: Pittsburgh's selection of kicker Paul Rodgers was the first Husker for one of the oldest franchises in the league. The Steelers have drafted 14 Huskers overall.
1972: Starting with the 1972 NFL draft, Nebraska had a first round pick in four straight seasons, the longest in program history.
1975: The largest Husker draft class (12) also is the only one with three sets of Huskers selected by the same team. It also includes another first: the trio of Mark Doak, Ardell Johnson and Dennis Pavelka going to Washington. A trio of Huskers has since landed on the same team two other times: Pittsburgh in 1995 and Washington in 2011.
1976: With the 458th pick in the draft, Rich Costanzo is the latest Husker player taken by selection number in school history.
1979: At 6-foot-8, Randy Poeschl ties Dean Gissler, selected in the 1976 draft, as the tallest Huskers selected by an NFL team.
1980: 60 Huskers were selected in the 1980s, third most of any decade.
1981: Miami and Minnesota have not drafted a Husker since the 1981 draft. Both teams have selected only six Nebraska players all time.
1984: What a year! For the first time, Huskers were selected with back-to-back picks. That's happened only five times in program history. 1991 also includes back-to-back top 5 picks. Irving Fryar became the second Husker player to go with the top pick in the draft.
1984 supplemental draft: In 1984, the NFL held a supplemental draft in June for teams to acquire the rights to college players who had signed with USFL or CFL teams out of college. Heisman Trophy winner Rozier was selected with the No. 1 pick in the USFL draft by Pittsburgh, giving the Huskers both top selections. He played two seasons in the USFL before spending six years with the Houston Oilers.
1990: 63 Huskers were selected in the 1990s, second most of any decade.
1995: At 5-foot-8, Barron Miles is the shortest Husker drafted. He's also the lightest at 165 pounds.
1997: Jacksonville has selected only one Husker in team history — Jon Hesse in the seventh round here.
1998: Despite being the closest NFL franchise to Nebraska, Kansas City has not selected a Husker since Eric Warfield.
1999: Starting with Mike Minter in 1997, Carolina selected a Husker in three straight drafts. The Panthers have not selected anyone from Nebraska since taking Mike Rucker in the second round this year.
2000: 41 Huskers were selected in the 2000s, fourth most of any decade.
2002: Tracey Wistrom is the last Husker tight end to be drafted, the longest drought of any position.
2004: Jammal Lord is the last Husker quarterback to be drafted, although he was targeted as a defensive back by NFL teams.
2006: Punter Sam Koch is the first Husker player to be selected by the Baltimore Ravens. Alex Lewis was the second in 2017.
2008: At 343 pounds, Carl Nicks is the heaviest Husker draft pick.
2010: 28 Huskers have been selected so far in the 2010s.
2017: Nebraska's 54-year streak of producing multiple picks in each draft comes to an end when Nate Gerry was the only player picked.
2018: Tanner Lee is the first Husker quarterback drafted to play that position since Keithen McCant was a 12th-round pick in 1992.
1993 draft class
THE ASSOCIATED PRESS
Kansas City Chiefs running back Greg Hill jumps over teammate Will Shields. The offensive lineman was a third-round pick by Kansas City in 1993. In his career, he started 223 of a possible 224 games for the Chiefs. Shields will be inducted into the Pro Football Hall of Fame in August.
How do you judge an elite draft class? By where the players are drafted? By how they played in college? By how they perform in the pros?
If it's by pro performance, a sneaky strong class for the Huskers was 1993, when Will Shields was taken in the third round and turned that pick into a NFL Hall of Fame career.
John Parrella had a 12-year career. Tyrone Hughes made a Pro Bowl as a kick returner. Derek Brown lasted four years with the Saints. It's not flashy, but it was a decent performance from a small group of players. — Sam McKewon
Teammates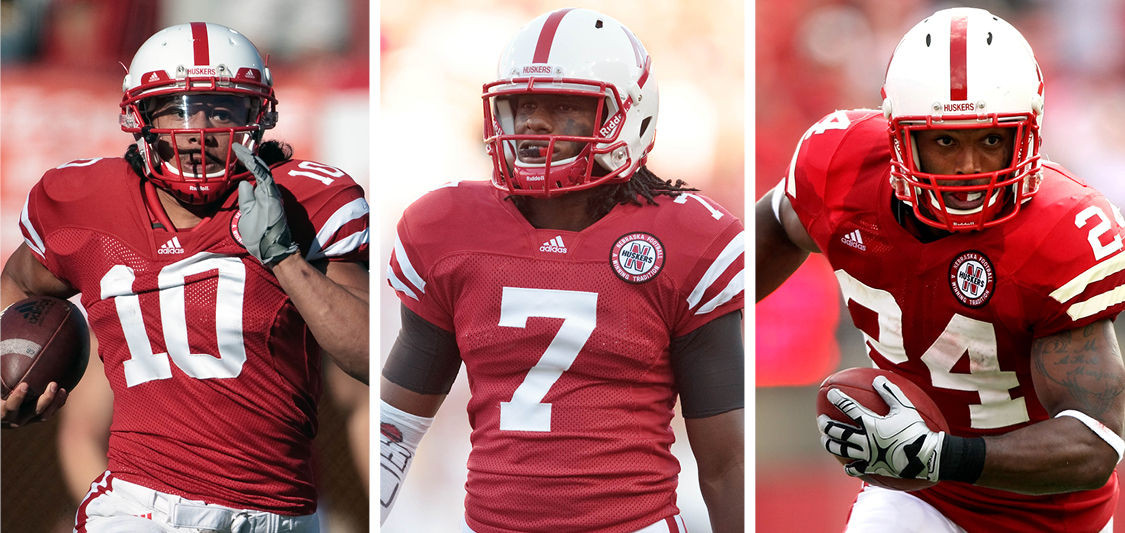 PHOTOS BY MATT MILLER AND REBECCA S. GRATZ/THE WORLD-HERALD
Roy Helu Jr., DeJon Gomes and Niles Paul were all drafted by the Washington Redskins in 2011.
Huskers selected by the same team in the same draft. 1975 includes three sets of teammates drafted by the same team.
1955: Ron Clark and Charles Bryant, Green Bay
1961: Ron McDole and Pat Fischer, St. Louis
1964: John Kirby and Monte Kiffin, Minnesota
1965: Kent McCloughan and John Strohmeyer, Washington
1966: Bob Pickens and Lynn Senkbeil, Chicago
1972: Jerry Tagge and Keith Wortman, Green Bay
1975: Tom Ruud and Bob Nelson, Buffalo
1975: Marvin Crenshaw and Stan Hegener, Pittsburgh
1975: Mark Doak, Ardell Johnson and Dennis Pavelka, Washington
1976: Larry Mushinskie and Rich Costanzo, Dallas
1980: Junior Miller and I.M. Hipp, Atlanta
1980: Bill Barnett and Mark Goodspeed, Miami
1981: Andra Franklin and John Noonan, Miami
1982: Jimmy Williams and Phil Bates, Detroit
1988: Brian Washington and Hendley Hawkins, Cleveland
1989: Broderick Thomas and Willie Griffin, Tampa Bay
1991: Bruce Pickens and Joe Sims, Atlanta
1991: Mike Croel and Kenny Walker, Denver
1995: Brenden Stai, Donta Jones and Barron Miles, Pittsburgh
1999: Jay Foreman and Sheldon Jackson, Buffalo
1999: Chad Kelsay and Kris Brown, Pittsburgh
2001: Kyle Vanden Bosch and Bobby Newcombe, Arizona
2003: DeJuan Groce and Scott Shanle, St. Louis
2011: Roy Helu Jr., DeJon Gomes and Niles Paul, Washington
More stories you might like