Terence "Bud" Crawford has made a meteoric rise to the pinnacle of the sport of boxing. And the undefeated Omaha native is certain that he's just getting started.
By Tony Boone // World-Herald staff writer
Boxing is a sport that lends itself to iconic images. Its raw emotion, intensity and graphicness within a small space provide moments frozen in time.
The still shot of Muhammad Ali standing over a fallen Sonny Liston in the opening minute of their 1965 rematch, for example, is a visual that even sports fans too young to remember are familiar with.
THE ASSOCIATED PRESS
"He just keeps throwing shutout innings and striking everybody out," said Cameron Dunkin, Terence "Bud" Crawford's co-manager.
Terence "Bud" Crawford, the 2014 Fighter of the Year and reigning WBO junior welterweight champion, provided his hometown of Omaha with such a moment at the CenturyLink Center in late June of 2014.
As referee Genaro Rodriguez waved his arms to signal the end of the WBO lightweight champion's first title defense after he sent Yuriorkis Gamboa to the canvas for a fourth time, Crawford raced to a nearby corner of the ring, jumped on top of the second rope and screamed into a raucous crowd of 10,943 fans.
"It was just one of the greatest moments," Omaha's first world champ said. "I just had to get it out."
From ringside, it was an unforgettable spectacle.
A recently crowned champion let out all the emotion from a monumental victory following a career previously spent in relative obscurity. The mighty roar was inaudible, however, as thousands from Omaha were yelling right along with him.
Quick facts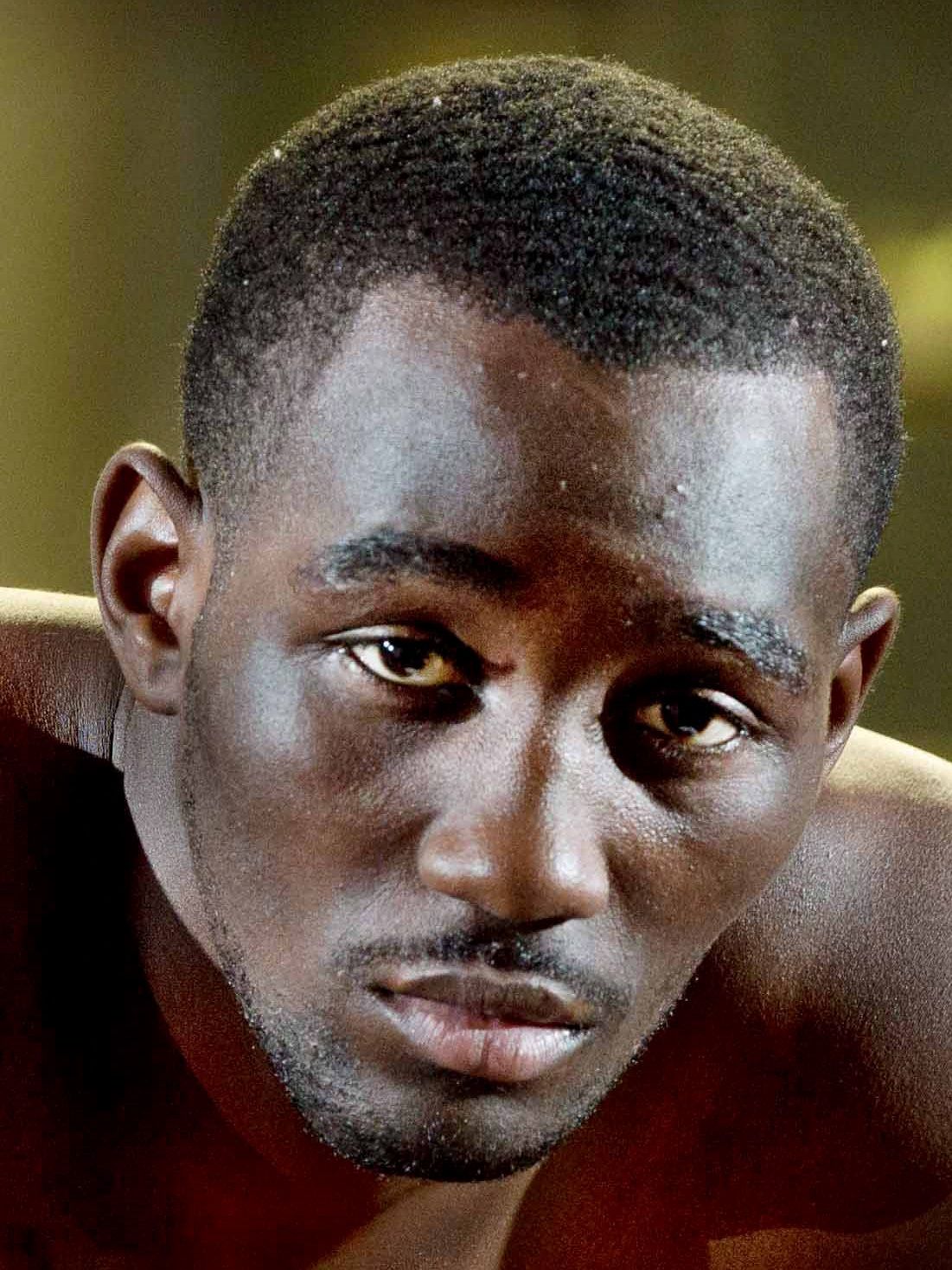 Terence "Bud" Crawford
Sport: Boxing
Hometown: Omaha
Born: 1987
Best athlete from Nebraska played with or against: "My cousin, AJ Kercheval. Everything we did, he was better than me. It didn't matter if it was racing, football, basketball, flipping, boxing; he was always better."
Best moment as an athlete: "Going over to Scotland and winning the title. That was the best moment of my life."
Early sign of greatness: "When I started playing sports, I could do anything if I put my mind to it. I was a great athlete in any sport I ever did. When I was 10 or 11, I finally started really noticing."
Nebraska 100 profile: Terence "Bud" Crawford
Nebraska 100
In an historic series, The World-Herald selected Nebraska's Top 100 athletes. The Top 100, selected in 2005, came from a pool of more than 450 names from the ranks of high school, college, amateur and professional sports from the past 130 years. Assistance came from a panel of veteran sports observers from across the state, with the newspaper's sports staff determining the final rankings.
HBO's Hall of Fame announcer, Jim Lampley, said Crawford's performance was "a star-making performance of the highest order." It almost instantly gave the winner, who had not previously headlined a nationally televised fight card nor fought at home as a pro, a rock-star lifestyle.
Crawford has called the homecoming victory over Gamboa, a former Olympic gold medalist and three-division world champion, the defining moment of his career to date. But winning his first world title in Glasgow, Scotland, three months earlier, he said, still ranks as his best moment.
The one-sided unanimous decision over longtime champion Ricky Burns began a sensational run of four wins in title bouts that has taken boxing by storm and made Crawford a global celebrity.
Few knew who Omaha's homegrown product was before he jumped at the opportunity to move up in weight and fight hard-punching Colombian Breidis Prescott on short notice in an HBO-televised bout in March of 2013. Two years later, he is almost universally considered the next big star in his sport.
"This guy's a star all the way around the board," said HBO analyst Roy Jones Jr., who reigned as the undisputed king of boxing for more than a decade during a career that rages on at age 46.
Crawford, who is 26-0 with 18 knockouts, expected this all along.
"In my eyes, I've always been the champ," the 27-year-old said matter-of-factly. "I just wasn't crowned yet."
He's now been crowned twice. After dominating No. 1 challenger Ray Beltran in Omaha last November to cement his status as the top lightweight on the planet, Crawford moved up in weight in March to knock out Thomas Dulorme spectacularly in Arlington, Texas, to claim the WBO belt at junior welterweight.
Co-manager Cameron Dunkin, who guided the careers of numerous world champions, including Nonito Donaire and Timothy Bradley, is awed by his fighter's level of success.
"He's going so fast," he said after the Dulorme fight. "This should've been tough, but it wasn't."
Crawford possesses the physical attributes and skill set to become an all-time great. Although not overly tall — he stands 5-foot-8 — he's been gifted with long arms and big hands. He's a slick and crafty fighter who boxes effectively out of both orthodox and southpaw stances with the unique ability to transition from one to the other at any time. He's hard to hit and accurate with his punches. And he's shown the temperament to close the show once he has an opponent in trouble.
Crawford described himself as "versatile" after the Dulorme knockout.
"I feel like I can do whatever," he said.
Most importantly, the Omahan with fight-changing power has the desire to truly be great, a trait that first appeared as a youth when he would challenge bigger and much more experienced fighters at C.W. Boxing Club.
He likes to say the sky's the limit.
"I've been saying that since day one," Crawford said. "I truly believe that in my heart. I can take this boxing career as far as I want to."
Currently ranked eighth on Ring magazine's pound-for-pound list, which rates the best boxers in the world regardless of weight classes, Crawford is awaiting a potential fall fight in Omaha. The big question for his promoter, Top Rank, is whom can it line up as an opponent for boxing's rising star?
Dunkin has compared Crawford, who rarely loses a round, to an elite pitcher in baseball.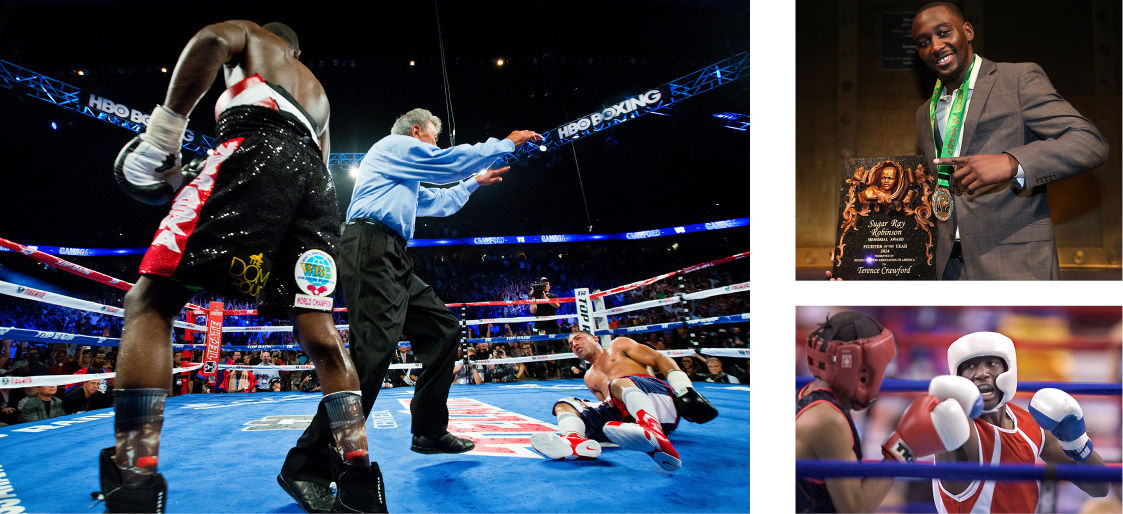 PHOTOS BY THE WORLD-HERALD AND TOP RANK
Left: Crawford knocks down Yuriorkis Gamboa and wins by a technical knockout at the CenturyLink Center in Omaha last June. Top right: Crawford holds his Fighter of The Year Award. Bottom right: Crawford fights DeMarco McCrady Jr. during their 132-pound match at the 2006 Golden Gloves National Tournament at the Civic Auditorium in Omaha.
"He just keeps throwing shutout innings and striking everybody out," he said.
With his new celebrity status, Crawford has kept a busy schedule since drilling Dulorme. In the past two weeks, he's attended the ESPY awards, where he was up for Fighter of the Year honors, in Los Angeles and been given the red-carpet treatment in New York at the world premiere of the boxing movie "Southpaw."
Earlier this week, the September edition of Ring — with Crawford on its cover — hit newsstands. He's the first fighter from Nebraska to garner such an honor in the magazine's long history.
With every bout, Crawford adds to his legacy at home. Nebraska, which hadn't boasted a world champ since welterweight Perry "Kid" Graves claimed a vacant title in 1914, has never had a fighter like him.
Crawford, who began boxing at 7, was a standout amateur. He was the top-ranked lightweight in the U.S., won the National Police Athletic League title, finished second at the 2006 National Golden Gloves (on a disputable decision that went against him) and placed third in the 2008 Olympic Trials.
But his style, especially his willingness to commit to punches, always trended toward him being an even better pro, which is where his interest always truly was. His goal in boxing was to be a world champion.
Now he has been. Twice.
Crawford, a hard-working boxer from a hard-working state, announced his arrival as the best fighter ever from Nebraska with that one roar no one heard following his unforgettable first performance in Omaha.
"Now you all really see who Terence Crawford is," co-manager and head trainer Brian McIntyre said after the Gamboa victory. "He's got heart, will and determination. He's going to get the job done."
Contact the writer:
712-325-5756, tony.boone@owh.com, twitter.com/BooneOWH
More Nebraska
100

coverage