Already a star in Hooper and for the Huskers, she still kept building a game that has taken the U.S. to new heights.
By Jeff Sheldon // World-Herald Correspondent
The big worry for a young Jordan Larson seems silly when you consider where she sits years later.
THE ASSOCIATED PRESS
Jordan Larson-Burbach has led the way for the U.S. team at the FIVB World Grand Prix Finals in Omaha in 2015.
Her concern, recalled her high school coach, was that the upward trajectory that propelled Larson from gawky preteen gym rat to Nebraska schoolgirl legend would eventually plateau. That the volleyball toolkit she had worked so hard to develop would one day empty, leaving her one or two instruments short of greatness.
"She always said her biggest fear was she wasn't going to get better," said Angie Svec, who coached Larson for two years at Logan View High in Hooper. "I told her as long as she's aware of that, then she will get better."
A decade after finishing her prep career as the most-touted volleyball recruit in state history, Larson-Burbach (who married Luke Burbach in 2009) has amassed a résumé that in The Nebraska 100 committee's view cements her status as the top female athlete the state has produced.
Quick facts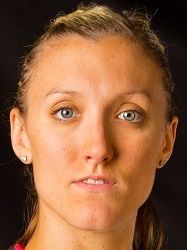 Jordan
Larson-Burbach
Sport: Volleyball
Hometown: Hooper
Born: 1986
Played for: Logan View High School, Nebraska Juniors (club team), University of Nebraska, Vaqueras de Bayamon (Puerto Rico), Dinamo Kazan (Russia), Eczacibasi Vitra (Turkey), U.S. national team
Best athlete from Nebraska played with or against: Her freshman year at Nebraska in 2005 coincided with the breakout season of Cambridge native Christina Houghtelling, No. 94 on The World-Herald's Top 100. Houghtelling was named AVCA national player of the year as a junior in 2005 after averaging 3.69 kills, 2.49 digs and 1.03 blocks per set to help the Huskers to a national runner-up finish. "She was just a beast, an amazing all-around athlete," Larson-Burbach said of Houghtelling. "She definitely just had a presence when she walked in the room."
Best moment as an athlete: She had 19 kills and 15 digs in the 2006 NCAA championship match as a sophomore, helping Nebraska to a four-set win over Stanford in front of more than 17,000 in Omaha.
Early sign of greatness: She set a Class C-1 record by averaging 15.08 kills per set as a junior in 2003, leading Logan View to a state runner-up finish.
Nebraska 100 profile: Jordan Larson
Nebraska 100
In an historic series, The World-Herald selected Nebraska's Top 100 athletes. The Top 100, selected in 2005, came from a pool of more than 450 names from the ranks of high school, college, amateur and professional sports from the past 130 years. Assistance came from a panel of veteran sports observers from across the state, with the newspaper's sports staff determining the final rankings.
» Video: Making of the Nebraska 100
» Video: What went into the Nebraska 100 process?
Related links
»
Nebraska 100
»
Newcomer:
Alex Gordon
»
Newcomer:
Terence Crawford
»
Newcomer:
Jordan Hooper
»
Newcomer:
Joe Stecher
»
Newcomer:
Danny Woodhead
»
Newcomer:
Barrett Ruud
»
Newcomer:
Christina Houghtelling
»
Newcomer:
Curt Tomasevicz
But even as one of the world's top players, she still maintains the dogged desire to evolve and improve, to find new ways to stay ahead of the competition when her athleticism alone no longer can carry her.
Her journey to becoming one of the world's top outside hitters has been full of sensory experiences.
John Cook heard it before his eyes caught up. The Nebraska coach was at a club tournament when his ears caught the sound of a ball being not so much hit ... as punished.
"It just had a different sound to it," Cook said. "You could be blindfolded and when you heard her hit the ball, you knew it was Jordan Larson."
You could see it at Logan View, where Larson set a Class C-1 record with 501 kills as a senior. Her all-class records for aces in a season and a career still stand, the product of a devastating, twisting jump serve that opponents had trouble touching, let alone returning.
"We had a match at a tournament in Lyons once where Jordan was our first server," Svec said. "We won the game 15-0. She may have had six aces in a row."
Larson declined potential suitors who offered her the chance to shine by transferring to a larger high school. She committed to play for the Huskers, and word spread quickly with crowds packing small-town gyms to watch the local phenom. Even opposing players would wait for a break during warmups to get her autograph. After her final home match at Logan View, Cook watched as Larson stood on the court for nearly an hour greeting well-wishers and giving her signature for a line that stretched across the gym.
"Grandma, Grandpa, little kids, everybody. She thanked everybody for coming," Cook said. "I knew then she was really special."
The process started anew in college, where other players' athleticism equaled her own. But Larson had the luxury of developing her game without having to carry teams that also featured All-Americans Sarah Pavan, Tracy Stalls and Rachel Holloway.
Never the tallest attacker, or blessed with the most explosive leaping ability, Larson began to hone the court vision that would become her signature. She learned to change the speed of her attacks to confuse the defense and frustrate blockers by hitting shots off the edges of their hands, known as "tooling." As a sophomore in 2006, Larson was the second leading attacker for the 33-1 Huskers, who won the national championship in Omaha.
But as a senior, Cook needed her to come out of her comfort zone. Besides her play on the court, Larson needed to be a leader off it. An offseason article that detailed a strained relationship between former players and the current team caused a stir. But before tensions could bubble, Larson called Cook to a team meeting at NU Coliseum.
She'd never been one to call attention to herself away from the court or give big speeches, but Cook arrived at the locker room to find Larson standing in front of the team. NU's star was no longer in her shell. She told the coach she was ready to lead.
With Larson at the helm, the 2008 Huskers had a storybook season. Her ace completed a five-set comeback against Washington to put NU back in the final four, where Nebraska nearly pulled off the impossible against the most dominant team in NCAA volleyball history.
Penn State hadn't dropped a set all season coming into the semifinals in Omaha. Behind 17 kills from Larson, the Huskers rallied after losing the first two sets to lead 10-8 in Game 5 before falling to the eventual national champions.
"What that team did with her leading it was incredible," Cook said. "I know as a coach what she did with the talent we had and the finish we had, points away from playing for the national championship. It was an incredible season."
What she did in the first two stages of her career would have been enough to put her in the pantheon of Husker women's greats. But the player who built her reputation on never being satisfied had more room to grow as a professional.
She developed the ball-control skills to become the U.S. national team's top passer among outside hitters. Though at 6-foot-2 she's not as tall as many top-level international attackers, she refined her technique and timing to negate the height discrepancy and get blocks against bigger foes. She became too good to take off the court.
At the request of Team USA coach Karch Kiraly, Larson-Burbach shelved the twisting, topspin jump serve that had beguiled so many opponents in high school and college for a jump-float serve that was easier to command.
"It's really important for her and our other outside hitters to contribute in lots of ways — serving, passing, hitting, defense, blocking, setting, the whole package," Kiraly said. "And Jordan is one of the most well-rounded players in the world."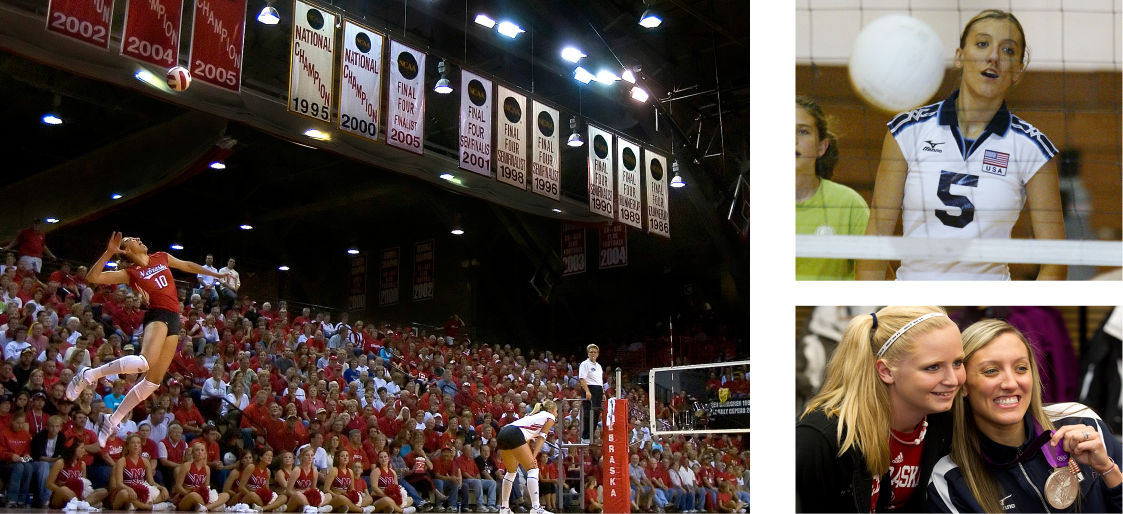 PHOTOS BY THE WORLD-HERALD
Left: Jordan Larson-Burbach's jump serve helped the Huskers hang more banners in Lincoln, including the 2006 national championship and 2008 final four. Top right: Larson-Burbach set a Class C-1 record with 501 kills as a senior at Logan View. Her all-class records for aces in a season and a career still stand. Bottom right: Shelby Wachter, of Blair, has her photograph taken with Larson.
Her growth culminated in one of the finest stretches for an American volleyball player. After helping the U.S. to an Olympic silver medal in 2012, Larson-Burbach earned MVP honors as she led her Russian club team Dinamo Kazan to both the European Champions League title and a Club World Championship in 2014.
The next season, she moved to Turkish club Eczacibasi Vitra and repeated the double with another European and Club World Championship. And was named MVP again.
In between, Larson-Burbach used her new serve to lead the national team in aces as the U.S. captured its first major international tournament title at the 2014 World Championships.
"She has to rank among the most successful international players when you look at the titles and championships she's won," Cook said. "To me, she's like a Tom Brady, a Messi. She's done some incredible things."
Nebraskans reserve special places in their hearts for small-town successes, but Larson-Burbach's story resonates in the state like no other female athlete even though she plays now on the other side of the world.
When Cook reminds NU's most coveted recruits that they could wear the same uniform as one of the world's top players, he needs only to mention her first name. Her Team USA teammates regularly stand agog when she is approached in Europe or Asia by people who saw her play in high school or college, earning her the nickname "The Governor."
"I'm actually getting chills thinking about it," Larson-Burbach said. "To think I was this little, tiny girl from Hooper, Nebraska, who had a dream. (But) I worked my butt off to get where I am and sacrificed a lot."
She's not just from Nebraska, she's of Nebraska. And she's the best we've ever had.
Contact the writer:
402-444-1201, sports@owh.com, twitter.com/OWHJeffSheldon
More Nebraska
100

coverage