The girl who grew up on a northwest Nebraska ranch gained a legion of fans with her actions on and off the basketball court
By Sam McKewon // World-Herald staff writer
The autograph line snaked deeper and deeper into the middle of Pinnacle Bank Arena, waiting for one last moment with the Sand Hills ranch girl who became one of the best basketball players in the state's history.
Jordan Hooper last year celebrated the senior night of her sparkling Nebraska career by sitting at a table and greeting every fan who wanted her signature or a picture.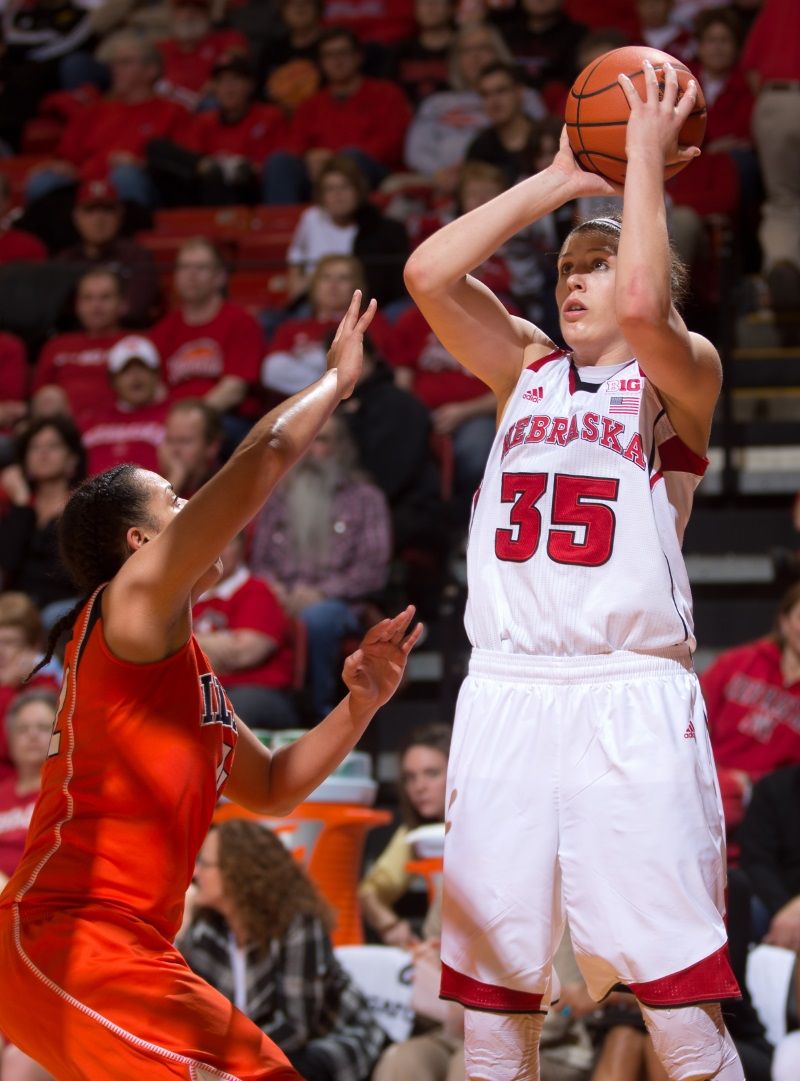 MARK DAVIS/THE WORLD-HERALD
Jordan Hooper finished No. 2 in career points (2,357), rebounds (1,110) and starts (131) at Nebraska.
Fans who knew every detail of Hooper's origin from raising steer and sheep on a Sheridan County ranch. Fans who'd watched Hooper make a school-record 295 3-pointers in her career — step-back 3s, pick-and-pop 3s, corner 3s off baseline screens, 28-foot heat-check 3s — while winning Big Ten player of the year in 2014. Fans who roared when Hooper and her teammates brought home a Big Ten tournament title. Boys and girls whose hearts rose and sank with Hooper's jumpers, who'd head home to their driveways, step a few inches beyond their own makeshift arcs and launch away like Jordan did.
Hooper wanted to see them that night. Now in her second year with the WNBA's Tulsa Shock, she still wants to hear from them. She loves the bond. Her affinity for it deepens her legacy.
"I was always very conscious of fans, of wanting to set a good example," Hooper said
Said Husker coach Connie Yori: "We never could have asked for a better representative of our program or the state of Nebraska."
Quick facts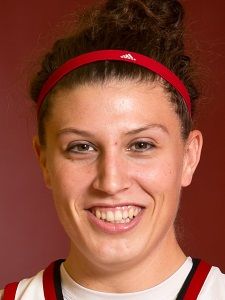 Jordan Hooper
Sport: Basketball
Hometown: Alliance
Born: 1992
Played for: Alliance High, Nebraska, Tulsa Shock
Best athlete from Nebraska played with or against: In high school, Hooper looked up her Alliance basketball and volleyball teammate Lindsey Briggs. "She always pushed herself and all of us to be better, and I always admired her for that," Hooper said. At Nebraska, it was former Lincoln Northeast and Husker star Dominique Kelley-Johnson — now a full-time assistant at Drake — and close friend/point guard Lindsey Moore who helped push and motivate Hooper. Both players were extroverted, upbeat communicators who brought Hooper out of her occasional shell.
Best moment as an athlete: For all its success in the last decade, Nebraska women's basketball had been so-so in conference tournaments. Led by a sparkling weekend of play by Hooper, the Huskers won their conference tournament title in school history. Hooper averaged 22 points and eight rebounds over three games, and the team won early enough on March 9, 2014 to fly back to Pinnacle Bank Arena and be honored during a timeout of the raucous Nebraska/Wisconsin men's basketball game. Holding the trophy in that setting, with nearly 16,000 on their feet, roaring, was "the best feeling I've had," Hooper said. "Nebraskans support Nebraskans."
Early sign of greatness: Hooper led Alliance to a Class B state title as a freshman, averaging 16.1 points and 10.4 rebounds in her first season.
Nebraska 100 profile: Jordan Hooper
Hooper's story began in earnest with her own slab of poured concrete. She and younger brother Kyle honed their games on their ranch, about 45 minutes from Alliance. And basketball was a natural love, she said, from grade school forward.
Hooper became a three-sport star at Alliance High. She won a Class B long jump title and was good enough in volleyball to receive a scholarship offer from Nebraska. She made an immediate splash in basketball, averaging 16.1 points and 10.4 rebounds as a freshman. Alliance won the state title and Hooper — the girl from ranch country whose name shouted basketball — became one of the state's biggest prep stories. Hooper guided the Bulldogs to four straight state tournament bids. Though Alliance won only one state title, Hooper scored 100 points in three tourney games her senior year. The final game, a third-place win over Holdrege, may have been her best — 34 points, 18 rebounds, 13 blocks.
By then, Hooper had already signed to play basketball at Nebraska. She nearly chose Husker volleyball.
"I went down to one of (coach) John Cook's camps and I loved it," Hooper said. "So I thought, 'Volleyball it is!' But I went back to Alliance and I didn't love it as much as I thought I did. I just loved the camps. But I loved basketball. I'd been doing that since forever."
She arrived at NU on the heels of the Huskers' first run to the Sweet 16, with as much hype and expectation as any recruit in Nebraska history. She didn't immediately have a sweet tooth for the media — Hooper was shy to the point of being unsure of herself.
She scored 15 points in her debut. Scored 22 points in her second game. But plagued by injuries, Nebraska slumped to a 13-18 record. Hooper often had to carry the scoring load as a freshman and, for the first time, she wasn't on the ranch.
"Freshman year of college was one of my hardest years," Hooper said. Homesickness. Doubt. A saving grace, perhaps, was Lindsey Moore, an NU point guard who'd become Hooper's best friend and roommate. Moore was the take-charge, can-do city kid from near Seattle. Hooper was her polar opposite.
"Our personalities clicked," Hooper said. So did the Huskers, making the NCAA tournament — including a Sweet 16 run in 2013 — in Hooper's final three years. In her first Big Ten game, Hooper dropped 31 points and 12 rebounds at ranked Penn State. She made three straight All-Big Ten teams and, with a nucleus of teammates one year younger than her, became a fan and team favorite.
Hooper wore the crown of Nebraska role model almost effortlessly, Yori said, "never compromising her core values." Homespun humor tumbled out of Hooper's mouth. Things went together like "peanut butter and jelly." Hooper had a habit of saying things were "super duper!" Yori, not afraid to poke a little fun, would razz Hooper occasionally about it.
Underneath that seeming naivete and beyond her stats — she's No. 2 in career points (2,357), rebounds (1,110) and starts (131) at NU — was a steady, quiet nature of an observer. It became a little more evident when Hooper returned from the 2013 World University Games in Russia just before her senior season. Team USA won gold, and Hooper started in the gold medal game. The psychology major came back to Nebraska with a better sense of the entire game and averaged 20.4 points and 9.1 rebounds as a senior. She cut down on turnovers. She even dished out the occasional assist. That growth made her a first-team WBCA All-American and the 13th overall pick in the 2014 WNBA draft.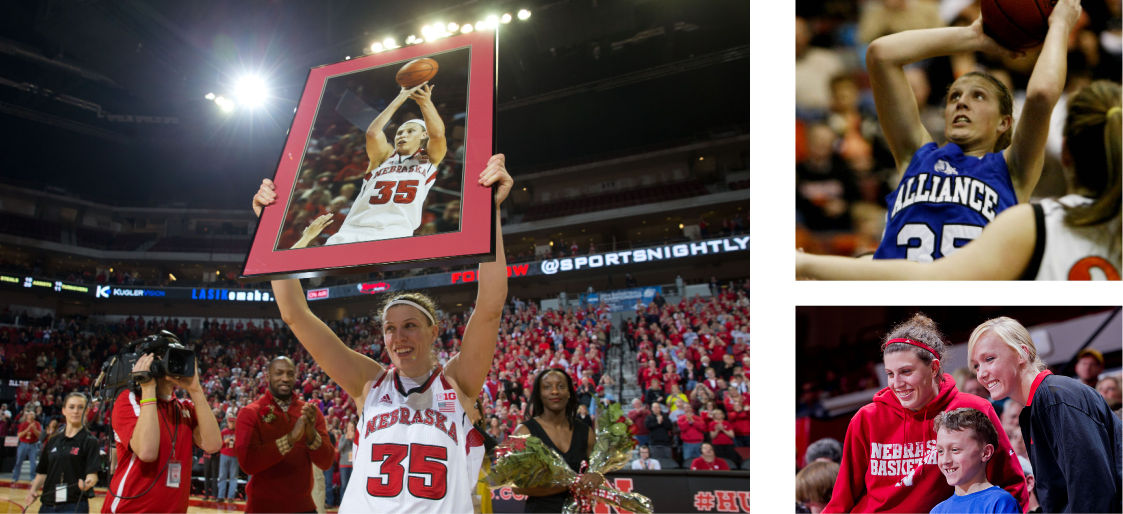 PHOTOS BY THE WORLD-HERALD
Left: Hooper is honored after the game on senior night. Top right: Hooper shoots against Beatrice in a state tournament game. She won a Class B title as a freshman at Alliance. Bottom right: Hooper and fellow Husker forward Emily Cady pose with a fan for a picture.
Hooper is in year two of playing for the Shock, where she averaged 5.2 points and was shooting 39.3 percent from 3-point range heading into the week. Every WNBA team is a who's who of former college All-Americans — the Shock have stars Skylar Diggins and Odyssey Sims, both of whom are injured — which might have bowled over Hooper once. Not now.
"You go down the line — and everybody's done something," Hooper said. "It's not like there's any slack-off anywhere. It's great."
Once the WNBA season ends, Hooper will again play basketball overseas. Perhaps Korea. Last year she played in Istanbul, Turkey, a city of 14 million people.
"The amount of people and the amount of traffic is what sticks out," Hooper said. "It's a really huge city and the traffic was awful."
Hooper once played basketball in a sea of rolling ranch land, the wind and sky as her companion. She loved it then. She loves it now.
"You get those essays in class where you are asked: 'What will you do in 10 years?' And I never knew what to put," Hooper said. "So I'd write: 'I want to play basketball for as long as I can.' And I guess I kinda am.
"But I never knew it was going to take me the places that it's taken me or help me meet the people I've met. I'm glad that I did. I have so many more memories — and so much more culture — than I would have just playing at some small school. That's the thing: I didn't even know if I wanted to go to college. But I'm glad I took that leap."
Contact the writer:
402-219-3790, sam.mckewon@owh.com, twitter.com/swmckewonOWH
More Nebraska
100

coverage