A recruiting trip to NU made basketball lover Houghtelling rededicate herself; the results were a historic volleyball career for a small-town girl
By Marjie Ducey // World-Herald staff writer
Christina Houghtelling loved basketball the most. She played volleyball because it was the thing to do in the fall. Just like track and field in the spring and AAU basketball in the summer.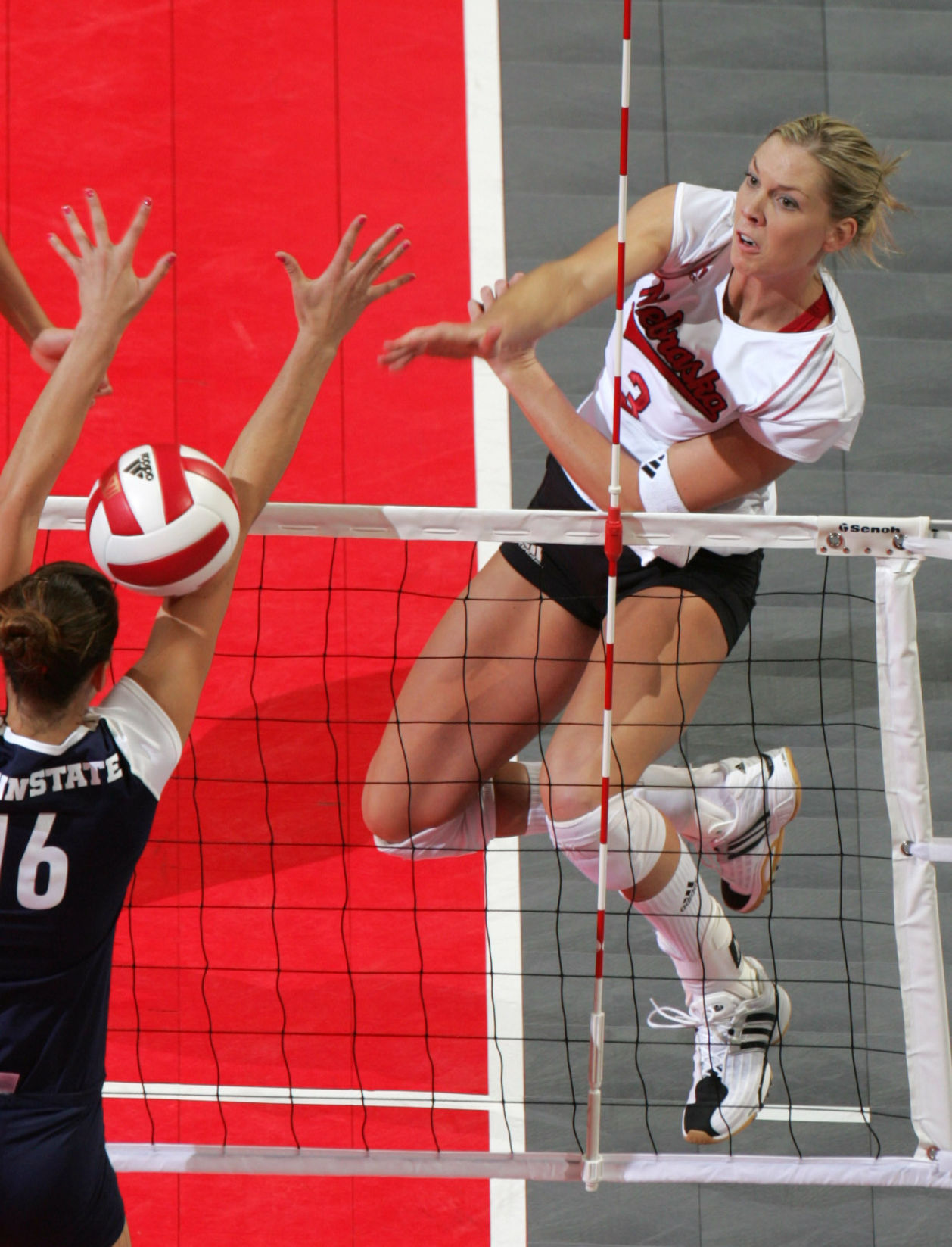 KILEY CRUSE/THE WORLD-HERALD
"She was so calm on the court. There was never fear in her eyes," former teammate Kori Cooper said. "It was, 'We are going to get this done. No other options.' "
But when high school coach Judy Mousel reached out to Nebraska volleyball coach John Cook about the 6-foot-2 standout from Cambridge and found out he was interested, Houghtelling was willing to listen.
She made a recruiting trip to Lincoln, with a half day penciled in to explore the basketball program and another half for volleyball.
A visit to a volleyball match that night at the NU Coliseum dunked basketball. That would be the first of many memorable moves by the first NU scholarship volleyball player from Cambridge.
"It was exciting and new and I took a leap of faith and went with it," Houghtelling said.
She started from ground zero at NU, she said, and it took her a few years to learn the game, eat properly and train at a high level. Still, she was in the lineup for four years, switching from middle blocker, to outside hitter, to right-side hitter and back to outside. Anywhere the Huskers needed her, just like in high school.
Quick facts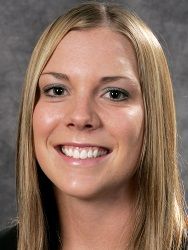 Christina Houghtelling
Sport: Volleyball
Hometown: Cambridge
Born: 1985
Played for: Cambridge High, Nebraska, international pro volleyball
Best athlete from Nebraska played with or against: "This is tough. I would have to say just the best all-around athlete was Rochelle Schmidt. She was from Indianola and she was a senior when I was a freshman. She was just one heck of an athlete. Humble. She worked hard. She played two sports at Doane, and that just goes to show her character and athleticism. She's the one who stuck out to me the most. She was a really good triple jumper. She was like a jumping bean. Republican Valley was a powerhouse. They were one of our biggest rivals."
Best moment as an athlete: "Besides being named the AVCA player of the year, team-wise, the highlight was when we beat Florida in 2005 to make it to the final four. Being in Omaha at the Qwest Center and taking Nebraska to the next level — that was one of the coolest moments."
Early sign of greatness:"I still don't really know. We were just always around (sports). You just realize you have a gift and you go with it. I did all the sports in high school and spent a lot of time in the summer. I guess I blossomed from there. It just happens over time. You do realize what gift you have. My dad played basketball, golf, softball and he did coach basketball and football at Cambridge. We were always just around sports. I was never pushed. We fell into it and loved it."
Nebraska 100 profile: Christina Houghtelling
Nebraska 100
In an historic series, The World-Herald selected Nebraska's Top 100 athletes. The Top 100, selected in 2005, came from a pool of more than 450 names from the ranks of high school, college, amateur and professional sports from the past 130 years. Assistance came from a panel of veteran sports observers from across the state, with the newspaper's sports staff determining the final rankings.
Her career took a huge leap in 2005 as a junior.
"It was a life-changing year," she said.
She was the MVP of the AVCA Showcase, which was played in Omaha, and the Most Outstanding Player in the NCAA tournament's Omaha Regional. NU went on to a national runner-up finish and Houghtelling was named AVCA national player of the year after averaging 3.69 kills, 2.49 digs and 1.03 blocks per game. She also was a first-team academic All-American.
Knee and shoulder surgery sidelined her in 2006 when NU won the national title. Even though she didn't play that season, former teammate Kori Cooper said she was crucial to the Huskers' success.
"She was the mother hen, she took care of everyone and loved on everyone. She took a lot of time to build relationships with everyone on that team," she said.
Cooper said it could have been easy for Houghtelling to quit, but not with her toughness and love for the game and her teammates. She was able to come back for a final season, earning second-team All-America honors and Big 12 defensive player of the year. During her career as a Husker, NU went 144-12.
Cooper and Houghtelling were roommates that last season. The Huskers had special ringtones on their phones, and whenever Houghtelling called Cooper, up popped the song "Ms. New Booty."
Years later, Cooper thinks of Houghtelling whenever she hears that song. It's not Houghtelling's accomplishments on the court that Cooper remembers as much as all of the hard work, leadership and relationships.
On the court, Cooper said, the best way to describe Houghtelling was "relentless pursuit." Houghtelling never gave up on any balls.
She showed finesse in the back row and was tough in the front row.
"She was so calm on the court. There was never fear in her eyes," Cooper said. "It was, 'We are going to get this done. No other options.' "
Some may have wondered how a small-town athlete would fare at NU, but that's what makes her such a great story, NU's Cook said.
When he asked her what changed from her first year, when she didn't play as much partly due to a knee injury, to her breakthrough junior season, Houghtelling responded with a quote he still uses.
"She basically decided that she wasn't happy with where she was at. She wanted to be great," he said. "She just transformed her body and worked really hard and got a lot of confidence from all that hard work to put herself in position to have a great junior year."
Houghtelling went on to play professionally in Puerto Rico and Finland, sandwiched around a job as a graduate assistant at Wayne State, where she earned her masters in organizational management.
She still plays sand volleyball, in Thornton, Colorado, where she's lived for the past two years and works at a tax and accounting firm as a payroll specialist.
Looking back on her accomplishments, it's not the awards that stick out, but the experiences from when her athletic career started as a swimmer. She was good in that, too.
Sports were just always a part of her life. Her dad, Ken, played basketball, golf and softball, and was an assistant coach for basketball and football at Cambridge.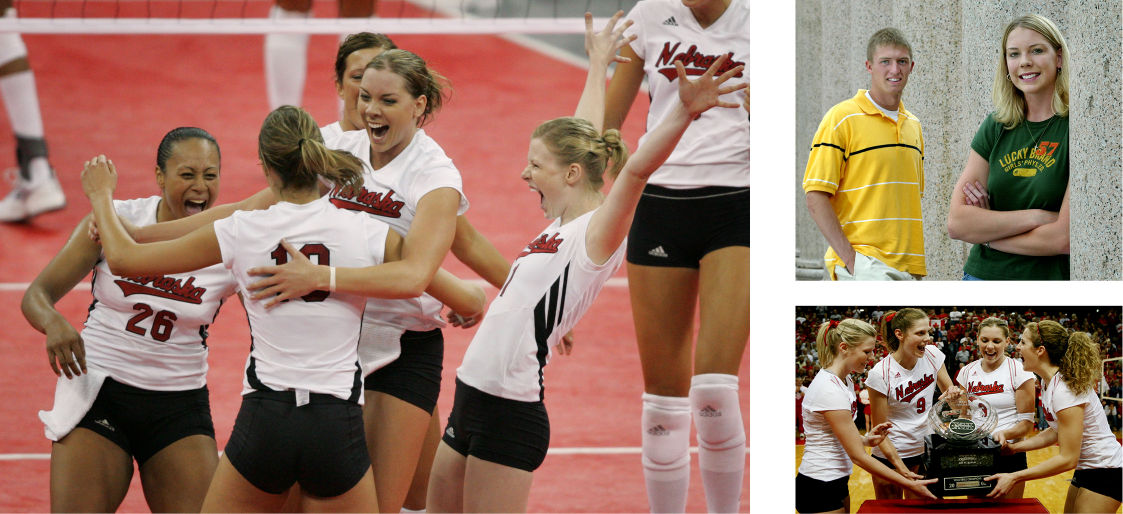 PHOTOS BY THE WORLD-HERALD
Left: Christina Houghtelling and her teammates celebrate a win over Stanford during the 2005 season. Top right: Houghtelling and Andy Birkel of Lincoln Southeast were named The World-Herald athletes of the year. Bottom right: Nebraska seniors Maggie Griffin, Sarah Pavan, Houghtelling and Tracy Stalls lift the Big 12 title trophy.
"I was never pushed," she said. "We fell into it and loved it."
She left swimming behind for basketball, volleyball and track in high school. Although she never won a state title in volleyball, where she had 434 kills as a senior, or basketball, where she averaged 27.1 points her last year, she finished her track career as the all-class gold winner in the triple and high jumps.
She was chosen as The World-Herald's 2003 high school athlete of the year.
Although basketball was her main love, she doesn't regret leaving it behind for volleyball. It still hasn't sunk in that she was considered the greatest collegiate player in her sport.
"Everything just worked out great," she said. "I was really glad I went that direction."
Contact the writer:
402-444-1034, marjie.ducey@owh.com
More Nebraska
100

coverage