Nebraska's all-time leading tackler prided himself on learning every angle — so as to eliminate them for would-be opponents
By Jon Nyatawa // World-Herald staff writer
The linebacker with more tackles than any other Husker, and 658 more as a pro, never felt that wrapping up an opponent and knocking him to the turf was an innate skill.
The modesty to that self-assessment is in character with the man who was always striving for more out of himself.
The way Barrett Ruud sees it — since he never felt he had the natural ability of Troy Polamalu or Ray Lewis or any of the legends he watched on NFL Films — his goal was to focus on perfecting the details.
"I don't know if I ever was a real natural tackler, to be honest, and that's even when I played in the NFL," Ruud said. "I always had to work really hard at it."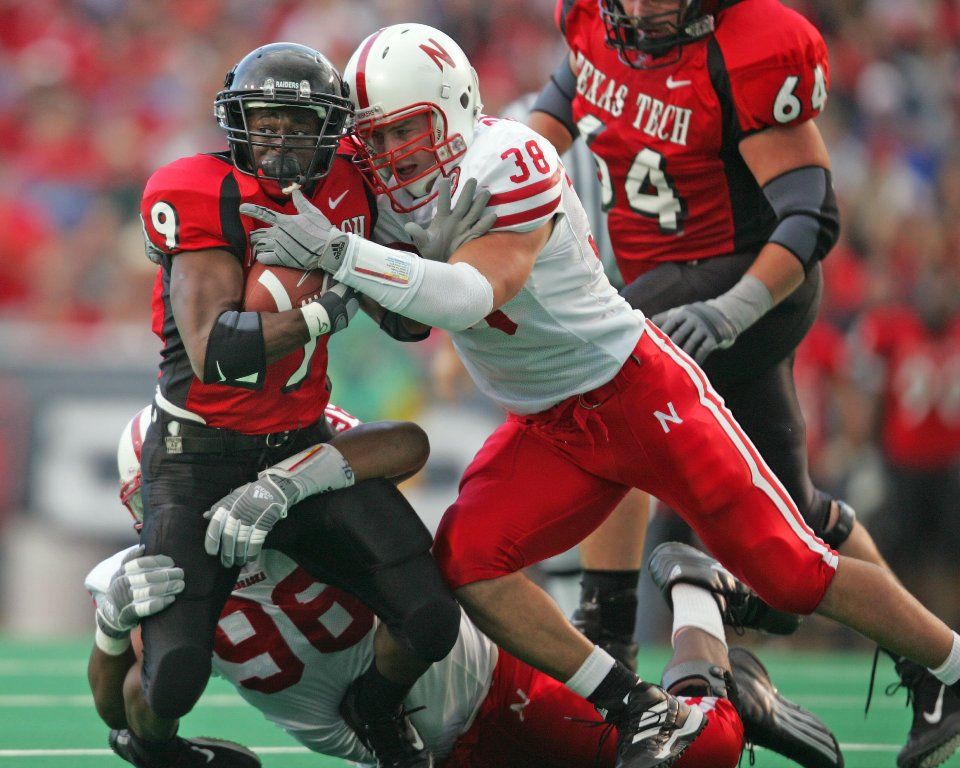 MATT MILLER/THE WORLD-HERALD
Ruud said he never felt he had the natural ability some others' were born with. "In college, I was just hoping to start," Ruud said.
Ruud made it look easy on the field, though.
It's his fundamentally sound and violent collisions with ball carriers that made lasting impressions from high school, through college and into the pros.
Ruud played eight seasons in the NFL, leading Tampa Bay in tackles in four of those. He had a program-best 432 tackles as a Husker from 2001 to '04. Even at Lincoln Southeast, when his talent was more evident to fans when he took handoffs as an I-back, Ruud's ultimate calling card was as a brutal tackler.
On a snowy and frigid evening, he took over a state playoff game as a senior against Papillion-La Vista.
"He made every single play defensively in that second half," said Nick Bahe, a quarterback on that team and longtime family friend. "I've never seen that."
Quick facts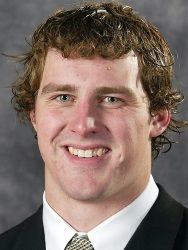 Barrett Ruud
Sport: Football
Hometown: Lincoln
Born: 1983
Played for: Lincoln Southeast, Nebraska Cornhuskers, Tampa Bay Buccaneers, Houston Texans, New Orleans Saints, Tennessee Titans
Best athlete from Nebraska played with or against: Alex Gordon. Why? Said Ruud: "It's those times in football practice where somebody'd throw a pass that was way off target and he could make it look like a groundball going to third base — where it's just zero effort to make a really hard catch. Some guys just have that gift."
Best moment as an athlete: Ruud says the 2008 season was his "best year of overall football." But if he had to zero in on one specific game as an individual, he points to a 9-0 state playoff win over Papillion-La Vista.
Early sign of greatness: He says he didn't feel comfortable watching game film of himself until his fourth year in the NFL. That was 2008. Until then, the perfectionist inside of Ruud couldn't get past his own flaws.
Nebraska 100 profile: Barrett Ruud
Chuck Mizerski, his high school coach, remembered a game when Papio had the ball inside the 10-yard line. First-and-goal. The next three plays came right to Ruud, and he stopped them all. He tracked down a toss on fourth down to end the threat, too.
"Like it was no big deal," Mizerski said.
There was a certain fearlessness that defined Ruud throughout his career. No moment was too big. No opponent was too talented. No pain was too great.
He will concede that he was gifted with a few physical traits.
"I always had really good feet, I could always go side to side and I could always go at angles really well," he said.
But he conditioned himself to be mentally superior. He didn't want to miss an opportunity.
"When I was in high school, I was just hoping to get a scholarship — I didn't know if I would or not," Ruud said. "In college, I was just hoping to start. I didn't know if I would. Then I started and I wondered, maybe I'll get a chance to play in the NFL, but I didn't know if I'd get drafted or not. It was always kind of like that for me."
Every step of the way, as it turned out, Ruud was prepared. Perhaps that's because the game is part of the DNA for Ruud and younger brother Bo, who was also a linebacker at NU.
They started early, with a punt return game they played as children. One kicked the football to the other, who'd try to return it. No pads. Full contact. How else were they going to mimic the heroes they watched video of? Other times, Dad would play quarterback and the brothers went one-on-one, receiver vs. defensive back.
"That's how we learned to play," Bo Ruud said. "And we loved it. We'd do that for hours on hours, couldn't get enough of it."
That made sense, given their bloodline. Their dad, Tom, was an All-Big Eight linebacker for Nebraska and spent five years in the NFL — his Bengals and Bills helmets were in their house. Uncles Bob Martin and John Ruud played for NU, as did great-grandfather Clarence Swanson.
One of Barrett's first Husker memories was attending the 1988 game between NU and Barry Sanders' Oklahoma State squad. NU jumped to a 42-0 lead, but the Cowboys ended up scoring 42 points. The Huskers won 63-42, but the game was exciting throughout. For so many of the other Nebraska games, particularly the blowouts, the Ruud boys were gone by the fourth quarter, racing back home to play football with buddies.
Football was never force-fed. Ruud gravitated toward it. Then the game took over his life.
And that makes retirement a little uncertain for Barrett, whose playing career ended in 2013.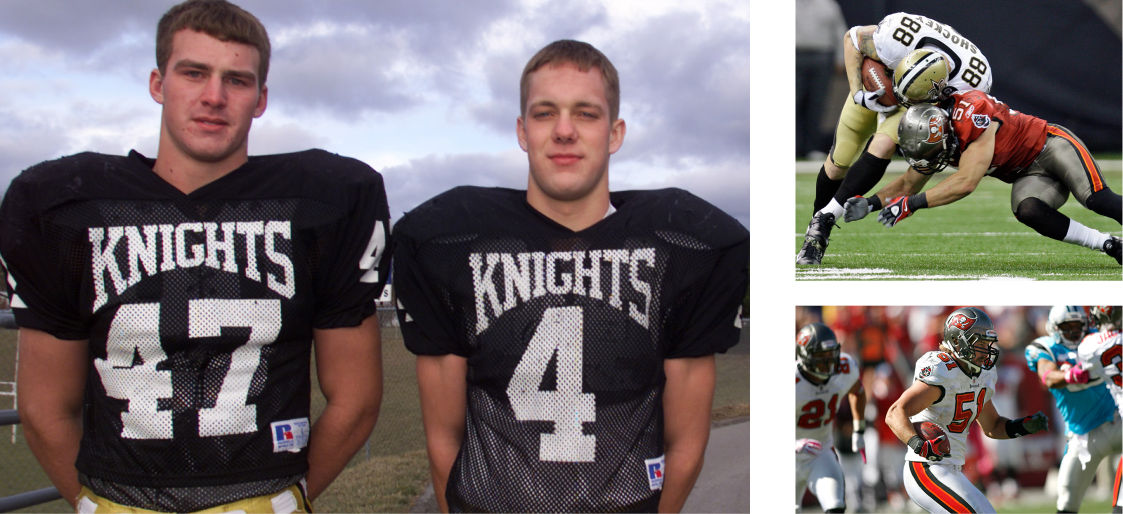 PHOTOS BY THE ASSOCIATED PRESS AND THE WORLD-HERALD
Left: Ruud was a high school football teammate of current MLB All-Star Alex Gordon. Right: Ruud played in the NFL for eight seasons, including six with the Bucs.
He's the type of player who never took himself off the field.
He played with a cast on his hand during a stretch in college. He suffered a torn meniscus before one season in Tampa Bay and played through it. Bo remembers Barrett telling him about a shoulder "stinger" during the year with the Tennessee Titans that turned out to be a torn labrum. He had a couple of pulled groin injuries that he refused to let sideline him, too.
"He always had that mindset, you go out there for your team," Bo said. "You just go do it."
Until you can't. Or no one asks you to do it anymore.
"I didn't really retire on my own," Barrett said. "I kind of got retired. Nobody gave me an offer that I liked."
Now he's looking for the next step.
He spent 2014 working as a graduate manager for the Huskers. He'll spend this fall coaching football basics to high schoolers at Lincoln Southeast, where he mastered fundamentals and transformed himself into a star.
"I was pretty consumed at the time with football," Ruud said. "And still to this day, it's what I enjoy doing. And I haven't looked too far outside those boundaries. And the day may come when I have to do that. But right now, it's consumed most of my life, and it still is."
Contact the writer:
402-473-9585, jon.nyatawa@owh.com, twitter.com/jonnyatawa
More Nebraska
100

coverage