A strong upbringing and the joy of playing multiple sports at an early age helped smallish running back Danny Woodhead reach the NFL, stay humble and deal with fame.
By Lee Barfknecht // World-Herald staff writer
What you are about to read is a short listing from the many athletic accomplishments of Danny Woodhead, formerly from North Platte High and Chadron State, and now in his eighth season as an NFL running back.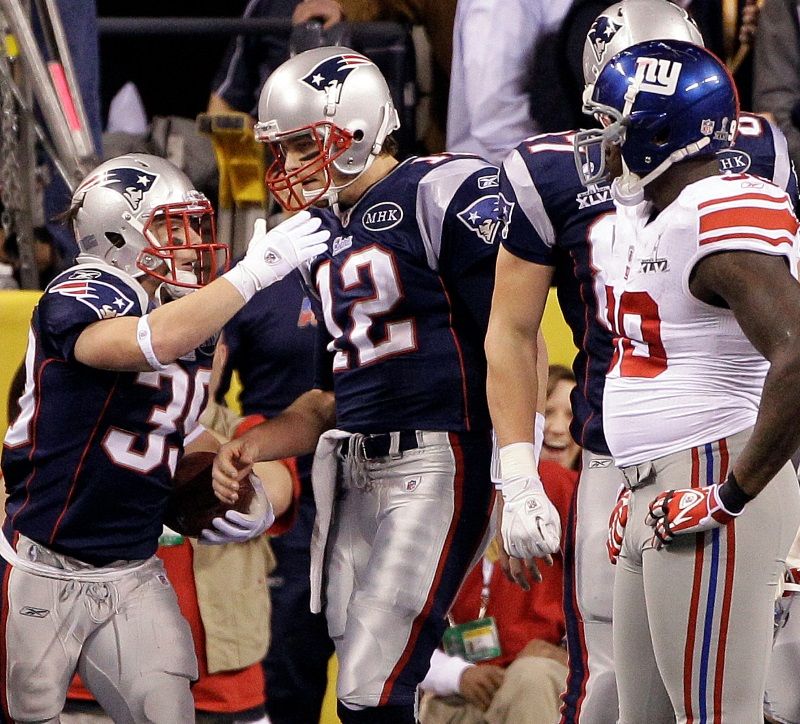 THE ASSOCIATED PRESS
Danny Woodhead called his touchdown in Super Bowl XLVI "kind of a cool deal."
The idea here isn't to break news. It's to see how often you shake your head in wonder upon recalling these feats from the 5-foot-8, 200-pound bundle of fast-twitch muscle:
» He rushed for the second-most yards (7,962) in the history of college football in all divisions; won the Harlon Hill Trophy (Division II's version of the Heisman) twice; and was honored on Division II's 40-year "tribute team."
» His marks for 200-yard rushing games (19) and consecutive games scoring a touchdown (38) are still NCAA all-division records.
» He scored more high school touchdowns in a career (76) and a season (34) than anyone in Nebraska's Class A (records since broken by Omaha North's Calvin Strong).
Quick facts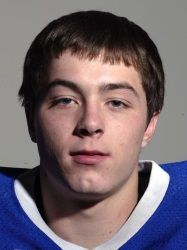 Danny Woodhead
Sport: Football
Hometown: North Platte
Born: 1985
Played for: North Platte, Chadron State, Jets, Patriots, Chargers
Best athlete from Nebraska played with or against: "That's a tough one. There were a lot of good players. As far as athletically doing a lot of stuff, I remember Nick Bahe (Lincoln Southeast, football and basketball). He was a great athlete and was a great guy to compete against. You knew you were always going to get his best."
Best moment as an athlete: "One is going to the state football championship game in high school my sophomore year with my brother (a teammate) and my dad (a coach). Other than that, scoring a touchdown in the Super Bowl is kind of a cool deal. And my whole family was there to see it.''
Early sign of greatness:"I thought I was pretty good at sports because I played about every sport you could play. I think I knew I was pretty good as I grew older, but I always wanted to be a team player. I just loved sports and enjoyed playing.''
Nebraska 100
In an historic series, The World-Herald selected Nebraska's Top 100 athletes. The Top 100, selected in 2005, came from a pool of more than 450 names from the ranks of high school, college, amateur and professional sports from the past 130 years. Assistance came from a panel of veteran sports observers from across the state, with the newspaper's sports staff determining the final rankings.
Related links
»
Nebraska 100 profile:
Danny Woodhead
»
Home:
Nebraska 100
»
Pospisil:
Pospisil: Station left lasting mark on ball carriers, charts
» He was World-Herald first-team All-Nebraska in football three straight years.
» As a high school senior, he also earned second-team all-state in basketball while leading the state in scoring (26 points a game) and was second-team all-state in soccer. North Platte reached state in those sports as well as football.
» He ran track as a junior — and tied the school record in the 100 meters at 10.5 seconds.
You know you've made a mark on the state of Nebraska's athletic consciousness when scoring a touchdown in the Super Bowl — as Woodhead did for the New England Patriots in the 2011 season — is simply the cherry on top of your work.
So what's left to say about Woodhead?
1. We bet you didn't know he once wore a dress to basketball practice.
Dan Moore, the former coach at North Platte who now is at Papillion-La Vista, spilled the goods. Moore held shoot-arounds on game days, with the team sometimes dressing in basketball gear and other times in street clothes for the casual workouts.
One night before a big game, Moore gave a fiery speech, ending it with a reminder about the next morning's shoot-around. When a player asked what should be worn, Moore said: "I don't care. You can come in dresses if you want."
Sure enough, Woodhead and another player had raided their sisters' and mothers' closets.
"It was pretty funny," Moore said. "Danny is just a super kid. He's super competitive and very religious, but loves to have fun. He was always playing at a different level than everyone else, no matter what you were doing."
In Moore's 19 years as the coach at North Platte, Woodhead was the only player to start as a freshman.
2. Woodhead attributes much of his success to playing multiple sports growing up.
"Looking back," he said, "if my parents had made me pick one sport, I don't know if I am where I am right now.
"To me, the thought of playing just one sport doesn't make sense. Kids are picking a sport at 10 years old. Let them be kids. Let them have fun."
Besides football, basketball, track and soccer, Woodhead played golf at an early age, too. He now hits 300-yard drives and plays close to scratch. He credited God for the skills to perform well and placing him on a path to success.
"But I think I would have burned out playing just one sport," Woodhead said. "I loved every season. Soccer was unbelievable for my footwork, basketball for hand-eye coordination and track for speed and explosion.
"Even playing golf with my dad and brother, it was always competitive. I love competition."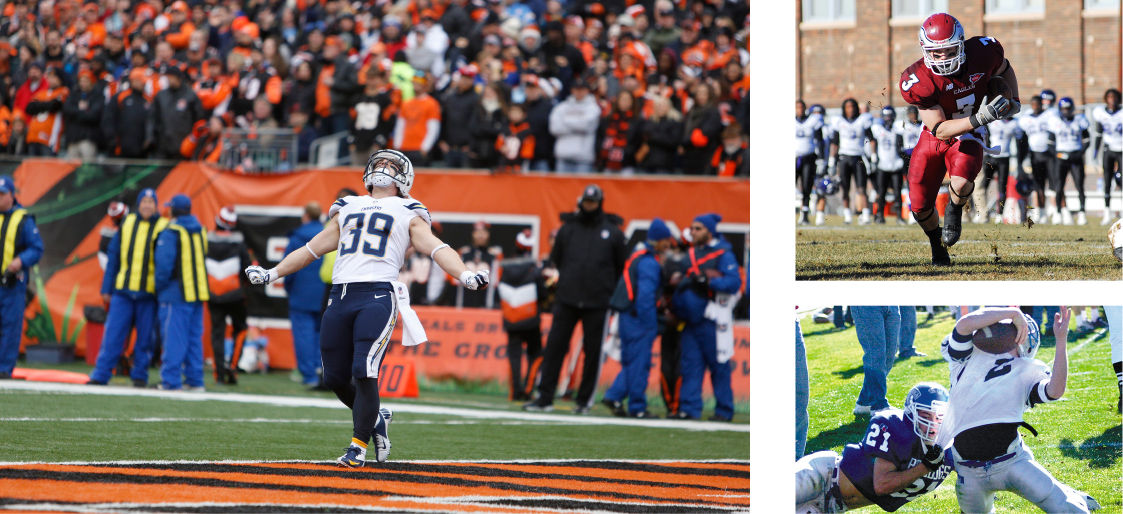 PHOTOS BY THE ASSOCIATED PRESS, NORTH PLATTE TELEGRAPH AND CHADRON STATE COLLEGE
Left: Woodhead celebrates his touchdown during a 2014 wild-card playoff game against Cincinnati. Top right: Woodhead rushed for the second-most yards (7,962) in the history of college football in all divisions while at Chadron State. Bottom right: North Platte's Woodhead tackles Aaron Flynn of Millard North at the 1-yard line.
3. Woodhead has never spoken in detail publicly about what chance he had to play college football at Nebraska. He's still not much interested in the topic.
"I never was offered a scholarship," Woodhead said, "and I was never really asked to walk on.
"It's not something I care about. I don't have any regrets or say, 'Oh, I wish I would have gone to Nebraska.' I was at the place where God wanted me, and I loved Chadron State."
Division II schools such as Chadron State almost always offer partial scholarships. Woodhead was the first at that school to receive a full ride.
"Some people probably still say I couldn't have played at Nebraska," he said. "That was even said once I was in the NFL. I don't even feel I need to argue that I could have. I feel very blessed with where I was in college."
4. For all the talk about Woodhead being too small for big-time football, he says he's never been scared on the field.
"That would make it tough to play and do what I do," said Woodhead, who saw his 2014 season cut short by a broken ankle in the third game. "People ask me about playing against 300-and-some pounders.
"I say, 'I'm a little smaller, so I hope I'm a little quicker than that guy.' So I'm not scared of that. You can play the game at 180 pounds, and I'm a lot heavier than that."
That's about as close to braggadocio as you'll get from Woodhead. When friends and family are asked to describe him, the most-used word is "humble." He called his touchdown in the Super Bowl "kind of a cool deal."
Woodhead said his strong upbringing — from "unbelievable parents" to supportive communities in North Platte and Chadron — has allowed him to handle and tolerate the fame and praise he has attracted.
"Being noticed a lot can be different at first," Woodhead said. "When you hear a lot of praise, let it go in one ear and out the other. Don't think you're the greatest.
"Always remember that the most important thing is your teammates.''
Contact the writer:
402-444-1024, lee.barfknecht@owh.com, twitter.com/leebeeOWH
More Nebraska
100

coverage