No clear choice for college football's No. 1 team when looking ahead to next season
Column by Sam McKewon / World-Herald staff writer
The college football season ends occasionally, but it never exactly stops.
And so it's never quite wrong to hash out where teams stand as they finish up their 2016 recruiting classes and begin plotting for the following season.
At first blush, there's no team that jumps out as an obvious No. 1 like Ohio State was in 2015. The Buckeyes fell short by a field goal of staying in the national title chase, but once the coaching staff picked the right quarterback — and by proxy, figured out the offense — fans saw the formidable team they had expected all season.
In 2016, you could pick any number of teams for that No. 1 slot and still not get it right. The SEC West, with most teams returning starting quarterbacks, looks stingy. The ACC should hit a high-water mark in 2016 after several years of producing a single front-runner flanked by mediocrity. The Pac-12 is entirely up for grabs, regardless of how much good faith pundits put in Stanford. The Big 12's wild card is a familiar name, Texas, where Charlie Strong figures to fight his way off the hot seat. The hot name to replace Strong, Tom Herman, has Houston positioned for a rare non-Power Five conference title run if he can beat Oklahoma in his season opener.
The Big Ten's offseason will be ruled by one word, eight letters long: Harbaugh. Get ready to hear it at least 93,467 times. Harbaugh. Harbaugh, Harbaugh, Harbaugh, Harbaugh. With the occasional Urban Meyer thrown in for good measure.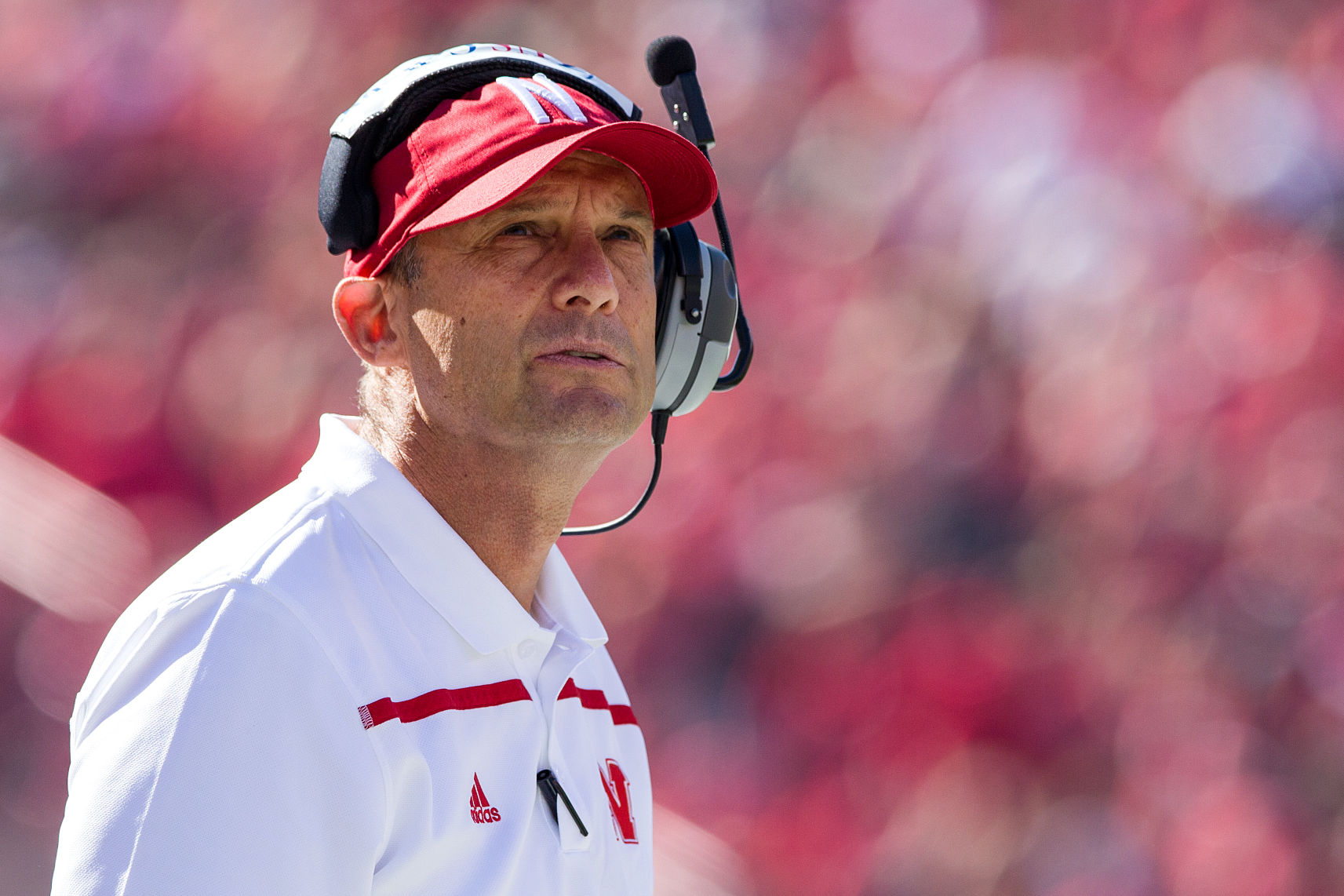 BRENDAN SULLIVAN/THE WORLD-HERALD
What heights can Nebraska reach under coach Mike Riley? The Huskers finished No. 24 in the final 2011 standings, No. 25 in the final 2012 standings and unranked after the 2013, 2014 and 2015 seasons.
Michigan's coach returns key pieces of his defense and will enjoy (finally) one of the league's best offensive lines. With the opportunity to spend the first five games at home, Jim Harbaugh's Wolverines will get a long, fruitful audition before facing Michigan State, Iowa and Ohio State on the road near season's end.
With Harbaugh about to haul in one of Michigan's best classes — and his complete inability to stay out of the news — the Wolverines will have even more of a presence on the Big Ten Network than they already did.
The Spartans and Buckeyes are in for a slight rebuild, but those teams have a formula and culture for winning.
In the Big Ten West, it's too early to tell. Iowa has probably earned the right to be on any early Top 25. The Hawkeyes return their quarterback, host Nebraska and Wisconsin, and play every nonconference game at home, although one of those games is against FCS champ North Dakota State.
Nebraska, Wisconsin and perhaps Minnesota should get a look on any early Top 25, too. The Huskers have a tricky schedule with that road game at Ohio State standing tall, and an early game against Oregon will get the blood of NU's staff at a boiling temperature. The Badgers may be down a bit in terms of talent. The Gophers, meanwhile, draw the best schedule — Penn State, Maryland and Rutgers from the East.
Did any of that trio make the early Top 25? Which teams might be surprises from way off the radar? Dive in.
25. TCU
In Gary Patterson (pictured) one must trust, even if his offense needs a makeover because of lost talent. An early game against Arkansas is big.
24. UCLA
This is partially dependent on the head coaching situation, but it does seem as if Jim Mora will stay in Pasadena at least one more year. The Bruins will get a new offensive coordinator — which is OK, it was time — to lead quarterback Josh Rosen (pictured). The defense needs help up front.
23. Iowa
Benefit-of-the-doubt ranking. The Hawkeyes have quarterback C.J. Beathard (pictured) back in the fold, most of the back seven on defense and a decent shell of an offensive line. Offensive playmakers are a big question.
22. Ole Miss
Good team, hellish schedule. Florida State, Alabama, Georgia, Arkansas and LSU in the first seven games, followed by Auburn and then Georgia Southern, a team no one likes to play. Four-loss season, maybe five.
21. Auburn
Six of the first seven games are at home, the team has a quarterback and, by season's end last year, the Tigers looked much more confident on defense. Gus Malzahn (pictured) bounces back.
20. Michigan State
This seems very much like a bridge year for the Spartans, who have to find a new quarterback and restock the offensive line. The schedule — which welcomes BYU, Wisconsin, Ohio State and Michigan to East Lansing — is the primary saving grace.
19. Stanford
Christian McCaffrey (pictured) is appointment television next year. He'll need to be for the Cardinal, who go on without a four-year starter at quarterback and several key defensive players.
18. Louisville
Four juniors on defense who could have declared for the NFL draft returned, and sophomore quarterback Lamar Jackson (pictured) looks like a keeper.
17. Oklahoma State
Quarterback Mason Rudolph (pictured) returns, as does the bulk of his offensive line. Coach Mike Gundy reliably turns his most experienced signal-callers into big winners.
16. USC
Talent matters, and the Trojans have all kinds of it in the program. So even though USC must replace its quarterback and some defensive stars, look for good things to happen. USC repeats as Pac-12 South champs.
15. North Carolina
A talented defense and a schedule that sets up nicely with two more FCS teams on the slate. If UNC beats Georgia in the season opener — which it should — another 11-win season could await.
14. Notre Dame
An ultra-talented roster — even if the best defensive players are declaring for the NFL draft — that needs a true starting quarterback. Malik Zaire (pictured) and DeShone Kizer will compete.
13. Texas
Charlie Strong awakens the Longhorns. At long last, UT's offense will reflect the spread offense that grips the state, and the defense — legit at the end of 2015 — will be even better in 2016. Texas is back, much to your chagrin.
12. Miami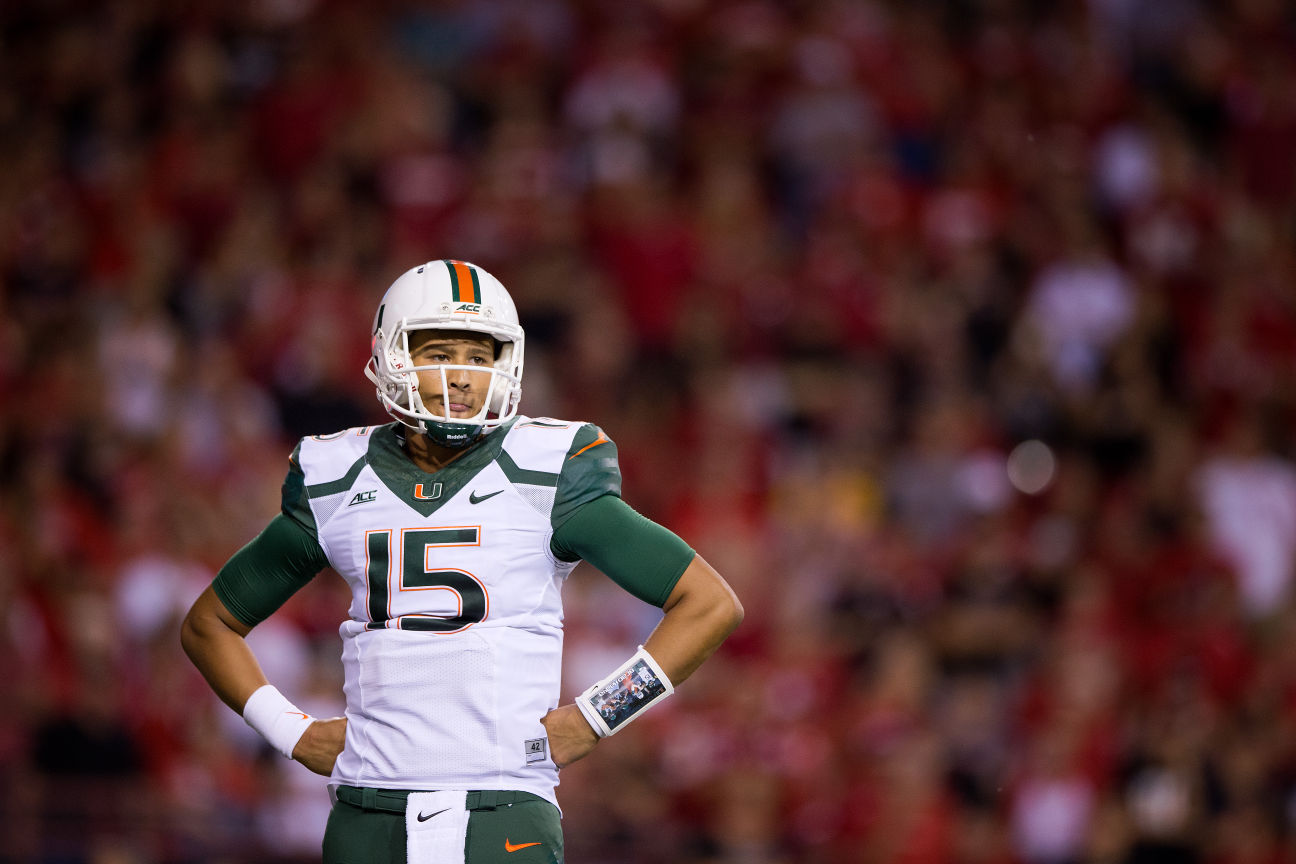 Big jump coming for the Hurricanes thanks to the arrival of coach Mark Richt, who will get a surge from a talented roster and junior quarterback Brad Kaaya (pictured).
11. Houston
The top non-Power Five team should be the top non-Power Five team from this most recent season. The Cougars open with Oklahoma. Win there, and it gets interesting for coach Tom Herman. Houston is better than every other team on its slate.
10. Michigan
A strong first year from coach Jim Harbaugh (pictured) should carry over, and the Wolverines get their first five games at home. But Big Ten teams have a full year's worth of tape to study. It won't be easy.
9. Tennessee
The schedule is a beauty, the young roster has two years of seasoning and the talent is in place. The Volunteers should be a stiff challenge out of the SEC East.
8. Ohio State
The Buckeyes lose a ton from the roster, but don't worry about Urban Meyer (pictured). He's recruited in a way to deal with that problem. The roster is stacked with talent, quarterback J.T. Barrett is back and Meyer will have a chip on his shoulder when Michigan is deemed the favorite. The schedule is tough.
7. Oklahoma
Have quarterback Baker Mayfield (pictured), will travel. OU's biggest games — Ohio State, Baylor and Oklahoma State — come at home.
6. Clemson
Deshaun Watson (pictured) is a stud, and he proved it in the national title game. He'll have a big junior year. Will his defense help him? The ACC is still a soft league, so a single loss may knock Clemson out of the playoff hunt.
5. Baylor
Soft-as-baby's-skin nonconference schedule coupled with healthy returning quarterbacks, a decent defense and Art Briles' mind running the offense. One of these years, the Bears are busting through.
4. Washington
Wait, what? Yep. The Huskies will win the Pac-12 North, the Pac-12 overall, and make the College Football Playoff. Chris Petersen (pictured) has cobbled together a very good roster that took a lot of lumps but finished strong. It was the Pac-12's top defense this year, and that offense will be one year older.
3. Florida State
The Seminoles will be back with a vengeance in 2016 now that Jimbo Fisher (pictured) is locked in. The coach and the team had a bad (for them) 2015 — few good wins, continuity issues on offense — that'll get worked out this offseason. The offense returns mostly intact, and should have a little more quarterback run attached to it.
2. Alabama
It's Nick Saban. It's Alabama. Winning is what the Crimson Tide do, and they drew a season opener against USC just when the Trojans are breaking in a new quarterback. The Tide have to break in a new quarterback too, but that's not much of a concern with Lane Kiffin back in the fold.
1. LSU
Necessity is the mother of invention. Not only do the Tigers have a rather talented roster and a stable quarterback situation, they add defensive coordinator Dave Aranda. He'll have LSU's fleet 'backers attacking from all sides. The schedule, as always, is hard, but LSU welcomes Alabama to Death Valley. You could pick eight teams for this slot and not get it right, but LSU seems like a safe bet.
Contact the writer:
402-219-3790, sam.mckewon@owh.com, twitter.com/swmckewonOWH