Nebraska, and the rest of college football, are looking up at defending champion Ohio State
Column by Sam McKewon / World-Herald staff writer
LINCOLN — Like boxers, members of the Ohio State Buckeyes Monday night wore black hats with the words "Undisputed National Champions" written in gold letters. It was a great look. A money look. Imagine being one of OSU's assistants this week and having one of those in your backpack as you go out recruiting. You pull it out, hold it by the bill in front of some five-star prospect, tilt it a little and say, "Wear that for a minute."
Beats four divisional title hats in a decade, doesn't it?
Might as well be frank about it. Nebraska's looking up at a juggernaut now. A Buckeye bully sitting in the middle of a talent-filled state, a big city with the Big Ten's best stadium, best coach and best band.
I exhort any Husker fan who can afford it to go there once. It really is quite a stadium — it feels almost Olympic in nature — but, on top of that, the trip is useful. You might as well see what Nebraska is up against. The SEC doesn't have anything on it and won't for a long time to come.
In the one whole year Ohio State football curled into a fetal position — 2011 — it took the biggest comeback in school history for NU to beat the Buckeyes. Then Ohio State hired Urban Meyer. OSU played Hagler to NU's Hearns in 2012, knocking down, then out, the Huskers 63-38 in Columbus. And even then, Nebraska had a good swing at a Rose Bowl as Ohio State paid penance for Jim Tressel's NCAA sins. You don't need to be reminded of 70-31.
Two years later, Bo Pelini works for Tressel, and the Buckeyes are "undisputed national champions."
Well, one team might dispute it. TCU would have an argument. A great one.
The Horned Frogs were bumped out of the College Football Playoff in the final week. They were third, and they dropped to sixth. That drop was not unforeseen — Ohio State leapt to fourth, and Baylor, which beat TCU 61-58, moved to fifth — because of "résumé rules" that appeared to form on the committee. That's fine. Ultimately, the committee got it right with Ohio State, and it couldn't just drop Florida State out of the top four because the Seminoles were sloppy. Well, the committee could have — and perhaps should have — but FSU was, after all, the defending national champ. Alabama benefited from a small sample size of SEC West teams winning nonconference games early in the year and the SEC in general playing conference games right off the bat.
At any rate, I thought TCU was the No. 1 team before the playoff. The Horned Frogs hurdled plenty of obstacles this season — like installing a brand-new offense — and rebounded from a 4-8 season that included four losses by three points or fewer. TCU will simply have to prove it in 2015 when it invariably starts No. 2 — to No. 1 Ohio State. Yes, it's less than a week after the 2014 season, but, barring significant injuries, OSU and TCU are strong bets to land at 1-2 come next August, and I expect them to be heavy favorites to make the second College Football Playoff.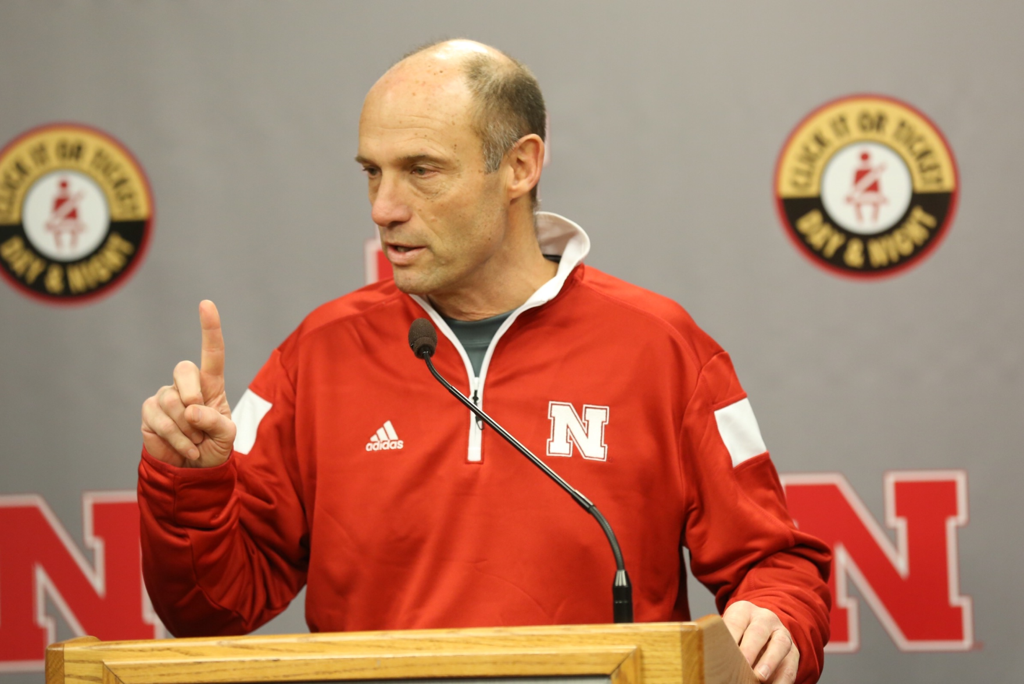 THE WORLD-HERALD
What heights can Nebraska reach under new coach Mike Riley? The Huskers finished No. 24 in the final 2011 standings, No. 25 in the final 2012 standings and unranked after the 2013 and 2014 seasons.
Those other two spots are up for grabs among many teams that won't have proven quarterbacks. Alabama and Florida State — probably the most talented teams in college football — will be breaking in new guys. Oregon has to replace Marcus Mariota — good luck! Nick Marshall's gone at Auburn. Brett Hundley's gone at underachieving (for its talent level) UCLA. Bryce Petty's gone at Baylor.
Other teams return quarterbacks but lose chunks of their team. Mississippi State. Clemson. Michigan State, which got key pieces back in Connor Cook and Shilique Calhoun but lost a ton off a good defense — plus defensive coordinator Pat Narduzzi. There aren't a ton of complete teams on paper. Then again, Ohio State wasn't heading into 2014. Even Urban Meyer thought his Buckeyes were a year away. He was probably never more pleased to be wrong.
What of Nebraska? The rankings tell us the Huskers haven't been particularly close to the top programs since 2010, when they finished No. 20 in the final Associated Press standings after losing to a Washington team they had already beaten and had no motivation to play.
Since then, NU has finished No. 24 in the final 2011 standings, No. 25 in the final 2012 standings and unranked after the 2013 and 2014 seasons. The irony? NU started each of those seasons with much better preseason ratings. No. 10 in 2011, No. 17 in 2012, No. 18 in 2013 and No. 22 in 2014. Nebraska's "brand" consistently outperformed its on-field work.
The Bo Pelini era peaked with Bill Callahan's players in 2009 — when the Huskers lost four games but finished No. 14 in the final standings — regressed late in 2010 and plateaued in the Big Ten. The Huskers were 4-10 against ranked teams since joining the league. That's four years. In 2009 and 2010 alone, Nebraska won five games against ranked teams. Right now, NU is a top-30 squad with a favorable-enough schedule to push its way into the top 20 by midseason if it can beat BYU, Miami (Florida) and Wisconsin in the first half of the schedule.
Can the Huskers do that? Sure. But it's probably time they prove it — instead of pundits presuming they will.
Contact the writer:
402-219-3790, sam.mckewon@owh.com, twitter.com/swmckewonOWH