Despite some budget growing pains, full Division I status helps the University of Nebraska at Omaha carve out a new identity.
By Henry J. Cordes // World-Herald staff writer
The University of Nebraska at Omaha's athletic director, Trev Alberts, walked a visitor by the school's soccer stadium, a facility going through the final stages of a booster-funded $1 million makeover.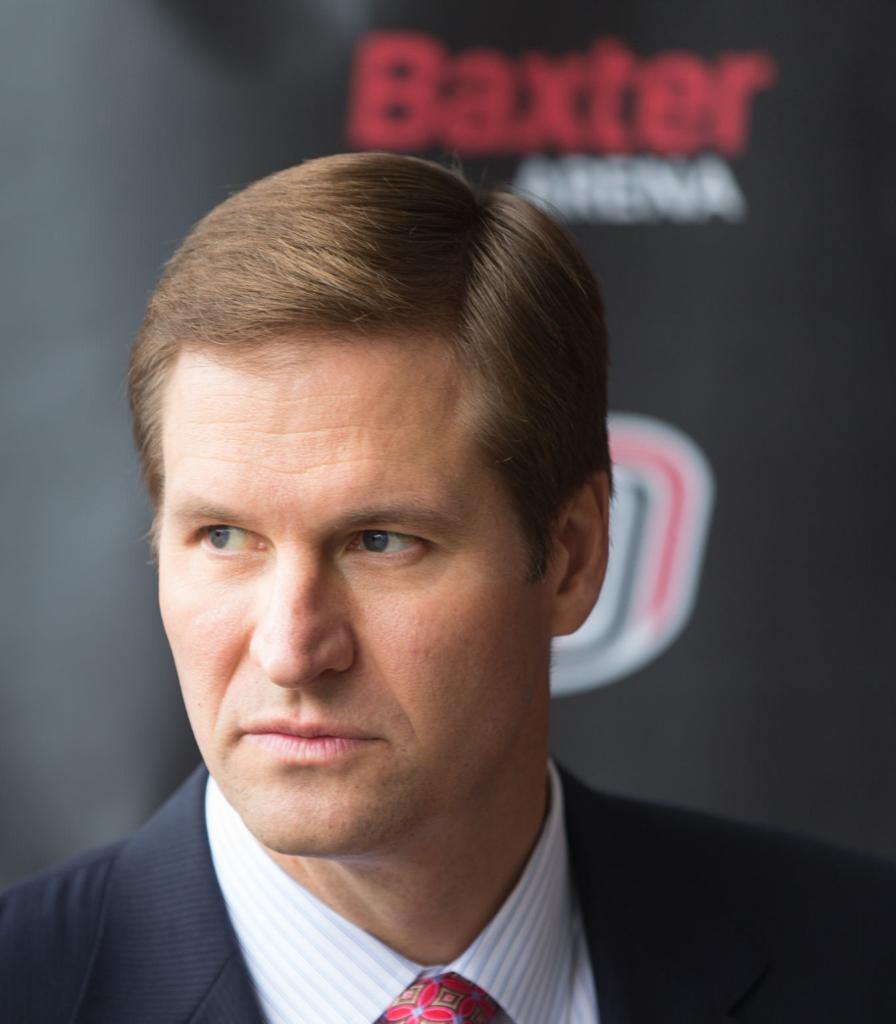 KENT SIEVERS/THE WORLD-HERALD
As athletic director, Trev Alberts quickly formulated a plan to make the move to Division I.
Nearby, Kirk Thompson, a goalie on the Maverick hockey team that caused a local sensation last winter by reaching college hockey's "Frozen Four," worked in the summer sun with brush in hand, repainting a wooden table from red to black. At UNO these days, black is the new red, the school altering its color palette to differentiate itself from a certain other Nebraska campus that's pretty good at sports.
The UNO athletic department hit a milestone last week: It officially completed its four-year transition to full-fledged status in Division I, the NCAA's top class of competition.
While the move was largely intended to deal with financial problems, it has come with its own budget challenges. Still, Division I has been transformative for UNO — helping the school carve out a new identity, create buzz on campus, attract unprecedented levels of private giving, and pave the way for a state-of-the-art new hockey and basketball arena. In many ways, these past four years have seen Maverick athletics grow up.
"This is a great time to be a Maverick," said Dan Shipp, UNO's vice chancellor for student affairs and enrollment. "I believe the move is symbolic of how our campus has evolved over the last several decades."
Few could ever forget the D-I move's controversial roots.
That new soccer stadium? It was once the home of the school's Division II football team, suddenly and shockingly eliminated by Alberts and Chancellor John Christensen as a costly misfit in the school's new athletic vision. The school's national championship wrestling team was cut, too. Both moves, Alberts and Christensen say, were unavoidable as UNO sought to save an athletic department that was financially failing.
But while the Mavericks now wear black on the field, the UNO athletic budget is still showing some red.
The department is carrying a $1.1 million deficit dating to the initial startup costs of going to Division I. And according to the latest available figures, the level of annual university tax, tuition and student fee dollars subsidizing UNO athletics has jumped more than $1 million.
Alberts says the deficit and higher subsidies have emerged partly because UNO has borne the costs associated with going to Division I while it has yet to see all the financial benefits, including payouts of conference and NCAA revenue it will begin receiving this year. He says the school's new $82 million arena also figures long term to positively impact the bottom line in athletics.
And Christensen defends the higher subsidies, which are still well below average for Division I schools. He said it's important to look not just at the money but at the benefit the university is deriving from it. The university is now getting a much bigger bang for its buck at Division I in terms of students' campus life experience, alumni engagement and local and national exposure, he said.
"It's not an issue of spending. It's an issue of value," he said. "I think people see the value. Parents want their children to have a meaningful student life experience."
Indeed, as the school moves into its first fall competing as a fully vested member of the NCAA's top class, some of the payoffs of the move are coming into clearer focus.
The school's signature hockey team by October will be playing before sellout crowds in the new arena — made possible by some $40 million in private donations and pledges that UNO officials say would have been unimaginable had the school continued to financially struggle at Division II. The Mavericks will hang a Frozen Four banner in the arena on opening night, with dreams of ending the new season holding a national title trophy.
UNO's road-warrior men's basketball team will be taking on the likes of Missouri, Minnesota and Colorado this season, with eyes on a season-ending golden ticket: If they can win the Summit League, they'll earn an automatic bid to dance in the NCAA basketball tournament. Indeed, the school's soccer, softball, baseball and volleyball teams all now start their seasons with similar conference title and NCAA tourney dreams.
Alberts and Christensen point to other benefits of the Division I change that aren't as obvious: academic, medical and personal support for Maverick student-athletes far exceeding what it offered at Division II; student-athletes whose average combined GPA now ranks among the highest in the country; and increased levels of student engagement and pride that campus leaders believe are already contributing to the school's recent enrollment growth.
"If you ask me whether we'd do it again, I'd say absolutely. It was painful. But it's helped UNO move forward."
— John Christensen
Alberts and Christensen would never want to relive the controversy and heartache that came with cutting football and wrestling. But in the end, they say they have no doubt eliminating the sports and going D-I was the right move.
"If you ask me whether we'd do it again, I'd say absolutely," Christensen said. "It was painful. But it's helped UNO move forward."
UNO has enjoyed some proud moments in its centurylong athletic history. Its football team in 1955 won the Tangerine Bowl. And the school has won national championships in softball, volleyball, women's soccer and wrestling at the Division II level — the wrestlers claiming seven such titles.
The school also created some electricity in Omaha in 1997 when it launched a Division I hockey program. Taking on the likes of Notre Dame and Michigan, the Mavericks for years played to packed houses in the Omaha Civic Auditorium. The cash cow program netted more than $1 million in annual profits, helping UNO's other sports compete at a high level in Division II.
But some bad years on the ice and a move to the city's bigger, pricier downtown arena caused a major drop in season ticket sales and melted the school's hockey profits.
The athletic department began annually slipping into the red. Administrators were forced to slash spending and inject ever-increasing amounts of tax, tuition and student fee dollars to prop up the budget. A financial scandal related to athletics funding even cost a UNO chancellor her job in 2006.
"We hit some pretty rock-bottom times those last four or five years at Division II," said Don Klosterman, UNO women's soccer coach. "We were continuing in a spiral if we had kept going."
The new chancellor, Christensen, in 2009 hired Alberts as athletic director and gave him one primary job: Solve the "financial nightmare" in athletics.
Alberts seemed to some an odd — even crazy — choice. The former University of Nebraska Cornhusker football star-turned-TV sports commentator had never worked in athletic administration.
But the ambitious Alberts had a plan. He wowed Maverick fans after just six weeks on the job by engineering the hiring of Dean Blais, considered by many the best hockey coach in America.
If UNO athletics was going to succeed, Alberts said, turning hockey into a consistent winner was "nonnegotiable." Alberts also openly talked of getting an on-campus hockey arena built, something suggested for years but which never got beyond the talking stage.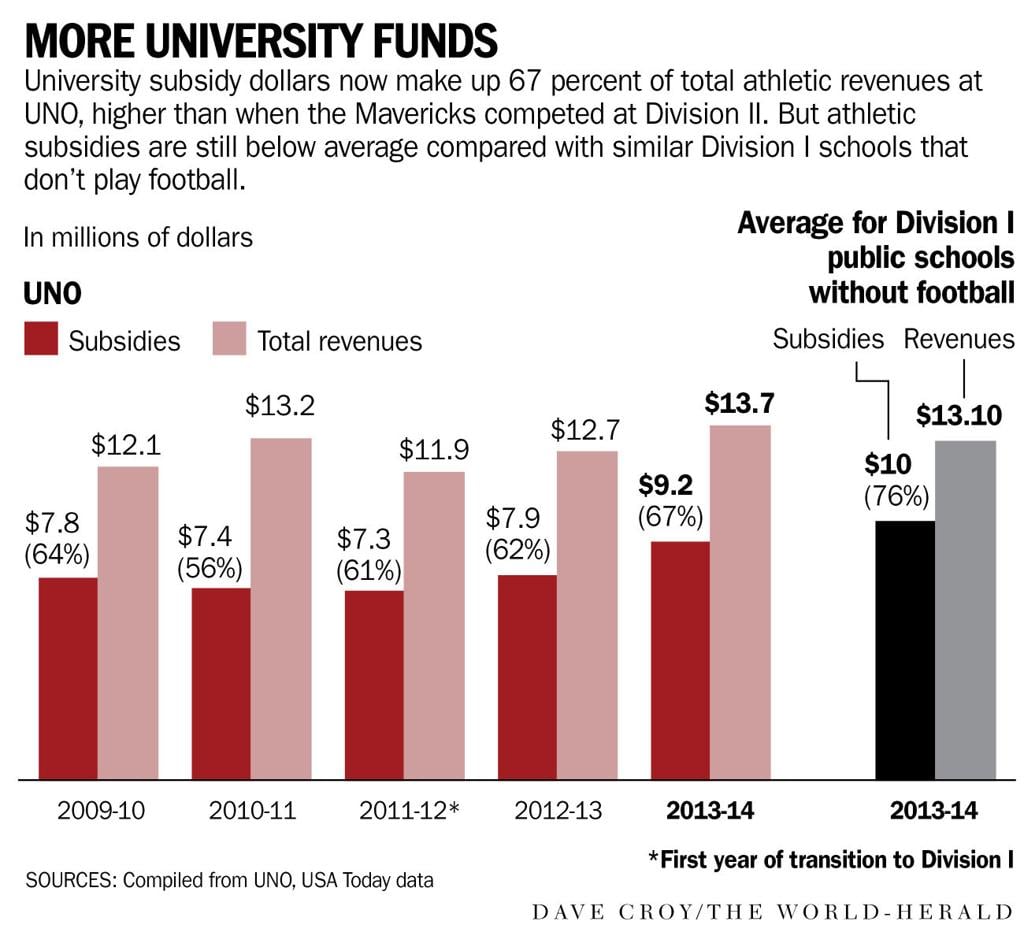 UNO's athletic finances are more stable, but there are Division I challenges. Read the full story
In his biggest move, Alberts decided Division II athletics simply weren't working at UNO. Omaha sports fans had shown by the sparse attendance at UNO football and basketball games that they just weren't interested in watching the Mavericks take on the likes of Missouri Western and Washburn. The school needed to go to Division I.
Alberts began working with a group of Omaha business leaders on his grand plan. The athletic director and group soon were struck by some numbers.
To compete in football at even low levels of Division I, UNO would need a much bigger budget and much higher levels of university subsidy. Alberts and Christensen decided UNO simply couldn't afford to take football to Division I.
The UNO leaders did find a willing D-I dance partner in the Summit League, a Midwest-based conference made up largely of Dakota schools that had been league rivals of UNO in Division II and fellow metropolitan schools in cities like Indianapolis, Tulsa and Denver. But the Summit League didn't offer wrestling.
In March 2011, Alberts and Christensen created a furor by announcing the end of football and wrestling as part of a step up to Division I. The timing could hardly have been worse, coming right after the Maverick wrestlers had won their third straight Division II title.
Football and wrestling boosters vilified the campus leaders for the decision and the secretive process they followed in making it. But the NU Board of Regents unanimously approved the move.
UNO began the NCAA-required four-year transition. In year two, the 2012-13 school year, UNO began playing a full Summit schedule in all league sports. But as a transitioning school, UNO could not participate in postseason tournaments and was ineligible to compete in NCAA championship events.
Alberts and UNO's coaches used the time to get ready for the higher level of competition. Their working slogan for where they wanted to be by the fall of 2015: Championship-ready.
A compliance division was created to make sure the department adhered to the thick NCAA rulebook. The school also boosted athletic training by hiring a full-time athletic physician and a full-time physical therapist.
An academic support and life skills center was also created in the former wrestling room, staffed by three full-time workers and numerous part-time tutors. While the school is now pulling in more skilled athletes, academics haven't suffered at all. The department's GPA grew steadily during the transition from 3.19 to 3.41, a figure that Alberts says now ranks in the top 10 nationally.
Alberts also focused on facilities, most critically getting community business leaders to buy into the new arena. The facility near 67th and Center Streets that will serve Maverick hockey, volleyball and basketball would not have worked financially if the entire construction cost had to be paid back from generated revenues. But private donors picked up nearly half the price.
Howard Hawks, an Omaha businessman and NU regent who is one of the donors for the new arena, said he and other donors likely would not have seen the arena as a sound investment if the athletic department had continued to flounder at Division II or tried to keep football afloat. "It would not have happened,'' he said.
UNO did lose some other financial support from boosters upset at the sports cuts, with former football player David Sokol not following through on the final $700,000 of a $1 million pledge. But since the transition to D-I was announced, UNO reports $45 million in contributions and pledges in athletics, dwarfing previous levels of giving.
Facilities aren't the only thing in athletics to get a makeover in the past few years. The athletes themselves sport a new look.
"To a lot of people, UNO is a card game or a brand of pizza. But they do know Omaha. We are so proud to represent this city playing with 'Omaha' on our chests."
— Trev Alberts
While the school's colors have long been red and black, UNO decided to make black the more dominant color, a choice Alberts says the athletes love. And rather than wearing "UNO" on their uniforms, Maverick athletes now wear jerseys emblazoned with "Omaha," emphasizing the city identity and ties that Alberts believes are central to the Mavericks' success.
"To a lot of people, UNO is a card game or a brand of pizza," Alberts said. "But they do know Omaha. We are so proud to represent this city playing with 'Omaha' on our chests."
As part of the branding effort, the department also hired a marketing design company to produce the new tricolor O logo that can now be seen everywhere on campus.
With the fall sports season about to kick off UNO's inaugural season as a full-fledged Division I competitor, Maverick coaches, athletes and backers say the excitement is palpable.
UNO softball coach Jeanne Scarpello, who won a national championship at Division II, acknowledges it's probably a stretch to think of repeating that feat on the Division I level. But she said it's "very realistic" for her team to win the Summit League, claim the conference's automatic bid to the NCAA tournament and see what happens from there.
"The motivation level is unbelievable," said Scarpello, whose team recorded a winning record against Division I competition during the transition. "We don't put a ceiling on them."
Alberts said all Maverick coaches and athletes feel the same way. And, of course, one UNO team does start the year with realistic dreams of a national title: the school's hockey program. Oct. 23, the night the Mavs will inaugurate the new arena, figures to be one of the most anticipated moments in campus history.
But some past Maverick boosters aren't going along for that ride.
Jason Bartling played football for UNO in the 1990s and as a football booster had a close relationship with Alberts in the athletic director's first years on campus. But Bartling hasn't spoken to him since football was cut and has had little association with his alma mater. Four years later, bitter feelings remain.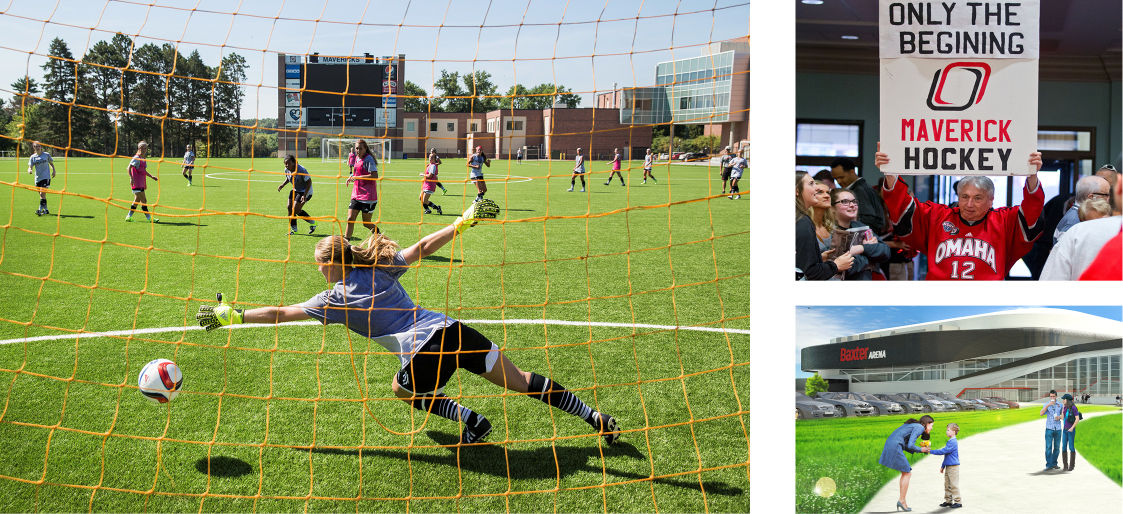 PHOTOS BY BRENDAN SULLIVAN AND CHRIS MACHIAN OF THE WORLD-HERALD
Left: Women's soccer is one of four sports in which UNO won national championships at the Division II level. Top right: Lynn Werman carries a sign showing his support for UNO hockey during a Frozen Four sendoff ceremony in April. Bottom right: An artist's rendering of Baxter Arena, near 67th and Center, which will be inaugurated on Oct. 23 as the new home of Mavericks hockey.
"Things seem to be working well, but it was handled the wrong way, and I still feel that way today," he said. "At some point you have to move on, but it still lingers."
Like Bartling, Omaha businessman Van Deeb believes cutting football was a mistake. But rather than turning away, he's moved forward with the Mavericks, becoming a big men's basketball booster.
"I was never comfortable with, nor did I identify with, the group that became Trev haters and John Christensen haters," Deeb said. "That's in the past. All I know is I'm really excited for UNO athletics today."
Alberts and Christensen have other defenders who praise their leadership, vision and ability to make tough decisions.
Rick Jeffries, an Omaha attorney who is such a big Maverick hockey booster he's known to many UNO fans as Mav-Rick, said he admires the spirit of those who believe Maverick football should live on. But he said there's no doubt the moves of the past four years have elevated not just UNO athletics, but the whole university.
"I'm proud of the way the University of Nebraska at Omaha faces the world today. Why not us?'' he said. "It's a tremendously exciting time to be a Maverick fan.''
Contact the writer:
402-444-1130, henry.cordes@owh.com