The growing Sudanese population has already added a chapter to the diverse and rich history of hoops in Omaha. But there is more to be written, and much of it will go far beyond basketball, if the vision of some comes to fruition.
By Jon Nyatawa / World-Herald staff writer
No one told the 9-year-old boy what was in the small box.
He was cautious. War tends to breed timidity, especially in those driven by desperation to flee the land of their ancestors for the unknown, convinced survival is in doubt without the help of others.
But he was safe now. The airplane landed in New York City. And a lady with a nice smile had given Koang Doluony a colorful container, just large enough for him to stuff his whole hand into if he could only figure out how to open it.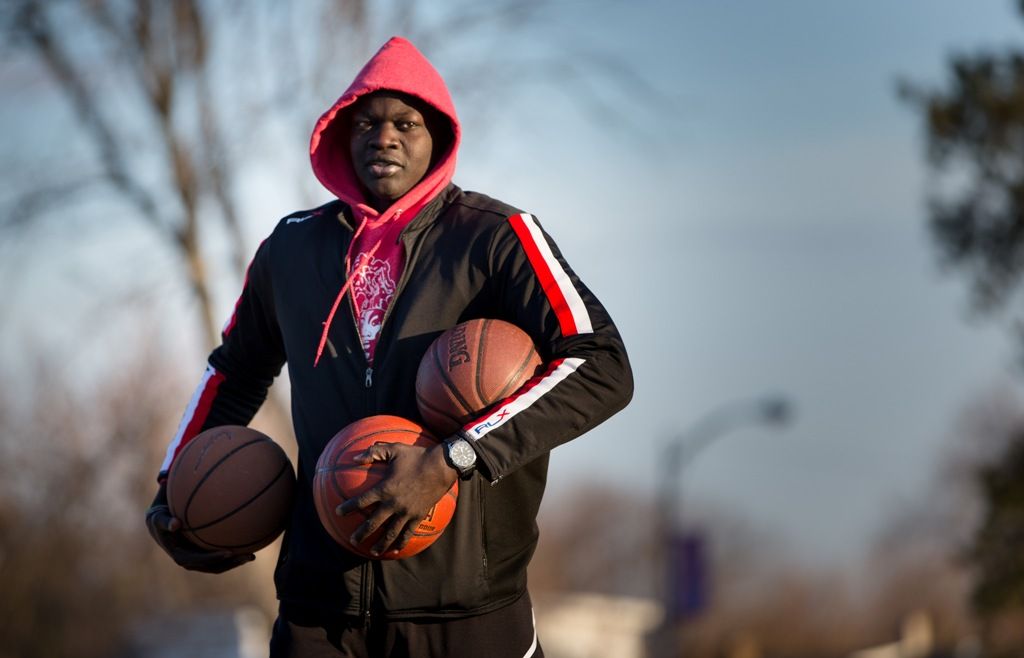 Koang Doluony, who came to America with his family in 1999, is the director of the Omaha Talons Academy, a hoops and character developmental entity.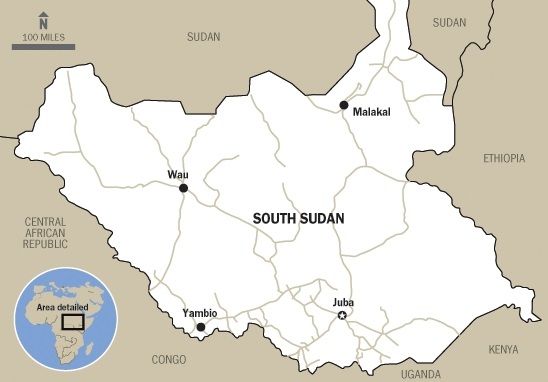 South Sudan was recognized as the world's newest nation in 2011.
Welcome to America.
Suddenly Doluony had things. Lots of things. Water, food, shelter, freedom.
He just didn't understand what to do with all of it, or how he would fit into this new world where buildings have more than one floor, bathrooms have shiny white seats and nobody looks or talks like him.
It's been the consequence of security for most of the thousands of Sudanese refugees who've resettled in the United States the past two decades, seeking neighborhoods where the cost of living is low and work is plentiful — if you're willing to do it.
Omaha residents surely have noticed. A World-Herald editorial in 2014 reported that the metro is home to about 9,000 Sudanese refugees, up from fewer than 1,200 in 1998. Doluony, who came with his family in 1999, believes the number is actually higher, perhaps more like 15,000 or even more. It's a common assumption that Omaha holds the largest South Sudanese population outside of Africa.
And the Sudanese community is still growing, but assimilating. Their minds are racing with wonder and their spirits are heightened by optimism, but they're stuck wondering what to do, just like the 9-year-old Doluony in the airport, staring at a box he wasn't sure how to open.
This stagnation, sliding sometimes toward poverty and crime, threatens a hoped-for Sudanese renaissance in the United States. Doluony and others believe that a healthy and thriving Sudanese population here could positively affect the trajectory of South Sudan, which became the world's newest nation in 2011.
There's not just one solution. Doluony knows this. He also knows what worked for him.
Basketball. His tour guide. A ball and a court.
That's what he needed to stay out of trouble as a kid. How he began interacting with people of different cultural backgrounds. How he built confidence in himself. How he reached his potential. He ultimately ended up at Indiana State, earning a scholarship after growing to 6-foot-7 and emerging as a standout at Omaha Bryan High School.
He knows not every kid can replicate his Sudan-to-athletic star path — though similar stories are becoming increasingly prevalent here. Akoy Agau spent two seasons at Louisville before transferring to Georgetown, and he has a brother, Aguir, who just finished his sophomore season with Class A champ Creighton Prep. Omaha South sophomore Aguek Arop has made a nonbinding pledge to Nebraska and his youngest brother, Akol, is already generating buzz as an eighth grader.
Duol Mayot, after two years at two junior colleges, just finished a junior season at South Dakota. As a freshman at Iowa Western, Thik Bol led the nation in blocked shots per game (4.9), enough to presumably catch the attention of Division I recruiters. Reath and Tesloach Jiech, brothers from the metro, both were on Peru State's roster. There are others. There will be more.
"If you're going to be recruiting Omaha, I definitely think you want to be in tune with that community," said Peru State coach Eric Behrens, who coached Akoy Agau at Omaha Central.
Back when Doluony was at Bryan, just seven years ago, he could count the names of Sudanese high school players across the state on his fingers. This past season, there were 18 just on the metro's Class A varsity teams. Who knows how many there were on the non-varsity metro rosters? Too many to track, for sure.
Two veteran coaches — Millard North's Tim Cannon and Omaha Gross assistant Jocko Ilcisin — were at a camp five years ago when they became convinced a surge was coming.
"Jocko told me that the next wave of good basketball players from Omaha is going to be Sudanese kids," Cannon said. "He was right about that one."
The surge goes beyond success on the court. Doluony insists this is real. He says basketball has benefits for the players who don't make the headlines or get the recruiting letters. Flashy dunks are great, but life skills are better.
Basketball can instill them. That is Doluony's mission.
He's 25 now, an ambitious man with a vision who settled in Omaha after college to expose as many kids as he can to the game and amend some destinies along the way.
"Because of basketball," Doluony said, "the kids, they're willing to listen."
"It was a freak show," Doluony said of the pick-up games. "We were all long, super athletic. There were all kinds of these crazy dunks. We'd just play all night."
No one truly knew how to play, though.
Doluony taught himself to shoot by mimicking YouTube videos of Ray Allen. Mayot, who came on the scene a couple years later, said he got his best skill training in middle school, but it was at the playground — he remembers hooping at a spot in Council Bluffs, just over the bridge — where he cultivated his "toughness."
"We used to say, if you played at Pulaski, I know you can handle the ball," said Cannon, who coached at Bryan for 28 years until 2013. "Because whoever rebounded it was going coast-to-coast."
Many of the guys weren't even enrolled in schools, already part of the workforce to help support their family and relatives. But they all seemed to be prototypes for basketball success.
Slender but towering frames. Endless wingspans. Broad-jumper-like strides.
"Not to stereotype, but if you look at a lot of the Sudanese kids, they're tall, long," 20-year Iowa Western coach Jim Morris said. "Sometimes that body type transfers pretty well in basketball."
Local middle and high school coaches soon took note. They became frequent visitors at these pick-up games, a few different ones each day peppered among the kids waiting on the sidelines.
Observing was the initial objective. Relationships inevitably formed. Funny how traditional school district attendance areas sometimes vanish at the first sign of talent.
Doluony and his buddies didn't mind the attention. These basketball benefactors gave them advice. Offered them rides. Provided them with new places to hang out.
It's not uncommon today for a Sudanese teen, whose parents either work all day or sleep until sunset to work all night, to crash at a buddy's place or on a coach's couch for a week or two. Parents typically don't come to games or even ask about practice.
"I think I have a responsibility in the community as their coach," said Terrence O'Donnell, Cannon's replacement at Bryan. "Many times, what I say can have more of an impact on them than what their teachers, preachers and sometimes even parents tell them."
It is that reality — full of impressionable minds in pursuit of mentors — that has Doluony so encouraged about the future.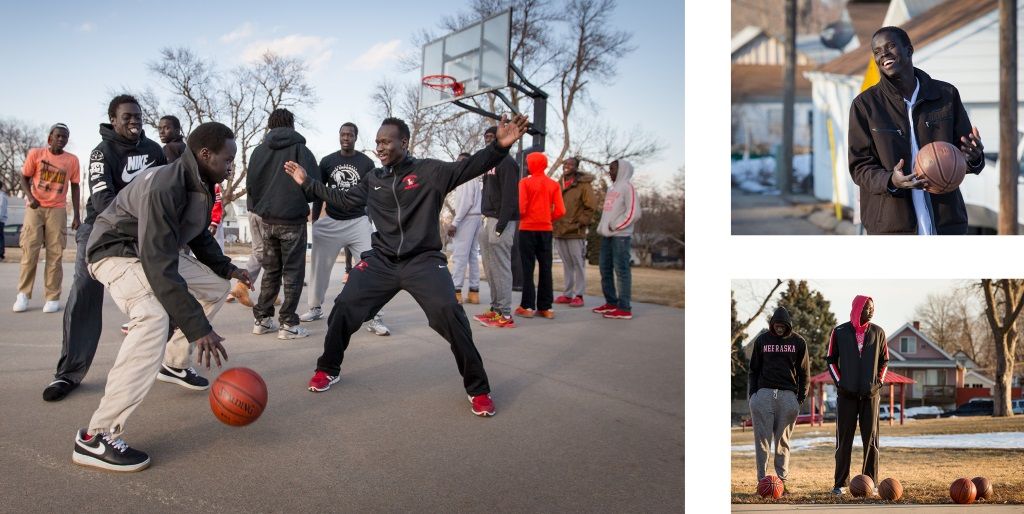 Young Sudanese men who grew up playing basketball around Omaha take a visit to one of their favorite old spots, Pulaski Park in South Omaha, in early March.
Deng Pour, chiseled Air Force Staff Sgt., collects a plate dotted with the discarded pits from the fruit his guests had been munching on in the living room. He grabs a couple used cups, their interiors coated with remnants of the mango juice a couple folks had gulped down. He returned a few unopened water bottles to the kitchen.
"You know, if we were in Sudan, the children would be doing all of this."
That's Dak Thon interjecting. Everyone has a role to play. He says it's often customary for kids to handle basic chores and duties, a non-negotiable expectation that usually is not rewarded. An outpouring of positivity isn't exactly essential to the standard Sudanese parenting style, adopted generations ago.
It can be different in America. The kids notice this. How they perceive it: the nurturing of young people is the parents' main objective. Love and support reinforce productive moments of growth and maturity.
"In that way, there's such a big gap between the two cultures," said Thon, a 30-year-old refugee.
Babysit your brothers and sisters instead of attending basketball practice. Do the dishes instead of finishing your homework.
A misstep at any point and the child gets cautioned: Straighten up or you'll end up ruining your life. It's a way to motivate, according to Pour, though it doesn't always have the desired result.
"A lot of kids perceive it in a negative way," he said.
"They don't see the difference — as to why Mom and Dad aren't treating them the way that American parents do."
Pour, Thon, Doluony and other young community leaders have discussed these challenges with youth on several occasions. They hold monthly workshops.
It's the reason that seven people sat in the living room of Pour's Bellevue apartment a few Sundays ago. Their personal stories could each serve as the starting points for screenplays. Sudan has been at war since the 1980s (South Sudan split in 2011, but tensions surfaced two years later). They've lived through heartbreak and tragedy — images of genocide are mental scars burned into the psyche — but they cling to the moments of triumph and hope.
There's the young Sudanese man from Omaha who befriended Doluony, avoided trouble and went on to college. A woman shares her battle with addiction, a plight she poetically summarizes in rap-like prose. Doluony himself was at Ethiopia's Dimma refugee camp as a boy.
Pour, 32, spent six years at the Kakuma refugee camp in Kenya. This was after conflict forced him and his family to leave Sudan, escaping on foot to Ethiopia, but ultimately returning to their home village — perilous travels that took months to complete. He came to the U.S. in 1999 to live with his aunt.
Thon arrived in Tennessee four years earlier. Lucky, he says, because he got on a plane to Kenya, whisked from the villages where war could decimate a village as abruptly as a summer twister here in the Midwest. He was 8 when he held his blind uncle's hand and searched for safety, while bullets ended lives all around them. But navigating the ways of America was not easy. Thon's gotten into trouble here.
So he's on Pour's couch, opening up a dialogue about ways to encourage peer-to-peer leadership and mentorship in hopes that teenagers will influence one another to make better choices.
Suicide rates have increased within the Sudanese community, Pour said. Sudanese youth are not immune to the lure of gang culture. Or drugs.
"If it wasn't for my passion (basketball) — all of that would have been exactly who I was," Doluony said.
He watched as some of his friends became united through being outcasts. They'd get picked on. Bullied. Hanging together made it tougher to target one individual. They fought as a group, stood up for each other. But eventually the purpose of their bond morphed, and they were committing crimes and storing up weapons.
Then there were gangs. The South Sudanese Soldiers. TripSet. African Pride.
Poth Acouth, a 22-year-old Omahan, was shot and killed in Minnesota last year at a basketball tournament designed to raise funds and awareness about the civil war in South Sudan. The case hasn't been solved.
Anyone associated with the community recognizes the danger. O'Donnell, the Bryan High coach who had eight Sudanese players on his basketball team this past season, said they're all susceptible the moment they leave the school. All it takes these days is a bit of social media trash talk to incite violent actions.
"It absolutely terrifies me," O'Donnell said. Because he knows how much these kids have to contribute. He doesn't want them to waste it. So he's investing in their lives, guiding them as best he can. He picks up four kids and takes them to school each day.
"The Sudanese community is going to have a presence in Omaha from now on," O'Donnell said. "The question is: What is going to be their imprint? I think it can be something that makes Omaha an oasis of culture and diversity, and I'm happy basketball can be a part of that as a tool, a conduit for change."
A Sudanese surge
A sampling of the known Sudanese basketball players on high school and college rosters during the 2014-15 season:
College
So. F Akoy Agau, Georgetown
Jr. G Duol Mayot, South Dakota
Fr. F Tyrone Clayton, Central CC
Fr. G Warol Gatdit, Central CC
Fr. G OJ Thok, Central CC
Sr. F Reath Jiech, Peru State
Fr. G Tesloach Jiech, Peru State
Fr. F Thik Bol, Iowa Western
Fr. F Tethloach Kueth, Iowa Western
Fr. G Akot Riat, Southeast CC
High School (varsity)
So. G Jacob Idra, Elkhorn Mount Michael
Sr. G Mohammad Elradi, Elkhorn Mount Michael
So. F Aguir Agau, Omaha Creighton Prep
Jr. G Makoor Arop, Omaha South
So. F Aguek Arop, Omaha South
Sr. F Liem Liem, Lincoln Northeast
Sr. C Khan Kailech, Lincoln Northeast
Jr. F Alonga Choi, Lincoln Northeast
Jr. Ruon Chuol, Lincoln High
Fr. F Ed Chang, Papillion-La Vista
Sr. F Maguy Agau, Omaha Central
Fr. G Junub Char, Omaha Burke
Sr. Josh Faya, Omaha Burke
Jr. F Wanjang Tut, Omaha Burke
Sr. F Chuol Biel, Grand Island
Jr. Buom Rom, Omaha Benson
So. F Ajak Ayul, Omaha Bryan
So. F Chan Ayul, Omaha Bryan
Fr. G Telo Kang, Omaha Bryan
So. F Chudler Gach, Omaha Bryan
Jr. G Goy Lew, Omaha Bryan
So. F Kor Thok, Omaha Bryan
Sr. F Khair Mjouk, Omaha Bryan
Sr. G Ako Mayen, Omaha Bryan
So. F Esahia Nyiwe, Omaha Northwest
Jr. G Nyuot Pan, Omaha Roncalli
Sr. F Youhanna Ghaifan, G.I. Central Catholic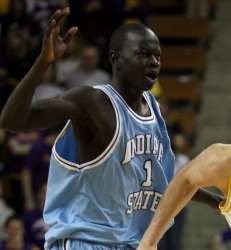 May I see your credential?
Koang Doluony remembers the first time his parents came to watch him play basketball. He was a redshirt freshman at Indiana State.
It's not that Mom and Dad weren't supportive. But for two people shaped by Sudan's war and conflict, raised to operate in survival mode each day, they couldn't quite grasp the idea that a game — basketball in this case — could have any sort of importance or opportunity in a life that could be so fragile for so many.
Then they sat a few rows off the court in the CenturyLink Center. Doluony was in the starting lineup against Creighton. There were 15,000-plus fans in the arena.
"They were so proud," Doluony said. "They couldn't believe so many people were there to watch us play."
They also didn't quite understand the standard spectator guidelines.
During the first media timeout, Doluony and his teammates huddled in front of their bench. He glanced up to see his dad standing on the court with a camera taking pictures of the team.
"I looked over at Coach (Kevin) McKenna, and he was just laughing," Doluony said.
ISU lost to Creighton that night, 65-52, but it's still a game and moment Doluony will never forget.
— Jon Nyatawa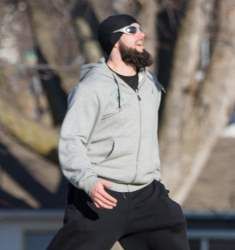 One coach's mission: Sewing harmony in a melting pot
"What's up? My name is Terrence. Everybody calls me TO."
The Omaha Bryan coach is extending his hand. The energetic and gregarious 35-year-old only has a couple seconds, though. He's about to run a Monday afternoon practice. And after it's done, he'll have to accept a challenge from a couple of his players who foolishly believe they can out-shoot the former Bellevue University guard.
O'Donnell, by now, must be used to others assuming he doesn't belong on the court. He's short. Maybe 5-foot-9. He's got a beard-bald look, complimented by long green shorts and a Bryan hoodie — making him seem more like a coffee-shop hipster than a committed hoops coach.
But he knows the sport well, and all of its benefits — including the cultural bridge that it can create for someone like him, a middle-aged white man who's at a school full of kids with varying backgrounds. Hispanics. Sudanese. Blacks. Whites.
"And the cultures have so much in common," he said. "People seem so different, and their cultures should be explored and celebrated. But at the same time, everybody's the same."
We all laugh, cry, bleed and dream, he says.
O'Donnell has studied this firsthand. He's been to South Africa and Colombia. He's participated in an archaeological dig in Israel, where he kicked a soccer ball around with some locals and ended up hanging out all day with people he could barely communicate with.
He just finished a season (his second at Bryan) with eight Sudanese basketball players on his varsity squad. More are coming.
"Basketball and other extracurricular activities — they play a gigantic role in helping these kids find their way," O'Donnell said.
The squad won one game this past year. Not easy. But during that Monday practice in late-February, you couldn't tell. The boys were having a blast, just playing the game. That's what encourages O'Donnell. Plus, he thinks the future is bright.
"There's no other place that I'd want to be right now," he said.
— Jon Nyatawa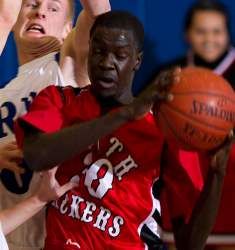 Sudanese population difficult to quantify
When Duol Mayot and his family came to the United States, they settled in Houston. But it didn't take long for the family to decide to move to Omaha.
Mayot was 8 years old at the time, but he said the reason his family came to Omaha was a common one among Sudanese immigrants.
"There are more family members here (in Omaha). More jobs," said Mayot, who graduated from Omaha South and now plays basketball at the University of South Dakota. "That's pretty much why a lot of Sudanese people come here. It's word of mouth."
The path Mayot's family took to Omaha is why it's difficult to discern the number of Sudanese living in Omaha.
The city's census figures don't categorize based on African descent, though the bureau did commission a 2012 survey estimating that about 41,600 Sudan-born migrants reside in the U.S. (not including second-generation immigrants). The government's refugee placement program logs where migrants are initially placed but doesn't track their movements within the country beyond that.
So, for example, the number of Sudanese families that initially settled in Texas but eventually moved to Omaha is anyone's guess. But there have been many.
Estimates within the local Sudanese community put their total numbers around 15,000.
What makes Omaha such a popular destination? The low unemployment rate and low cost of living are at the top of the list. And it's not an intimidating metropolis like New York or Chicago, which can lessen the culture shock. Plus, the surrounding region's emphasis on agriculture relates back to the lifestyle in South Sudan.
— Jon Nyatawa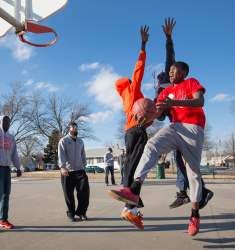 Talent pool deep — and getting deeper
There were about 20 people on one side of the Bryan High School gym a few Sundays ago, invited to come use the half that the girls team didn't need for practice.
Only the curtain separated girls varsity coach Reshea Bristol, leading her team in fullcourt workouts on two of the four side hoops, from two hours of competitive pick-up basketball featuring a variety of skill levels.
It was a guy like Koang Doluony, the former Division I talent, on the court at the same time as a kid like Techloach Kang, a freshman at Bryan. Not all were Sudanese, but definitely the majority.
Double the participants (the courts were always packed) and increase the length of time (they'd play all night) — that's how Doluony remembers developing his skills in South Omaha.
Same goes for Duol Mayot, the former Omaha South standout who's now at South Dakota. And Akoy Agau, the 6-foot-8 star who will be wearing a Georgetown uniform next season. And all of the other promising young Sudanese players in the metro area whose names will be in headlines down the road.
"It's just a trend," Mayot said. Always has been. "It's fun. It's enjoyable. It's something we can all do together."
There's a sense of pride seeing one another succeed, too. On the neighborhood courts. In gyms across the metro. In college.
The Sudanese kids all know one another. They may go to different schools or even live in different cities, but on weeknights and weekends, their families — tied together by ethnic similarities — are likely interacting at church or other events. Now basketball is weaving its way into the fabric of their adapting culture.
The result for Omaha high school hoops: The talent pool is rising.
Jocko Ilcisin, a longtime area coach and now an assistant at Omaha Gross, really started to notice it about five years ago. He and then-Bryan coach Tim Cannon discussed the possible future at a camp.
Guys like Doluony, Mayot and even Agau weren't necessarily developing their skills until just before high school. Now Sudanese children are starting to play basketball as 5-year-olds.
"As the kids come through the grade schools, the programs, and get more and more coaching, we're going to see further and further development," Ilcisin said. "They're becoming much more acclimated to the game, getting better coaching. And they want to learn."
Look out, says Doluony, who runs his own developmental program called the Omaha Talons. The basketball landscape in Omaha will be changing even more.
"There's a lot of young talent," he said.
— Jon Nyatawa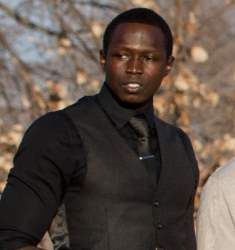 Get this guy a uniform
Dak Thon was just in town visiting his cousin, Bandek Chei. But he told members of the Central Community College team that he could play a little basketball. So one player gave him some shorts and another handed him an extra pair of shoes.
And that's the start of how Thon ended up playing basketball at the Columbus, Nebraska, junior college for half a season.
Here's how Thon remembers the impromptu tryout: He asked for the guys to point out the team's best player. Then, on the first play, he got the ball and dunked on him. After blocking a shot on the other end, he dribbled back down and dunked again, a two-handed reverse.
Well, it went pretty much like that, according to then-Central coach Damon Vogt. However it went down, Vogt had seen enough.
"I took him to our athletic secretary and had them write up an offer for him on the spot," Vogt said.
There were some transfer difficulties. Lots of paperwork. Thon, who was born in Sudan and moved to America in 1995, had briefly attended a college in Tennessee. But he left. His knees kept swelling after workouts, Thon said. It was sometimes so bad that he couldn't walk. And without basketball, he'd gotten himself into trouble. Thon said he's been jailed in three states.
He ended up playing about half a season for Central, though. That was in 2008. The 6-foot-6 Thon, with a long wingspan and explosive athleticism, basically was unguardable at that level.
"He'd have like six or seven dunks in one game," Vogt said. "He had the ability to go up and hammer the basketball. He could dribble. Block shots. He was so physically gifted."
Thon hasn't played the game in more than a year. He had knee surgery in 2013. Rapping is his hobby now.
— Jon Nyatawa
As soon as Doluony started biting the box, the woman hustled over. He was about to make a mess.
Doluony didn't realize anyone was watching. The curious 9-year-old, unbothered by the crowded mass of travelers flowing through the airport, had been consumed by the box, so much so that he'd started gnawing at a corner, trying to carve a hole in the side.
Turns out, all he needed was the hollow plastic tube he'd tossed into the trash can.
There was juice inside. The box, labeled with the iconic "Hi-C" logo, was his drink.
Doluony laughs about it now, retelling the story 16 years later.
"That little box was tough, man. But I was getting close," Doluony said. Close to a sopping mess.
Mini-crisis averted, though. He had help. "The lady, she showed me what I was supposed to do with it," Doluony said.
That's his role now. Guiding those Sudanese families facing challenges far greater than opening a juice box.
And basketball's his calling card.
Doluony's phone buzzes frequently. He's always willing to pick up kids after school or at friends' houses, shuttling them around town well into the night.
Doluony is also the director of the Omaha Talons Academy, a basketball developmental entity devoted to cultivating characteristics critical to achievement.
It all started when Doluony, playing his final collegiate season at the University of Nebraska at Omaha in 2012-13, had lunch with a couple kids. He asked if they wanted to shoot around on the court — and soon that's all they ended up doing. Then more kids showed up. Thirty. Sixty. They met at Christ Community Church, but quickly outgrew that space. They moved to Omaha North's gym. Then there were 70. At times the number jumped to 150.
Tryouts for their traveling teams were Saturday. Tahrier Gatouch is the academy's primary coach.
Doluony would like to acquire a permanent spot. Maybe they could transform a warehouse. Something. Finding open court space was a challenge all winter, so much so that Doluony didn't see the full group together for weeks.
Without frequent contact, he wonders what direction some might head.
"When I look back, I realize, my friends, they didn't have the opportunities that I had in basketball," Doluony said. "They weren't 6-7. They had to learn the hard way. They have no one but themselves."
Their immigrant parents, without degrees and limited education, aren't overflowing with options to support the family. Long shifts, often at night, are the norm.
Jobs at food processing centers or meat packing plants. That's where Doluony's mom worked, wearing three coats and gloves so she wouldn't shiver as she stood in a freezer and cut meat all night. Some work as hotel housekeepers, but the hours are sometimes seasonal. Others travel across the region, gone for weeks at time, for manufacturing jobs or whatever opportunity comes up. Doluony knows. There weren't regular heart-to-hearts between his parents and him.
But Doluony had basketball. It made him.
He experienced the payoff of hard work, what weeks of dribbling drills did to his handles. His ego was boosted by slow-but-sure progress. He proved to himself that he could achieve, even if it was just a slight uptick in free-throw percentage. Such things can alter a person's perception of what's possible, Doluony says.
Be on time. Show up prepared. Work as a team. Make eye contact. Communicate effectively.
"We might have one or two kids that benefit from basketball," he said. "But in South Sudan, we're going to need lawyers, dentists, business owners, politicians."
Ah, there's the plan. What if the Sudanese expatriates, free of strife, can thrive in America and eventually send people back to South Sudan to help their homeland thrive as well?
It's a tall task, but the vision is sound.
Religious persecution prompted South Sudan's push for independence. Its leaders are gridlocked by years of tribal rivalries. The figureheads of the two largest ethnic groups, Dinka and Nuer, can't orchestrate peace. The nation is in debt. Tens of thousands have been killed. According to news reports, nearly 2 million people have been displaced since December 2013.
But South Sudan, rich in fertile land and a notable player in oil production, has so much promise. The Central Intelligence Agency estimates that more than 65 percent of South Sudan's population is made up of kids and young adults under the age of 25.
Just imagine what an influx of driven, confident and trained people could do. Future leaders are needed, Doluony says. They could come from this side of the globe, too. They could come from Omaha.
"This is really the most important time in our life, as South Sudanese people," Doluony said. "We can dream as high as we want."
All it takes is a vision. And a basketball.
Contact the writer:
402-473-9585, jon.nyatawa@owh.com, twitter.com/JonNyatawa